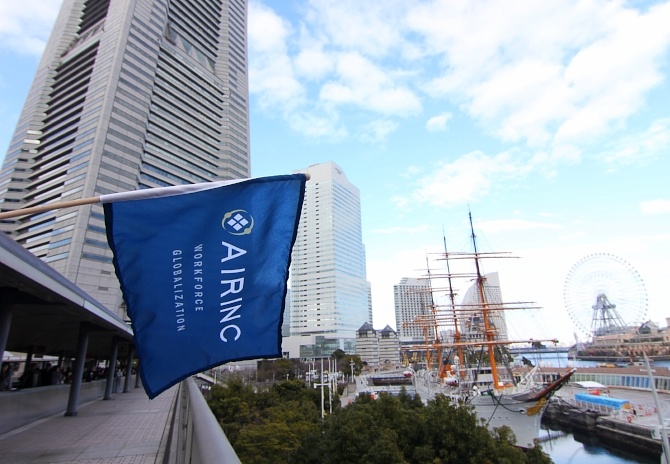 Jotting down the price of peanut butter at a supermarket in Rome, Italy. Waiting in line at a utility company in New Delhi, India, to get electric rates. Meeting a realtor in Caracas, Venezuela, to discuss expatriate rental inflation. Arriving in Port Gentil, Gabon, and realizing your luggage is missing.
These are the typical routines and challenges associated with the job of the Pricing Surveyors at AIRINC, who travel the world collecting pricing data used to determine comparative living costs for expatriates. This data is analyzed continuously and is expressed through various mobility products, such as our Assignment Cost Estimator (ACE), Host Pay Calculator (HPC), Salary Evaluation Tool (SET), International Housing Guide (IHG), International Tax Guide (ITG), Short-term assignment calculator, Hardship Evaluations, and much more.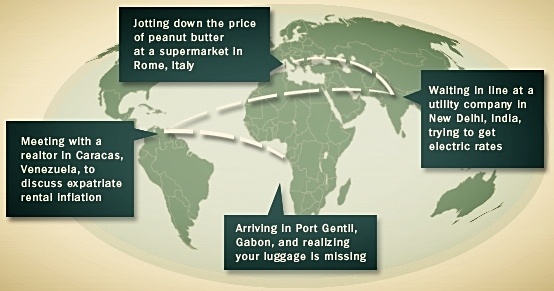 AIRINC'S Globetrotters
Many people dream of having a job that includes some international travel. AIRINC surveyors get more than "some" - they spend about half of the year on the road. While they get the opportunity to travel to far-flung locations like Stanley, Falkland Islands, Port Vila, Vanuatu, Dar es Salaam, Tanzania, and Lusaka, Zambia, they are in these locations for only three to five days at a time and must therefore plan their days carefully so that they are able to gather the data required.
Despite the grueling schedules, AIRINC surveyors delight in their opportunities to travel worldwide. They are a diverse group, but they share the common denominators of love for international travel, curiosity about different cultures, independent spirit, and cultural adaptability. They also possess varying foreign language proficiencies, and a facility with and affinity for the analytical component of their work.
The current staff of surveyors has visited an average of forty countries. More senior surveyors have visited over sixty countries. Given the fact that these surveyors are on the road up to four times a year, you can imagine that this type of work would be very disruptive to their personal lives. For these intrepid and energetic workers, however, the opportunity to travel wherever companies send their expatriates far outweighs the short-term personal sacrifices associated with this globetrotting.

Surveyor's Top Global Vacation Spots
Given the extensive travel required of surveyors, these folks are perfectly suited to comment on what they consider to be the top global vacation spots. When asked where they would like to return for vacation, there were some recurring top location choices such as Brazil and Australia. These locations were cited for natural beauty and the friendliness of the people. In the category of tropical island paradises, many felt that Fiji offered a diverse landscape and a truly relaxing atmosphere.
What was most striking about the responses to the question of where the surveyors would like to return for vacation was the incredible diversity of answers. From Buenos Aires and New Zealand to Mali and Kyrgyzstan. From the Dominican Republic and Norway to Sao Tome and Mongolia. Other preferred locations were Cape Verde, Gambia, Malawi, Turkey, Iran, Morocco, South Africa, Beirut, Damascus, and Maputo, Mozambique. For these fearless travelers, there are lots of great destinations awaiting their return!
Returning Home
After weeks on the road, even the most exotic locations become less exciting to these perpetual travelers, and the desire to return home and settle into more predictable routines grows stronger. When asked what they miss the most while they are on survey, many surveyors mentioned clean tap water and the ability to prepare their own meals (especially salads). Being able to do laundry on a frequent basis was also missed. Less expected were responses like having access to a sewing machine, eating favorite dishes from home – at home, and watching their local sports games on TV. And the number one response for what everyone missed most? Sleeping in their own beds, a very relatable and understandable desire for all.