For the final part of our remote work series, we head to Asia to examine the rising interest in cross-border remote work. APAC has always been a diverse mix of cultures and people. Over the past two years, with the strict local and border restrictions brought on by the pandemic, some decided to leave their cities of employment to work remotely from their home countries.
This 'forced' workplace experiment has generally been viewed as a success. In fact, many companies are considering how to incorporate it permanently, as well as what they should do with compensation for remote workers.
Comparing Jakarta to Singapore
Let's examine a case involving an Indonesian national previously working in Singapore. For family reasons, she would like to continue to work out of her hometown Jakarta after her employer, a consulting firm, has re-opened their Singapore office. This individual has been with the firm as a senior account manager for five years and earns an annual salary of SGD 100,000. Her employer has identified her as a high-potential member of the organization and determined that she could continue to perform her role from Indonesia. However, after researching the local rate of pay for an equivalent role in Jakarta, it was planning to adjust her annual salary to IDR 400,000,000—approximately SGD 37,000—a 63% pay cut!
There is no way she would accept the offer, right?
Singapore to Jakarta, Indonesia Calculation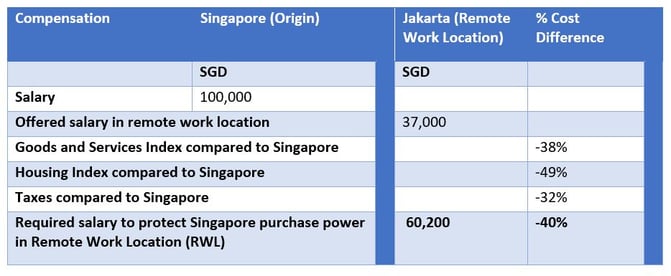 It is common perception that wages in general are much lower in Jakarta than Singapore. But retaining a strong performer with extensive experience working in an international market requires a different compensation approach that maintains a link to the pay at the origin. Factoring differences in goods & services, housing, and taxes between the two locations, the analysis from AIRINC's Remote Work Calculator suggests that a salary of IDR 635,500,000 (equivalent to SGD 60,200) would be needed to protect the purchasing power that this individual's original salary offered in Singapore.
Alternative Pay Models
As companies in APAC embrace a hybrid strategy of on-site and remote workforces, they must also be open to alternative pay models to attract and retain talent. AIRINC's Remote Work Calculator provides an effective data-driven compensation solution to support this trend.

In summary
Thank you to my colleague Jason for this final case study. I hope you enjoyed this five part series.
At AIRINC, we can run calculations across most home/host routes and clients are increasingly asking us for access to our innovative tools to support their compensation decisions. Please contact me at mjoyce@air-inc.com for more information or to set up a trial access to this or any of our other cross-border data calculators.