FEM EMEA Virtual Summit
Our very own Mike Wincott, Senior Director Client Solutions EMEA, sat down with Claire Tennant-Scull as part of the FEM EMEA Virtual Summit in November to discuss the Three Essentials of Global Mobility Now.
Their conversation focused on Policy, Governance, and Technology as the vital elements that underpin a successful mobility program in these fast-changing times – and that will continue to be vital beyond 2020 and the challenges of COVID-19.
From FEM's promotions of the events:
"The key part of FEM's identity is that we are a Forum – a place for airing concerns, discussing challenges and sharing best practice – whether that is face-to-face or online, our members and supporters make up a powerful community of Global Mobility professionals that can support one another across any distance or time zone. So while the impact of the Covid-19 crisis continues to be felt across the globe, we are all having to adjust to a different way of working – for now at least."
---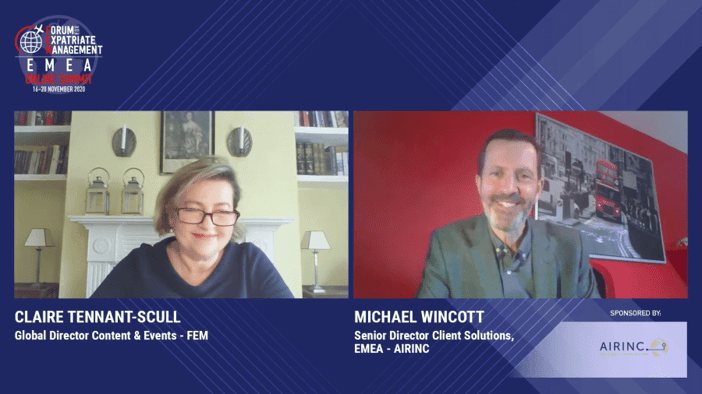 Click the image above to access the full interview. Mike's interview begin's around the 31:30 mark.
---
Access the full interview recording
See the complete video interview with Mike and an accompanying Q&A by clicking the button below:
---