This past winter, AIRINC ran a customer satisfaction survey. One of AIRINC's goals is to serve our clients with high-quality data and reliable customer support; by running a survey, we're able to see if we're achieving our objective. We're happy to report that the reviews are in and are overwhelmingly positive.
First, a thank you to our clients for filling out this survey. We appreciate hearing your honest feedback, so many thanks for taking the time to share your thoughts and experiences. We had a great response of 164 companies. From these organizations, 98% responded that they were satisfied or very satisfied with AIRINC. The remaining 2% shared that they were neither satisfied nor dissatisfied, leaving us with 0% of our customers who were dissatisfied.
When we asked respondents for the top three words to describe AIRINC, we got some great responses, including knowledgeable, flexible, and consistent. Congratulations to all AIRINCers, especially our teams in Client Engagement for this positive feedback. Their excellence in providing tailored solutions, sharing innovative products, and explaining tricky mobility concepts is what separates AIRINC within the marketplace.
The word cloud below lists even more of the ways in which our clients described AIRINC: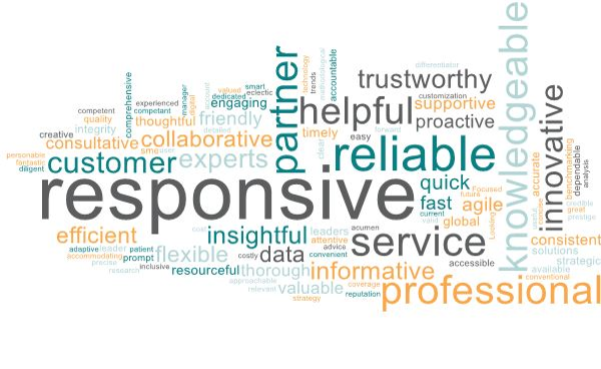 The largest words came up the most often. We're honored that you view us as responsive, reliable, and professional, and are proud to maintain that reputation. We look forward to working hard to meet our clients needs in 2022 and beyond.