To truly engage employees, global mobility policies should be designed with the people's preferences in mind. However, do we really know what kind of support employees prefer? Too often we build a mobility policy lacking insight into what is truly valued.
At the spring BAMM conference in San Francisco AIRINC, we set out to find out more about personal preferences. We live-polled attendees to find out exactly what support they would want on a potential assignment. Some of the results were surprising, some not. We can all learn from the insights gained during the session. Here are some of the highlights.
Exploration over Home Leave
We asked what kind of flight support would be most valued during an assignment. Interestingly, only 14% would prefer the traditional home leave option. The most desired flight support was:
| | |
| --- | --- |
| 53% assistance traveling the world | 24% assistance having friends and family visit in the assignment location |
Assistance traveling the world was even more highly valued at 60% by those aged 26-35 and those over 56. Whereas 36% of those aged 36-45 preferred having friends and family visit.
Furniture at Host, Please
Apparently, people are not as attached to their belongings as one might think. When asked what kind of support was preferred for belongings:
57% want to purchase (rent) furniture in the new location;

this was even higher at 80% and 70% for age groups 26-35 and 56+ respectively

24% want to bring their belongings to the new location
Cars vs. Rideshares
When asked about transportation support, we got mixed results, which were further mixed by gender:
47% of Males would like a car

41% of Males would like a rideshare allowance

37% of Females would like a car

53% of Females would like a rideshare allowance
Support, Please
Preferences on how support should be delivered were also gathered. Support rather than self-service was the majority preference.
53% want a full support delivery model;

those aged 56+ preferred this at 80%

9% prefer a self-service option with technology, although this was higher at 20% for those aged 26-35
Flexibility, Understanding, and Empathy
At the end of the session, we asked the attendees to share one word that described what they were looking for in mobility support. The most common answers were flexibility, understanding, and empathy.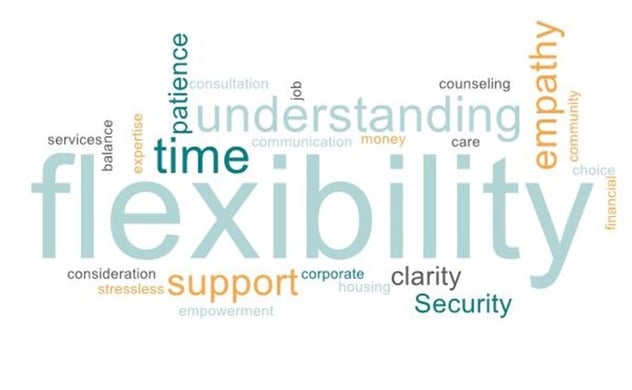 Customer Centricity
In sharing these results, we hope the mobility community is inspired to consider feedback from the customers we serve. Given that personal preferences vary, it is best to consider flexible approaches that can adapt to the needs of the individual and their families. With knowledge of what is valued, we can build flexible programs that delight employees and deliver an engaging employee experience. Curious to learn more about the results of this session? Contact me.