AIRINC are thrilled to win at the Forum for Expat Management EMMAs 2022, 'Best Partnership between a Corporate Organization and a Service Provider' with HPE. The judges commented: "Highly strategic and innovative work from Hewlett Packard Enterprise & AIRINC. Employees and staff understand what is expected of them, what they can expect from the company and what the value is for all."
On Friday May 6th, 2022 the winners of this year's FEM EMMAs in the Americas were announced at a glamorous black-tie dinner and ceremony at the TWA Hotel - New York.
The FEM EMMAs are the premier awards for the global mobility and International HR industry and on Friday night, following a very engaging two-day Summit, key figures, leaders and companies gathered together in the iconic TWA Hotel's Constellation Ballroom to celebrate the brightest and best in the Americas region.
Special thanks to Kerwin Guillermo, Global Head of Employee Mobility, Hewlett Packard Enterprise for a brilliant partnership. And further congratulations to Kerwin, for also winning a wholly deserved award for 'Outstanding Contribution to Global Mobility in the Americas 2022'.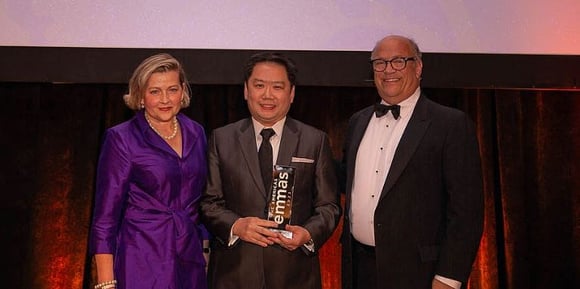 Many congratulations also to Global Mobility Team of the Year Winner: BD, Rising Star of the Year in the Americas 2022: Shumin Yeo, Senior Manager, Global Mobility, Micron Technology, and Global Mobility Professional of the Year in the Americas 2022: Karen Hale - Senior Manager, Global Mobility, Unity Technologies. AIRINC congratulate all the award winners. In 2022 global mobility grows stronger and these awards celebrate the best in class.