At the recent Expat Academy APAC Huddle event, a participant raised an interesting question on the use of lump sums and whether they are a popular way to facilitate permanent one-way moves.
Citing findings from our benchmark surveys on International One-Way Transfers, we know that 85% of surveyed companies have an existing policy or guidelines to address this assignment type as it continues to gain further popularity.
One-way transfers are defined as permanent transfers of employees to host countries. Since they will not be expected to move back to the home-location, there are no plans for future mobility.
While the purpose of using one-way transfers could vary greatly, we see the trend of organizations moving towards a more structured approach to ensure better policy governance and consistency. There is a general perception that the use of one-way transfers is more prevalent amongst junior to mid-level employees, but our survey findings indicate that they are used for employees of all different levels if the right eligibility is met.
Another participant was keen to understand what cash lump sums are meant to cover, and if there are companies that would include housing and education. Most agree that cash lump sums are considered a one-time, fixed amount payment provided to an assignee to cover specified relocation costs such as miscellaneous relocation expenses, excess baggage, pet relocation, and temporary living expenses.
The table below is an excerpt from AIRINC's International One-Way Transfer survey on typical items that are included in a lump sum payment: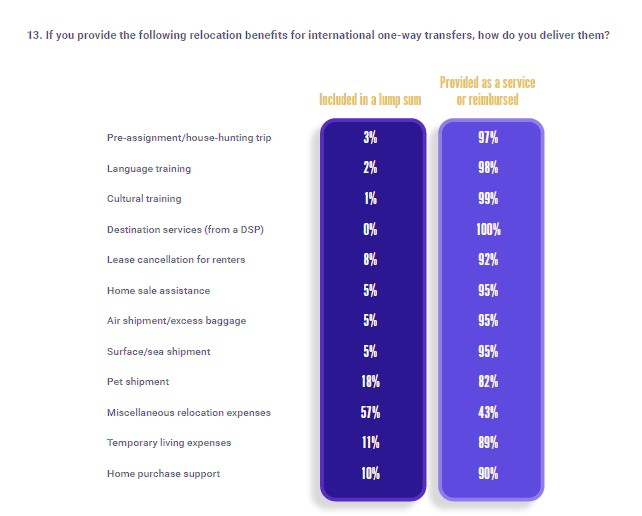 Our survey finds that the use of cash lump sums is one of the two most-used approaches in providing relocation support to assignees. The most popular is the use of managed moves where 64% of survey participants said that employees are given relocation services provided by third-party providers. As for the use of cash lump sum, 33% of survey participants confirmed its usage.
In a separate pulse survey on lump sums aimed at finding out how and why companies are using them, we found two opposing perspectives. For companies adopting this approach, they find that lump sums help give flexibility to the employees, provide better cost transparency to the business, are easier to administer, and are cost- effective.
On the flip side, some companies feel that managed moves are more effective at helping employees get settled. They are worried about the potential risks and repercussions if employees do not practice sensible use of the payment. They also feel that it is potentially time-consuming for the employees to manage everything themselves as they might be unfamiliar with how things are at a new host country.
If you are keen to gain insights and to consider if lump sums are suitable for your organization, please refer to our Pulse Survey on Lump Sums.