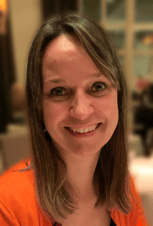 Marie recently joined AIRINC's EMEA team bringing a wealth of knowledge and experience. We had a chat about her journey to AIRINC and what she's learned along the way.
Where are you from and what did you study?
I'm originally from the southeastern part of France. I'm passionate about foreign languages, so I pursued a degree in English and Mandarin. After finishing my degree in France, I moved to China to continue studying Mandarin. While my initial plan was to go for a year, I ended up spending 10 years in Asia! During this time, I lived and worked in amazing places such as Beijing, Shanghai, Hong Kong, and Singapore. After 10 years, I made the difficult decision to repatriate back to Europe as I wanted to be closer to family and friends. I decided to relocate to the UK where I have now been for the past 8 years.


How did you get started in Mobility?
Having relocated internationally multiple times and having experienced not only the excitement but also the challenge of settling in a foreign country, working in International Mobility became an obvious choice for me. While in Asia, I started my global mobility career working for an international moving company focused purely on shipping household goods. When I returned to Europe, I was eager to understand more about the additional support an assignee can receive when relocating abroad: immigration, temporary living, DSP services, language, cultural training, etc. Since arriving in the UK, I have worked in client services for a couple of relocation management companies and most recently as a Senior Global Mobility Advisor for an international law firm in London. Looking back over the years, I'm proud to have helped and supported hundreds of employees and their families from all over the world to relocate successfully.


What led you to AIRINC?
Having previously advised assignees on their balance sheets, I already knew a fair bit about COLA, hardship premiums, and per diems, but I was determined to find out how they were all calculated and this led me to AIRINC. I find learning about AIRINC's unique calculations methodology fascinating and I am really enjoying using AIRINC's advanced and user-friendly technology. I am amazed at the number of tools AIRINC offers their clients--tools that are crucial in making the employee's experience a positive one while helping HR remain compliant as well as adding value to their organization.


How's your AIRINC experience so far?
I have now been working at AIRINC for several weeks and couldn't be happier! Starting a new job is always a bit daunting, let alone starting a new job remotely, but everyone has been so helpful and welcoming that they've made it easy for me. My new responsibilities are quite different from what I had been doing, but I hope my client services background and being able to draw on my own personal experience will be major assets for a long and successful career at AIRINC!
Welcome Marie!