Challenges for Compensation Professionals
Employee purchasing power is in crisis. Global inflation is eroding the value of employee compensation causing problems with retention and job satisfaction. This volatile economic climate is creating new compensation challenges for companies.

Market pay data is vital for creating and updating a pay structure. But in today's climate, compensation professionals need additional data and analysis to provide context on economic conditions and how they impact the value of pay across geographies.
Companies need data to understand how inflation impacts employees. Inflation has a different impact on each person based on where they live, how they spend, and what they earn. This understanding can help direct agile pay strategies designed to combat a volatile economic climate.
That is why we are excited to announce the launch of AIRINC's Inflation Impact Analysis which provides you with the data you need to make informed decisions on adjusting salaries or determining one-time inflation benefits.
INFLATION IMPACT ANALYSIS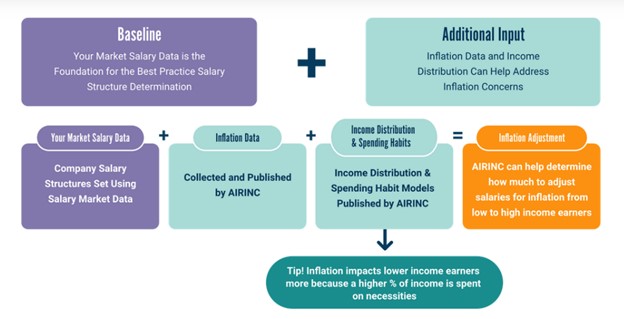 AIRINC researches and curates local CPI (Consumer Price Index) data for over 200 countries. Our methodology allows us to create an apples-to-apples comparison of inflation across geographies. We combine that with our insight on spending patterns and income distribution to isolate the portion of income that is impacted by inflation and to calculate its impact.
We make the analysis specific to your organization's needs and goals by accounting for your global salary structures and pay philosophy. AIRINC works with you to ensure we provide the right data and analysis for your needs.
In the example below, we show inflation's impact across the salary spectrum. As you can see inflation affects spending on goods & services and utilities but not income buckets like taxes. We apply inflation to these specific areas of spending and consider the tax impact to calculate an uplift for each person. Notice that the required uplifts are much less than the overall inflation rate of 8.2%. This calculated uplift could be provided as a spot payment or considered as an input during the salary review process.
INFLATION IMPACT ANALYSIS EXAMPLE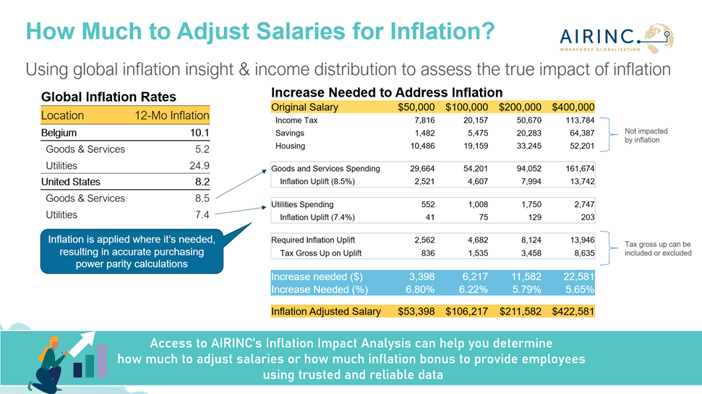 Contact your AIRINC representative or reach out to us at inquiries@air-inc.com to learn more!