Leveraging technology, data, and advice to put customers first and drive talent deployment to new heights
Recently, Jordan Blue (Director of Product and Innovation) of AIRINC and Tom Richardson (Director Solutions Consulting) from Equus came together to talk all things partnerships and technology. We continually hear from our customers that they want better partnership, not just between clients and vendors, but also between vendors themselves. This partnership brings together best in class data and effective technology!

70% of respondents in AIRINC's 2022 Mobility Outlook Survey said that using new or enhanced technology will allow them to administer their program more effectively.
Tom commented, "We commonly hear that business decisions are only as good as the data that they are based on. Having access to real-time, evidenced-based data within our technology allows our joint clients to realize efficiencies and make better decisions, faster. This allows teams to be proactive which is especially important given the volatility in recent years".
API Approach
The 2022 Mobility Outlook Survey indicated that some of mobility's top goals are supported by quality data & integrated technology. AIRINC & Equus achieve this integration though our data push API.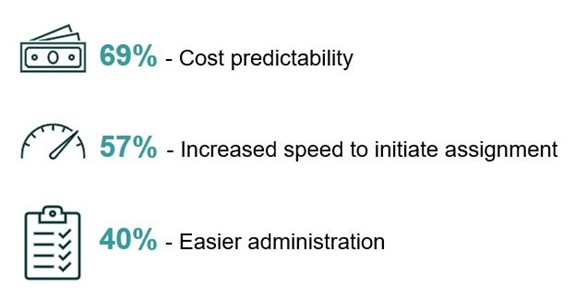 How does the API work with AIRINC and Equus?
AIRINC's API pushes data directly to partner technology systems eliminating any manual data transfer
This allows us to send large, custom datasets for use in cost estimation, balance sheet creation, and more
New data requests can also be delivered reducing time to access new information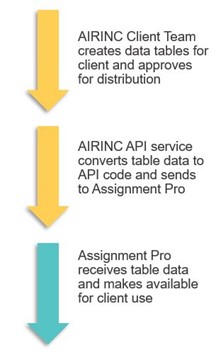 New data requests can also be delivered reducing turnaround time. We have several clients using this integration today. Feedback has been overwhelmingly positive, and clients have mentioned benefits in time saving and error reduction.
AIRINC Cost Estimate Data Integrated in Assignment Pro
One of the top benefits from data integration is easier cost estimates. AIRINC and Equus aligned on a process which provides all the information needed to run cost estimates across all locations, which is automatically refreshed and delivered regularly. Equus has built standard calculations to help make this data easy for clients to use.
The result is easy, instant, accurate cost estimates so client teams can focus on more strategic activities.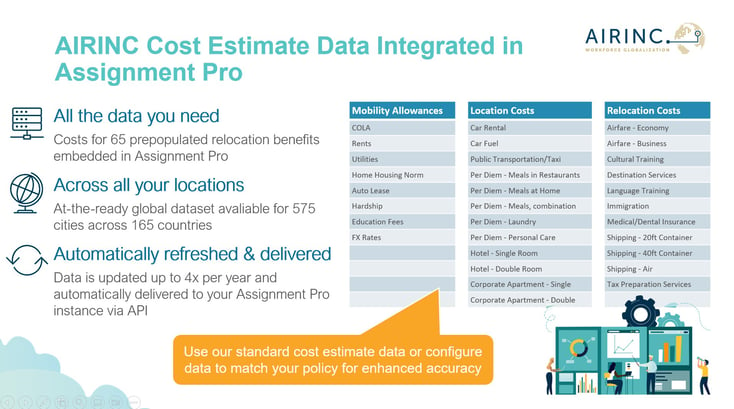 The Power of Partnership
Combined benefits of working with market leaders in the fields of mobility data and technology:

Contact us today to learn how your mobility program can benefit from our partnership!