Focus on
Pharmaceutical
2020 was the most challenging year for Global Mobility. However, it gave mobility teams the time to reflect and demonstrate their value and global perception to their overall organizations. Global Mobility's goals remain steadfast in a pre-, during-, and post-COVID-19 world: to help attract and retain key global talent. The results from Pharmaceutical companies in the Mobility Outlook Survey indicate this mission is still in the forefront for the coming year with increased focus on how mobility can best serve their customers, business functions, and assignees.
1. Mobility should be everyone's friend
Mobility's number one objective for 2021 is to enable global talent strategy. Based on the 2021 survey results, the current relationship gap between talent and mobility is wide. The importance of aligning the two functions will ensure the right people are going on assignment. Successful candidates and assignments will help the organization meet goals and provide top class talent development, and in turn, have higher retention rates. To strengthen the relationship between the two functions, Pharma needs to step into a more advisory role.
But how? This can be in terms of better policies, more benefits, or more policies with better benefits. Additionally, sharing the employee experience metrics and why assignments fail will help other functions.
If Mobility can provide Talent with the tools they need to succeed, the outcomes will ensure Mobility has a seat at the table in talent-planning discussions.
2. Mobility is the vessel for success
Pharma is above the general industry with an average 6.5 policies per year, whereas the general industry averages 6.2. Over the last few years, the number of policies has increased. This indicates the need for more policies to address new short-term and long-term solutions for the business.
Pharma is above the general industry in how they provide flexibility to their employees. 43% of companies provide a cash lump sum and 43% of companies allow the employee to choose between a relocation lump sum or relocation services managed by suppliers. This approach is perfect for balancing relocation offerings between junior- and executive-level staff. We tend to see junior staff gravitate toward lump sums and executives prefer managed services.
The mix of multiple policies and flexibility approaches helps mobility address flexibility for both the employee and business, giving them both the autonomy to choose. Ultimately, mobility becomes more consultative than prescriptive.
3. Mobility has value!
Pharma has indicated they are successful when assignments/transfer processes are standardized and efficient, and when they receive positive feedback from the business, HR, and employees. Each of these attributes are measurable through feedback surveys from the business and expatriates. Right now, 36% of Pharma companies are reporting measurable outcomes to demonstrate their value to the organization, compared to a general industry of only 21%.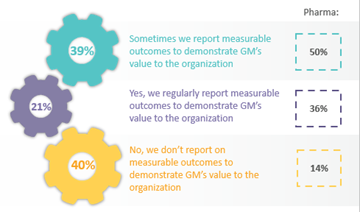 Usage of these metrics will enable an organization to empathize with the expatriates and understand the motives and need for mobility from the business's perspective. Pharma can gather these insights more frequently and share them with both talent and the business. Alignment on expectations and needs (from employees and the business) will ensure all three functions are united in how to provide the best program for their employees going forward. The functions need to work together and support each other's objectives to bring the most value to their organization.
Download the 2021 Mobility Outlook Survey or contact us for more information on industry cuts.
---