In the past several years, global mobility has evolved tremendously. Historically, the mobility function has been process-oriented, focusing on moving talent compliantly with minimal exceptions.
Today, mobility teams have become more strategic, using their knowledge of their program and the business, working to offer solutions to ever-changing situations, and stepping into a new role as a company adviser. This transition from processing to counseling makes sense: Mobility professionals have seen which talent deployments work well and which don't.
And what is mobility advising on lately? First, they're helping guide what policy types are needed to solve mobility needs within the organization by picking the right set of solutions. Second, mobility is advising on best practice when using a particular approach.
One approach playing an increasingly prominent role is one-way transfers, traditionally used for permanent moves. Recently, these transfers have been the right policy choice for many more scenarios, such as for early-career volunteer moves and remote work requests. With so many employee scenarios appropriate for this policy type, it has become more important than ever for mobility to step up and strategically design the right types of one-way policies, as well as advise when each solution should be used—for example, when a one-way transfer policy is preferred over defaulting to a traditional assignment or when a move to a new location is approved for remote work reasons.

In this blog series, we'll take a deeper dive into one-way transfers. For the full article, originally published in the Issue 4 2022 copy of Mobility Magazine, please click here.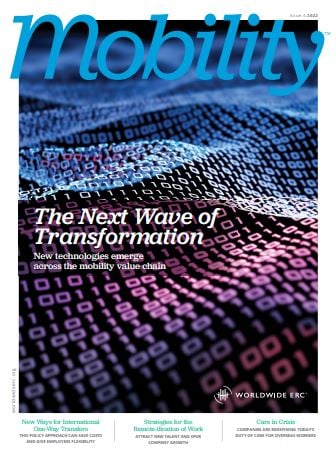 ---