And what's a duck boat? As part of Worldwide ERC's 2023 Global Workforce Symposium, AIRINC hosted a duck boat sightseeing tour of Boston.

The duck boats of Boston are based on amphibious trucks used in World War 2, which have wheels for driving on roads and a propeller for moving through the water. That design has been modified to make sightseeing buses that take visitors over Boston's streets and into the Charles River. If you're lucky, you even get to sit up front and drive the boat in the river, which is the only time you'll be able to drive in Boston without any traffic.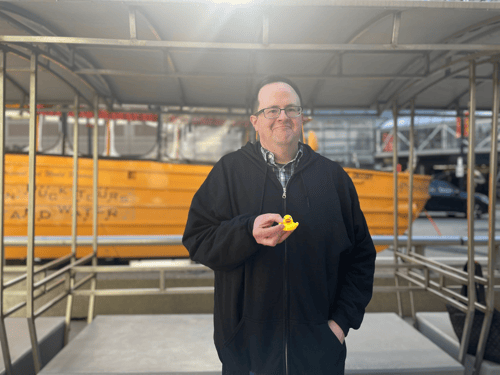 So, what Global Mobility lessons can a duck boat tour emphasize?
Lesson #1: You can go just about anywhere, but you need the right "vehicle."
Any car can be driven into the Charles River, the duck boats are the only vehicles that can also drive out. That's because they're designed to do that.

The duck boats can drive on land and in water because they have the right design and equipment. To accomplish any objectives in Global Mobility, you need the right "vehicle" to make assignments successful. That means the right policy design, the right equipment/technology, the right timing, the right information, and so on. It also helps that the duck boats have drivers who are trained boat captains and know what they're doing (in other words, the right Mobility partners).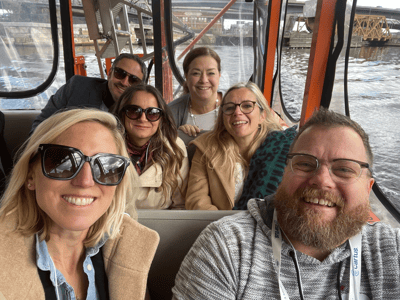 Lesson #2: Classics last for a reason but need repair, restoration, and modification.
The duck boat we rode in was not actually from World War 2 but was a newly manufactured vehicle based on the old design. Similarly, Global Mobility has many long-established practices and features still being used today. These classics have lasted this long for a reason. If something works, it works. But that doesn't mean it shouldn't be adjusted over time to keep the classic operating at its best and to take advantage of new concepts and technologies.
Lesson #3: It's vital to set expectations and communicate.
When you take a duck boat tour, everyone knows the truck will be going into the water at some point. If the lifejackets don't clue you in, the tour guide explicitly tells you. But imagine venturing out on a bus tour and not knowing it will become a boat tour. You might be taken aback (or taken a-quack).

Communicating with employees going on assignments is key to making sure they're prepared for what they'll be faced with. And communicating with your team, your stakeholders, and mobility partners is beneficial for all involved. Frequent reminders, clear communication, and a thorough briefing made the duck boat safer for us sightseers, and helps make assignments more productive for employees and companies.

Lesson #4: Every boat of every size needs to know the weather and the tides.
No matter if your Mobility program has one assignment each year or a thousand, everyone wants to know what's going on in the industry. What's trending for International Remote Work? What is typical practice and why? Are people adding more policies or adding flexibility within policy?
Keeping up to date with the current state of the Global Mobility industry, through benchmarks, roundtables, and events, is like boat captains checking weather reports and studying the tides. Every boat on the water should be aware of what's going on around them, from giant supertankers down to small amphibious trucks packed with quacking tourists.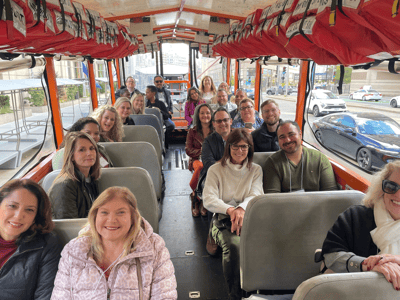 Lesson #5: You get more out of it with a good team.
I would have enjoyed the duck boat tour even if I were the only passenger, but it was much more fun with a full flock of people on board. Yelling "quack, quack" at strangers on the sidewalks is just different when it's 25 people as opposed to only one.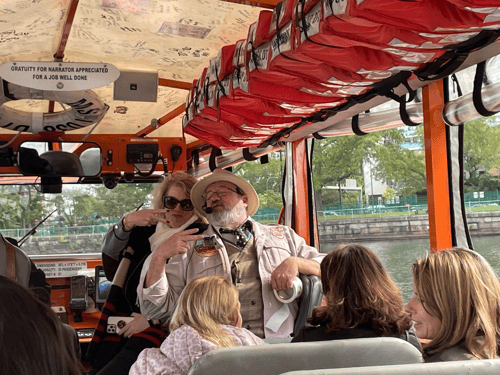 The crew of the duck boat also emphasized the importance of teamwork: the tour guide focused on talking and joking, while the driver/captain focused on safely driving through the streets, rivers, and canals of Boston. They made sure they could give their fullest attention to their specific part of the experience to give us a safe and successful short-term assignment around the city.

The same principle applies to Global Mobility. To move people around the world, it takes a world of people and providers focusing on their specific part of the experience. It's not a simple undertaking, and it requires all hands on deck (or on duck) to do their job. And it helps that Global Mobility professionals are some of the friendliest and most empathetic people to work with, which usually makes the experience fun as well.