Tom Brady, perhaps the best ever to play the sport of American football, relocated to Tampa Bay in 2020 after playing in New England for 20 years. Some say he left for a better contract, others say he wanted to play for a new team, but is it possible he initiated this domestic transfer because he knew the cost-of-living difference between the Boston area and Tampa Bay?
Evaluate the Salary
Using AIRINC's Salary Evaluation Tool to compare living expenses in Boston and Tampa it seems like Mr. Brady had a bunch of good reasons to make the move.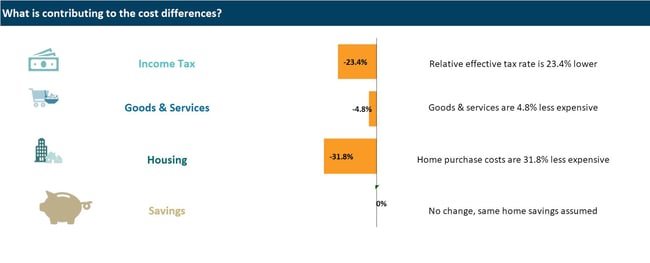 This comparison was based on a salary of USD 120,000 and a family size of 4, not Tom Brady's multimillion dollar compensation!
Goods & services are slightly less expensive in Tampa compared to Boston. But the big cost differences are the taxes and housing. Florida has no state income tax, unlike Massachusetts, so Brady's net pay is now higher. And the cost to buy a house in the Tampa Bay area is significantly lower than home purchase prices in greater Boston. So he can get similar housing for less money (or more houses).
Big Wins?
In last year's playoffs Tom's new team advanced further than his old team. And his compensation went further too. That means more money for a bigger trophy case.
Among all the big wins Tom Brady has had, this cost-of-living victory might be the biggest of his career. The data proves it.
Domestic and International
To learn more about how AIRINC data can help you compare the cost of living for domestic relocations in the US and around the world, please contact us now!