The only constant is change…in prices
Economic challenges exist when relocating employees within the United States. Employee and family concerns often center around the financial impacts of a move. Inflation in the US is running at levels not seen in decades. Housing affordability and availability continue to be difficult obstacles to overcome. Cost differences of goods and services between the pre-move and post-move locations can vary greatly. We can't forget about the impact of taxes (income, property, etc). Learn more about setting the pay level.
Tackling the financial burden
Employers play an important role in making sure that a relocation is successful. Counseling an employee is a great way to identify potential pitfalls and propose well-known or even innovative solutions. Data can allow an employee to see the full financial impact and allow them to adjust before issues spiral. Programs can be adopted to combat cost-of-living differences, challenging housing locations or compensation issues related to rising inflation.
Housing is a big spend. Is it the only thing to consider?
Company A is moving an employee and partner from Austin, Texas to Boston, Massachusetts at an income of $100,000 per year. According to a recent AIRINC blog post, housing costs are considerably higher in Austin when compared to Boston. Does that mean that the employee wouldn't require any assistance? Not necessarily.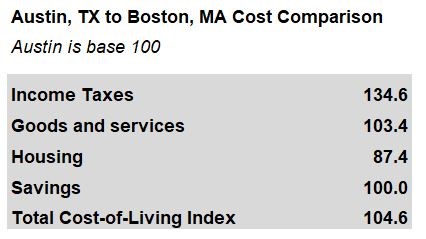 While housing is about 13% cheaper in Boston, Goods and Services and Taxes are noticeably higher. Combining all factors, leads to total cost-of-living in Boston being about 4.6% higher than Austin. The employee will likely need financial assistance to adjust to higher costs. Paying the employee 4.6% of their base salary as a cost-of-living adjustment for a pre-determined amount of time can certainly help.
Should we increase salaries? Should we provide cost-of-living assistance? Should we provide housing assistance?
The dreaded answer is…IT DEPENDS. How difficult is it to attract and retain talent overall and specifically in that location? Do you have the budget? What is the risk of not providing financial assistance? Considering these questions is vital when determining solutions to rising inflation and housing issues.
Contact us for more information on how to design financial assistance programs for your domestic relocations.