The results are in! AIRINC's Compensation Trends Pulse Survey is now available.
Compensation approaches are becoming more dynamic than ever given the expansion of remote work, emergence of global roles, talent shortages, and more. This complexity is creating unprecedented challenges in how companies are determining competitive compensation packages to attract and retain the best employees.
In the face of current economic factors, one-quarter of organizations are planning to change their overall compensation philosophy – with another 20% on top of that potentially considering change.
The top three reasons cited for change are:
talent shortages
remote work
inflation.
Click here to download the complete report.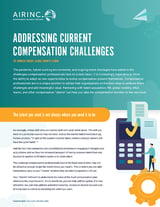 If you have any questions or wish to discuss the results, please don't hesitate to contact us.
Why not attend our webinar on July 28 where we'll be referencing some of the results?
Webinar: Addressing Inflation, Remote Work and Global Pay Equity in Compensation Levels
July 28 at 10am Boston, 3pm UK, 4pm Brussels
45 minutes
Register now!