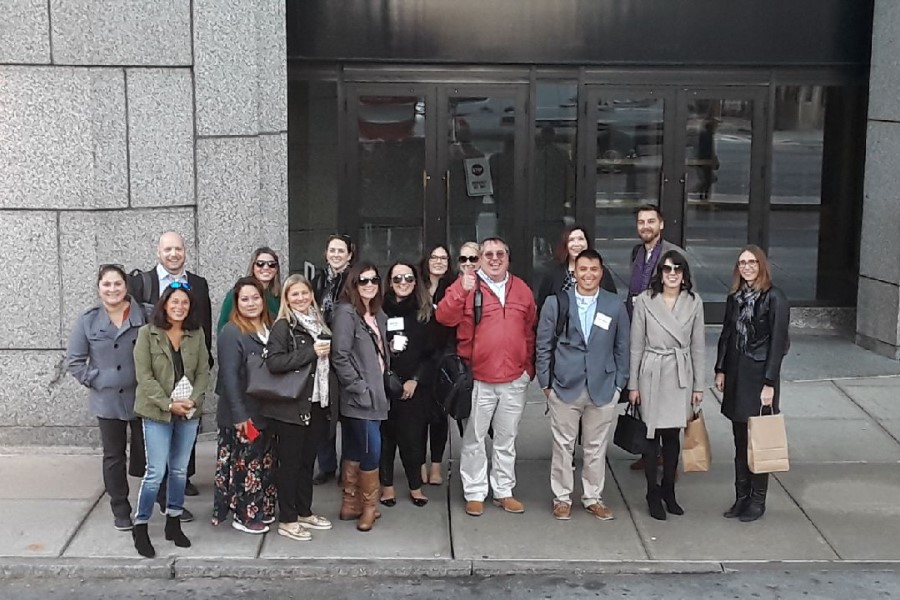 AIRINC and friends at our breakfast and duck boat tour during the Worldwide ERC 2019 Global Workforce Symposium in Boston
The Triumphant Return to Beantown
This year's Global Workforce Symposium marked Worldwide ERC's triumphant return to "Beantown" and, in my opinion, lived up to the billing of #besteverGWS. With the conference in our home city, AIRINC had the opportunity to kick-off the week with a breakfast and duck boat tour for attending clients and mobility professionals. It was a great way to experience Boston's history and its future as we passed commercial and residential construction and saw the expansion of the city's technology and financial sectors. This juxtaposition of new and old was a fitting start for the GWS as Boston's growth largely mirrors the shifting demographics we've been seeing in the Mobility industry for the past decade.
The Rise of the Millennial and Gen Z Workforce
Given the rise of the millennial and Gen Z workforce, WERC's YP40 group has prioritized engagement with the mobility leaders of the future. During the conference this year, I had the opportunity to moderate the YP40 Panel discussion – It Takes a Village: leverage your network to manage crisis & develop your career.
Joined by Industry leaders Ed Hanibal (Principle, Deloitte Tax LLP), and Susan Benevides (CEO, PLUS Relocation) the panel explored the statement that most, if not all, mobility professionals have uttered at one point in their career: "Mobility is all about relationships."
In the session, panelists shared their approach to networking, mentorships, and discussed how they have successfully built and maintained industry relationships.
---

Related:
Come meet AIRINC All-Star trio at Worldwide ERC Global Workforce Symposium in Boston [event]
---
5 Key Takeaways from our Panel Discussion:
Have good intentions –Your relationships should not be self-serving or a "means to an end". In an industry where relationships are mission-critical, the most impactful connections are born out of a genuine interest in the individual and/or a sincere desire to assist in their role.
Leave your comfort zone – As a young professional, introducing yourself to industry leaders can be a daunting task but don't be intimated! Even industry veterans like Ed and Susan have been the "new kid on the block" at one point in their careers.
Be deliberate in mentor selection – When identifying a mentor, seek individuals with skillsets you wish to develop. Once identified, be transparent about your weaknesses and clearly outline what you hope to gain from the mentorship.
Be yourself - Authenticity is another key factor in developing meaningful relationships in Mobility. As the saying goes, "everywhere you go, there you are!"
Developing your network takes discipline – I've often joked that networking sounds a lot like 'not-working,' but this couldn't be further from the truth. Building and especially maintaining meaningful Industry connections takes effort. Whether it's making time for a quick cup of coffee while in town or maintaining a consistent check-in schedule, sustaining your industry relationships does not happen by accident and requires discipline.
Following the panel, the YP40 group hosted a reception where attendees had the opportunity to apply many of the learnings from the session. It was great catching-up with old colleagues and meeting many more new mobility professionals at this year's GWS. It's an exciting, transformative time to be in Mobility and I can't wait to see everyone again in DC next fall!
AIRINC is always eager to chat, so please reach out if you have any questions about the state of Mobility or about your current program:
---
About AIRINC
For over 60 years, AIRINC has helped clients with the right data, cutting-edge technology, and thought-leading advice needed to effectively deploy talent worldwide. Our industry expertise, solutions, and service enable us to effectively partner with clients to navigate the complexity of today's global mobility programs. Our approach is designed with your success in mind. With an understanding of your goals and objectives, we ensure you achieve them. Learn more by clicking here.
---
Related Article: Leadership Unplugged with Peggy Smith & Christopher Ward
Worldwide ERC President & CEO, Peggy Smith, SCRP, SGMS-T, talks disruption, innovations, and trends with talent mobility leader, Christopher Ward from Associates for International Research (AIRINC):
---