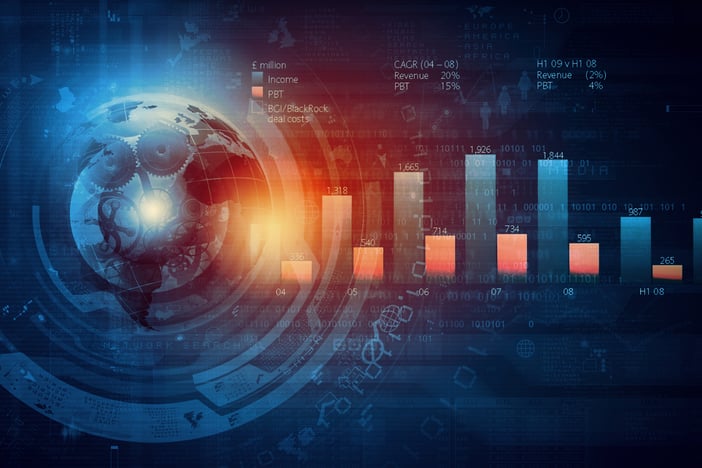 An update on currency volatility during the COVID-19 outbreak
The COVID-19 pandemic continues to wreak havoc in global markets. In addition to the economic impacts of national lockdowns, travel restrictions, rampant unemployment, slack demand for consumer goods, and sharply reduced business activity, the volatility of the oil market has reached crisis levels. While OPEC members agreed to cut production in May and June by 23% earlier this month, oil futures have continued to fall and darken outlooks for the global market. Crude oil prices went negative for the first time in history this week due to deficient demand for oil and looming lack of global storage capacity.
Below is a look into the largest depreciations of the past month.
---
Venezuelan Bolivar Soberano [VES]
It's no secret that Venezuela's economy is a vulnerable one. Recession, hyperinflation, and fuel shortages were major pressures in the country at the beginning of the year, and the COVID-19 pandemic and oil crisis have caused the constant depreciation of the Bolivar Soberano to accelerate. In late March, Rosneft, the Russia-operated oil firm that accounted for significant portions of Venezuela's crude production, sold its assets after facing U.S. sanctions for violating a 2019 embargo on the trade and sale of Venezuelan crude oil. Though sold to a Russian government-owned firm, the move still disrupted output for PDVSA, Venezuela's state-oil producer.
Late last year, President Maduro changed his stance on the use of U.S. dollars in the country. Dollarization and loosening of currency restrictions for importers had initially eased inflation, but this was unfortunately short-lived and economic depression is expected to deepen under the current market pressures this year.
Venezuela has been under a nationwide lockdown since March 17.
Zimbabwe Dollar [ZWD]
Zimbabwe made a bold move in attempting de-dollarization in 2019, reinstituting the Zimbabwe dollar and banning almost all use of U.S. dollars. It hasn't been successful. The currency has depreciated continuously, a condition made worse by the current global upheaval. In late March, it was announced that the Zimbabwe dollar would be pegged to the USD at a rate of 25 ZWL, and Zimbabwe would again permit foreign currencies for domestic transactions. De-dollarization in Zimbabwe has been blamed for rapidly climbing inflation, with March 2020 inflation over 675%.
Zimbabwe has been under nationwide lockdown since March 30.
Zambian Kwacha [ZMW]
The Zambian kwacha has reached all-time lows for the second month in a row. There is low supply and high demand for U.S. dollars and low investment amid global uncertainty. Supply of hard currencies has remained elusive as social-distancing restrictions to fight the pandemic in Zambia have severely limited production of exportable goods and quashed any demand from trading partners, making it nearly impossible for the country to bring in foreign currency. The kwacha was already struggling to maintain value before COVID-19 impacted markets, and the weak currency will continue to pose significant issues for the import-dependent economy.
While not under lockdown, in late March Zambia's government enacted phase one of their COVID-19 mitigation strategy including limits on public gatherings, closure of many businesses, and travel restrictions.
South African Rand [ZAR]
Earlier this year, the South African Rand and its pegged currencies depreciated amid domestic worries, and the COVID-19 pandemic couldn't have come at a worse time. Impacts of the pandemic on global markets resulted in an emerging market sell-off, which has intensified South Africa's debt problems. In late March and early April, South Africa saw a waterfall of downgrades from Moody's and Fitch. South African government bonds are relegated to "junk" status, and South African lenders' ratings have been downgraded to sub-investment grade. Overall, the outlook is very negative based on continued recession, troubled loans to state-related entities like Eskom, and more expected volatility from the COVID-19-shocked market.
Last month, the South African Reserve Bank made their largest cut to key interest rates in over 10 years, from 6.25% to 5.25%. This month, the bank was compelled to cut by another 100 basis points to 4.25%.
South Africa has been under nationwide lockdown since March 27.
Angolan Kwanza [AOA]
Like other countries heavily dependent on oil exports, Angola's low economic complexity has made the country especially vulnerable under the dual crises of the COVID-19 pandemic and the devastation of the global oil market. Angola's General State Budget for 2020 relied on oil prices at $55 USD per barrel, and the budget must now be revised to account for lower per-barrel-revenues, and lower production in line with an OPEC+ agreement for signatory states to cut production by 23%.
A national state of emergency and movement restrictions began in Angola on March 27.
Mexican Peso [MXN]
The value of the Mexican peso is at an all-time low for the second month in a row amid global COVID-19 uncertainty, exacerbated by the crash of oil prices. Emerging market currencies have faced tremendous depreciation pressure this year. While many of these countries have offset devaluation with market interventions, the Mexican government and central bank have allowed the Mexican peso to more freely depreciate, injecting less of their foreign reserves than most other EM countries. Interest rates have been cut three times this year, mostly recently from 7.25% to 6% on April 22.

Mexico has been under nationwide lockdown since March 30.
---
The classic triggers of uncertainty and volatility
Uncertainty and volatility are classic triggers for investors to pull out of emerging markets, and the COVID-19 pandemic provides both. AIRINC has been providing weekly updates to spot rates of major currencies on our COVID-19 landing page. The global spread of the COVID-19 pandemic and its economic impacts landed a major blow to the global economy over the last few months, made worse in light of volatility in oil markets sparked by controversy within OPEC+. The last week of March saw unprecedented depreciation. Overall, the result has been historic depreciation in even traditionally stable currencies and unprecedented uncertainty.
---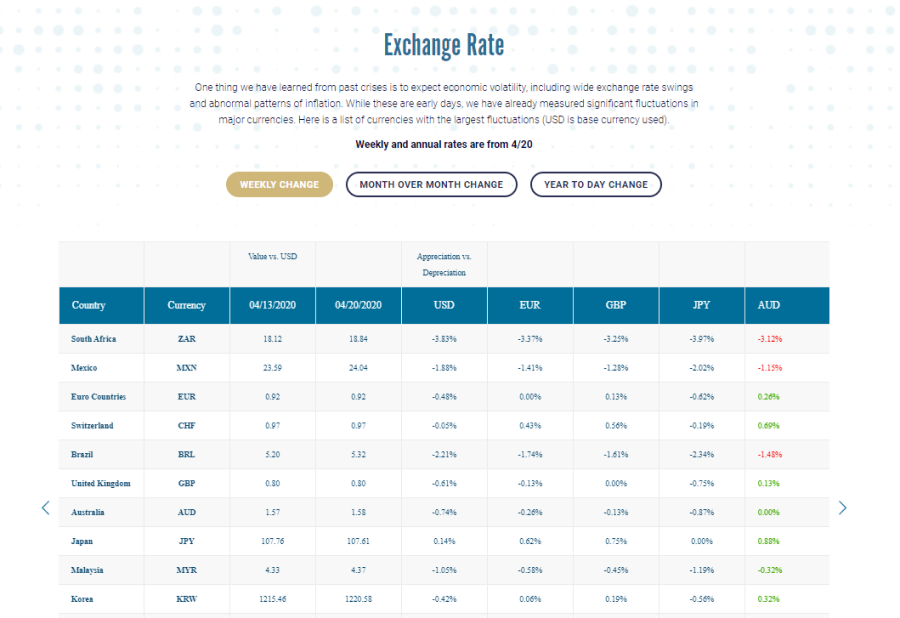 Table above taken from AIRINC's COVID-19 landing page with weekly exchange rate updates.
---
What Do Exchange Rate Fluctuations Mean for Mobility Payments?
Listen to the recording from AIRINC's 30-minute webinar on April 22 to understand how exchange rates impact mobility in times of economic turbulence. We cover how assignees are impacted, techniques for managing economic volatility, and how to manage your mobility program effectively in turbulent times. Click below to access this educational resource now:
---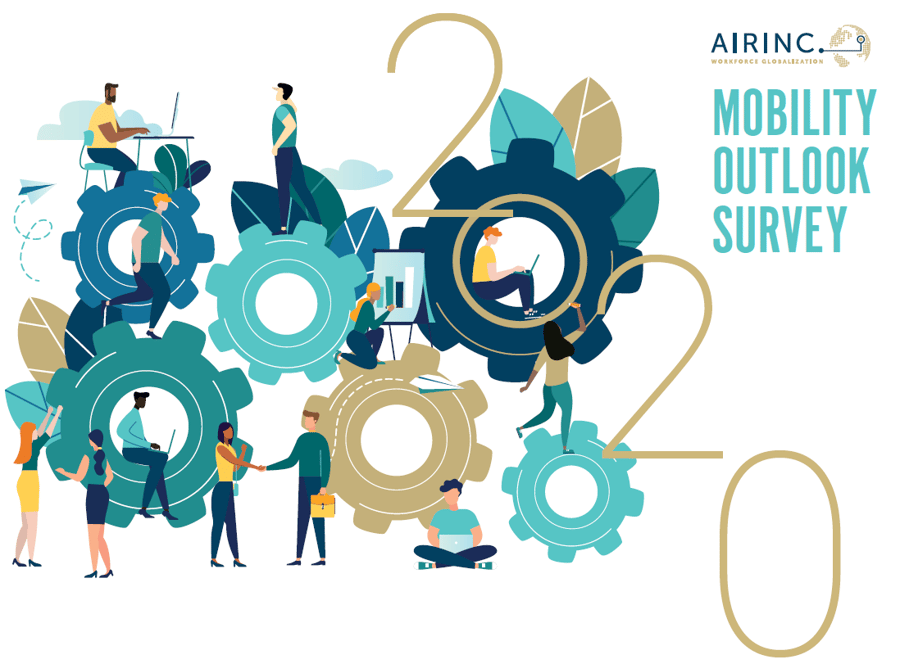 ---
About AIRINC
Listen | Partner | Deliver. For over 60 years, AIRINC has helped clients with the right data, cutting-edge technology, and thought-leading advice needed to effectively deploy talent worldwide. Our industry expertise, solutions, and service enable us to effectively partner with clients to navigate the complexity of today's global mobility programs. As the market continues to evolve, AIRINC seeks innovative ways to help clients address new workforce globalization challenges, including mobility program assessment metrics and cross-border talent mobility strategy. Our approach is designed with your success in mind. With an understanding of your goals and objectives, we ensure you achieve them. Headquartered in Cambridge, MA, USA, AIRINC has full-service offices in Brussels, London, and Hong Kong. Learn more by clicking here.
---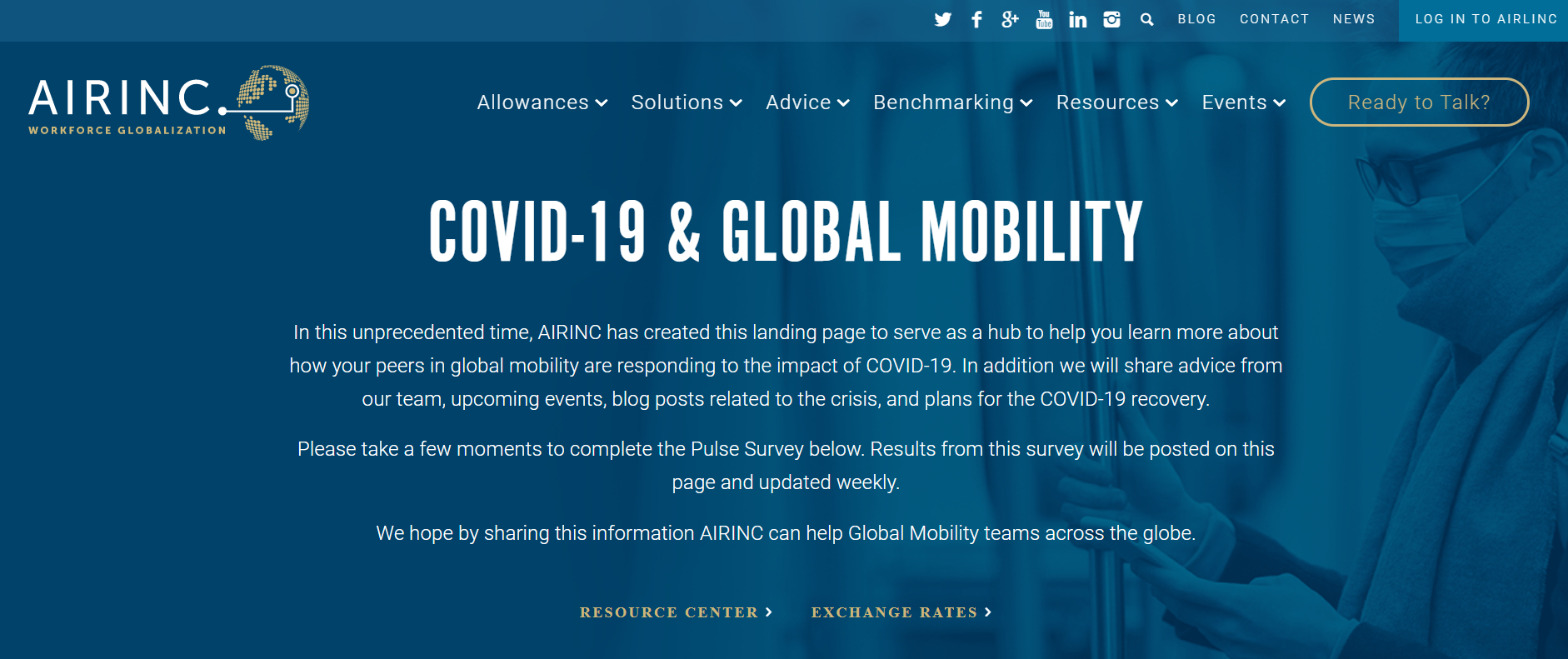 Visit AIRINC's COVID-19 Global Mobility landing page to read the best Mobility-related sources aggregated into one place.