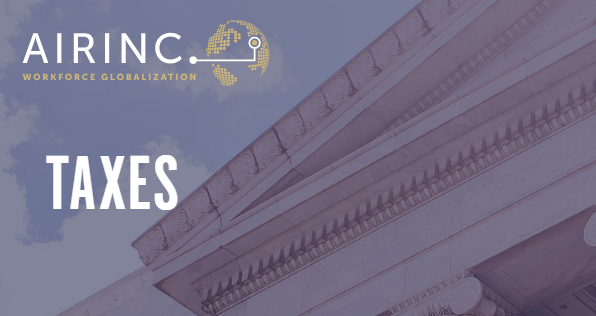 A Significant Financial Investment
Tax laws, rates, and regulations vary greatly from country to country, and being on an international assignment creates even further complexity. To minimize the tax impact on the assignee, most globally-mobile companies have a Tax Equalization policy in place.
Companies sending employees on international assignments make a significant financial investment. Typically, the cost can be two-to-five times the employee's base salary and tax costs are a significant factor. Even in a time when many companies are making a concerted effort to reduce costs, Tax Equalization continues to be the predominant method to move employees internationally. In fact, according to AIRINC's Long-Term Assignment Benchmark Survey, 90% of respondent companies use a Tax Equalized philosophy.
Under Tax Equalization, it is the company's intention that the employee's income tax and social tax burden is equal (or substantially similar) to the amount that they would have paid in their home country had the assignment not occurred. By applying Tax Equalization, the employee's tax obligation is neither a financial incentive nor a barrier to the acceptance of an international assignment. Additionally, it promotes mobility by treating each employee equitably, as they are paying tax at a rate commensurate with their home country peers.
---
Join for MORE great insights!
---
What is Hypothetical Tax and what role does it play in an International Assignment?
To achieve this objective, the company expects the employee to continue to contribute to tax while on assignment at the stay-at-home rate prevalent in the point of origin; this is known as Hypothetical Tax. Hypothetical tax is calculated by reference to the tax law in the home country and uses home country tax rates and tax deductions. In return, the company covers the actual income taxes in the host and home countries (and social security contributions, if applicable) on equalized compensation, expatriate allowances, and (often) a limited amount of personal income.
Without Tax Equalization, an employee would find their actual income taxes, cash flow, and purchasing power while on international assignment potentially very different than had they remained in the home country. Assignment-related allowances and reimbursements may be taxable in the home country and may also be subject to host country income taxes. Assignees may be subject to tax in multiple tax jurisdictions and may not be able to obtain double tax relief. These factors often result in actual tax liabilities during assignment being substantially different than the assignee's hypothetical tax.
WHY use Tax Equalization?
Remove tax as a barrier to accepting international assignments
Promote compliance with tax laws in both host and home countries
Competitive practice in the market place
Employees treated consistently and fairly: no winners or losers!
Reduces employee negotiation/exception requests
Improves assignee experience
Uniform global approach
Companies that utilize Tax Equalization typically document the scope of tax assistance provided by the employer in a formal policy to provide an overview of the assignee's responsibilities, process, timing, and limitations. A comprehensive Tax Equalization policy is vital for introducing employees to this methodology, while also protecting the company from a legal standpoint.
Where do you start?
If you would like more information on the Tax Equalization approach or calculating Hypothetical Tax, please contact our Tax department by clicking below: