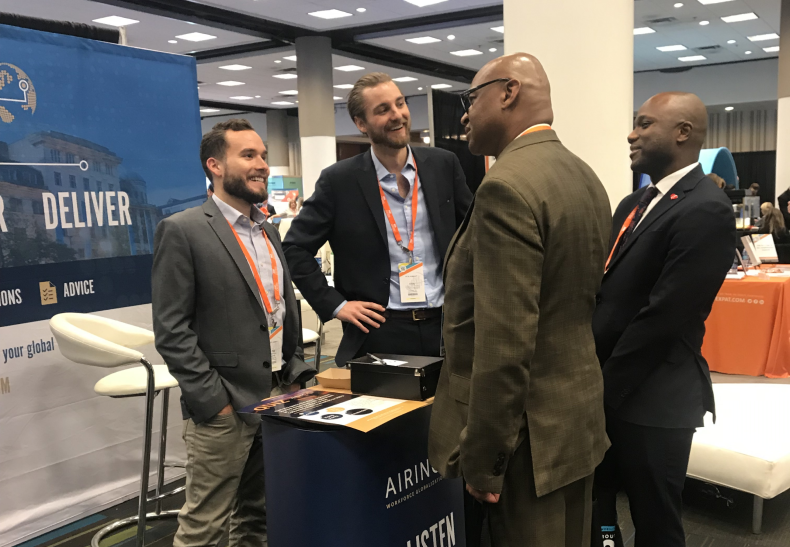 The Pulse of Mobility:
We thoroughly enjoyed our recent Worldwide ERC Americas Mobility Conference in Atlanta, GA. It's always great to come together in one place with so many great mobility leaders, and it helps us keep our finger on the pulse of our industry. Christopher Ward and I enjoyed catching up with some old friends and meeting new contacts in the industry.
---

Also by this author:
3 New Ways for Mobility to Communicate!
---
Key Takeaways from the Americas Mobility Conference:
3 key takeaways from our conversations offered reinforcement of what we've been discussing the last few months, and also piqued our interest in how these trends will develop with time as technology and innovation catch up with the pace of business needs in 2019. These takeaways were:
1. Lump sums are catching people's attention: It was a full house at the Lump It or Leave It presentation. Lori Hassler, Kari Hatfield, Pam Jacknick, and Patricia Pollard did an excellent job walking through potential lump sum scenarios, where they are effective and what to expect. More and more companies are using lump sum payments in their mobility program as it eases administration time and boosts employee flexibility. Look for this to continue!
2. Technology is important but not the end-all-be-all: Kristin Peterson and Pam Matson had a great discussion on technology in the mobility space. It seems like every day there is more new employee-friendly tech to help with self-serve options, enhancing a mobility team's reach. However, Kristin argued that even with new tech and self-serve models, assignees moving still crave the human touch to get things done. Her take was technology can be utilized to create a top-notch mobility program, but eliminating the human touch for all self-service could lead to frustrations and trouble for assignees.
3. Policy stratification: Chris and I were fortunate to have conversations with several mobility managers about how they run their program. While there were some similarities and differences, almost all indicated that they have different tiers of packages within their program. Whether it be by length of assignment (short-term, long-term), job level (think executive vs. junior), or role (critical vs. non-critical), mobility programs are creating multiple policies to best fit the needs of the transfer. This is not an entirely new concept, but managers are looking for the best ways to accomplish this.
---


Mobility Policy:
'It's Not Enough Money!': 3 solutions for low-wage to high-cost assignees
---
Looking Ahead:
Thanks again to everyone at Worldwide ERC for hosting this great event and to everyone we had the great pleasure of speaking with! We truly enjoy attending the ERC events as they offer a great mix of networking as well as educational presentations. AIRINC is looking forward to seeing everyone this week at the FEM Americas Global Mobility Summit and we look forward to hearing more.
We thrive on listening to our peers and clients as we take those discussions and adapt to improve our partner solutions. There is nothing more satisfying than solving problems and seeing the happiness that we deliver to our clients.
If you'd like to see more from our recent conference, click the button below to watch Chris's interview with Worldwide ERC President & CEO, Peggy Smith, SCRP, SGMS-T, where they discuss disruption, innovations, and trends:
---

Our 2019 Mobility Outlook Survey confirms that 58% of firms are seeking ways to improve employee communications regarding the potential financial impacts of assignments/transfers.
Download the 2019 AIRINC Mobility Outlook Survey!
---

Join us!
Have you registered for our 3-part tax webinar series?
---