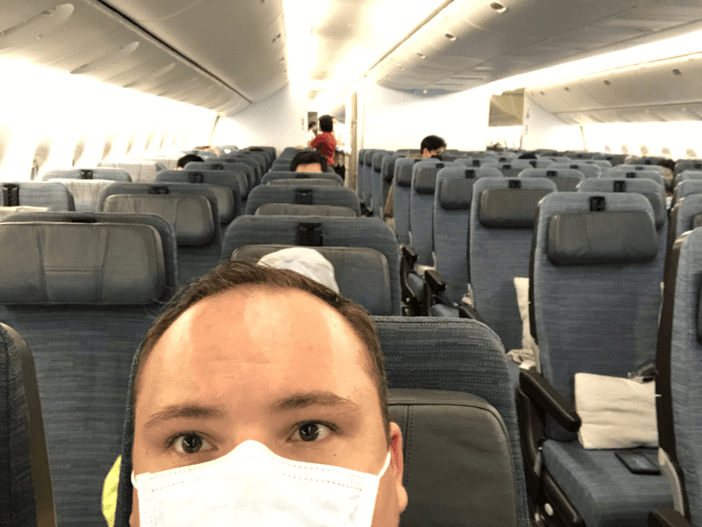 Photo of AIRINC Client Engagement Representative Eugene Kobiako during his flight from Hong Kong to the United States in June.
Twice delayed: What happens when your flights cease to exist?
Air travel during the COVID-19 pandemic is unique and full of odd experiences. A few weeks ago, I was lucky (or unlucky?) to experience international air travel for the first time in months. My journey started in Hong Kong but was cancelled on two separate occasions because the flights and layovers simply stopped existing. This was an emotional hassle as I had to call my family and fiancée to let them know that I may not make it.
When my flights were finally confirmed, I had the longest and most inconvenient itinerary of my life, and I've traveled internationally for both business and pleasure for many, many years. But, fine. Home and family await, I thought. I can do this.
Online check-in replaced by pre-boarding-pass health inspections
Upon arrival to the airport in Hong Kong, the first stark difference was the emptiness: no cars or buses in the loading zones, no one waiting at the airline stands, and no overhead announcements; it felt like a dystopian science fiction film. All entrance doors were closed except for one, and the guards at that door conducted a thorough check of itineraries and documents to make sure all entrants were traveling that day.
---
...it felt like a dystopian science fiction film.
---
Although online check-in was not available due to strict health requirements, the lack of travelers did play in my favor as I went through security in less than a minute.
---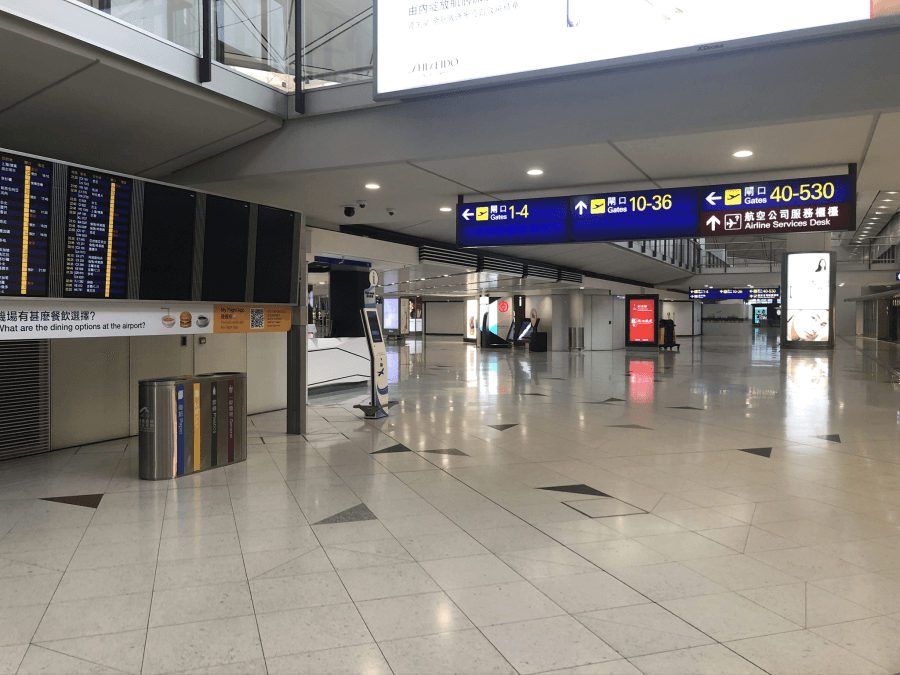 The emptiness of Hong Kong International Airport. Photo taken by AIRINC Client Engagement Representative Eugene Kobiako.
---
Arriving at my gate, I found a few individuals scattered around and no restaurants or shops open. All passengers lined up once seating was announced and maintained the obligatory six feet (two meters). Some individuals were wearing full-body PPE (photo below), and others wore gloves and face shields. Face masks were the minimum requirement and remained on except when eating and drinking.
As I boarded, I noticed nobody sat next to me, and we followed strict social distancing protocols. Once we took off, there was a limited meal service, which meant there were no options; everyone was served the same thing regardless of dietary preferences. There was also a reduced drink menu. The entertainment selection remained diverse, though dated, with most films having been released in late 2019 or early 2020. Some films were from when I moved to Hong Kong earlier in the year.
---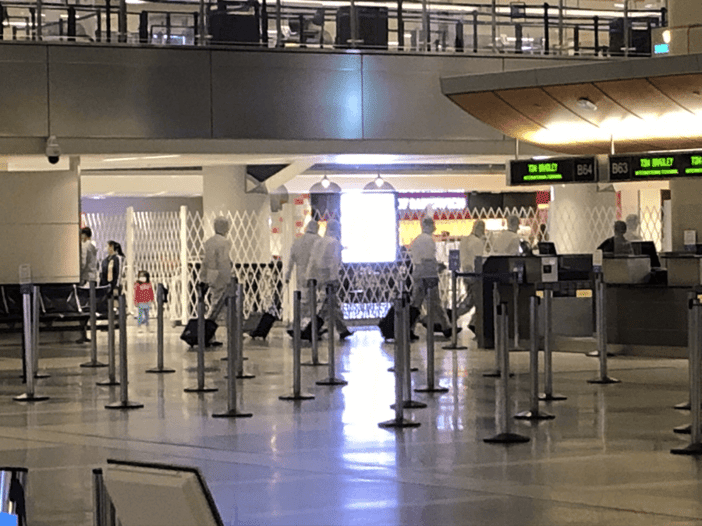 Travelers walking in full PPE. Photo taken by AIRINC Client Engagement Representative Eugene Kobiako.
---
Landing in Los Angeles [LAX]
During the flight, the attendants distributed a mandatory health form from the U.S. government. It had questions about my travel history and asked if I was experiencing any flu-like symptoms. Upon landing in Los Angeles and passing through immigration, customs, and baggage claim, I realized nobody asked me for this form and there was no place to turn it in.
LAX was also eerily empty. There were signs and placards all over with tips on how to social distance and noted that face masks were required. It was immediately clear that not everyone followed these recommendations. There were many employees of the airport who did not wear masks, or wore them incorrectly by exposing their nose. I also noticed that the few travelers who were around often had their masks around their necks or used alternatives, like bandanas, which was very rare – if non-existent – in Hong Kong.
---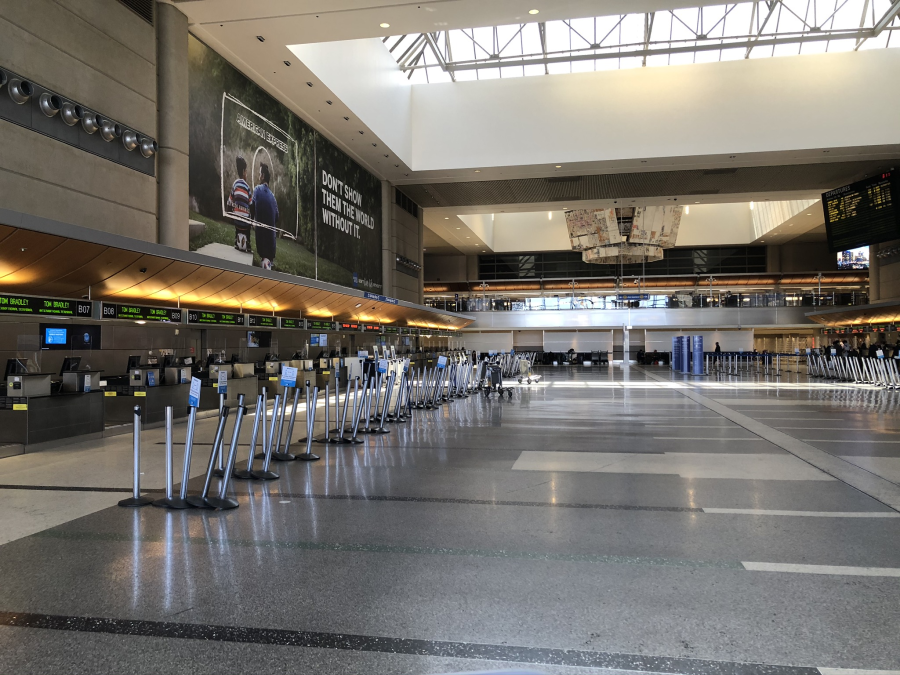 The emptiness of LAX. Photo taken by AIRINC Client Engagement Representative Eugene Kobiako.
---
I transited through Los Angeles to Philadelphia and finally arrived in Boston. Along the way, I noticed that only the international leg of my trip followed social distancing rules. Although the flight to Philadelphia made an announcement that "attempts are being made to socially distance," the flight was packed and all middle seats were taken.
---
...the flight was packed and all middle seats were taken.
---
Upon arrival to Boston, an unremarkable sign greeted me, stating "Massachusetts Expects: Self-quarantine for 14 days as you monitor your health" and included a list of symptoms and what to do if you have symptoms. Nobody was checking temperatures or ensuring that new arrivals were aware of the self-quarantine rule. COVID-19 safety guidelines came across as suggestions that could be, and were, ignored by many of those who arrived with me in Boston.
---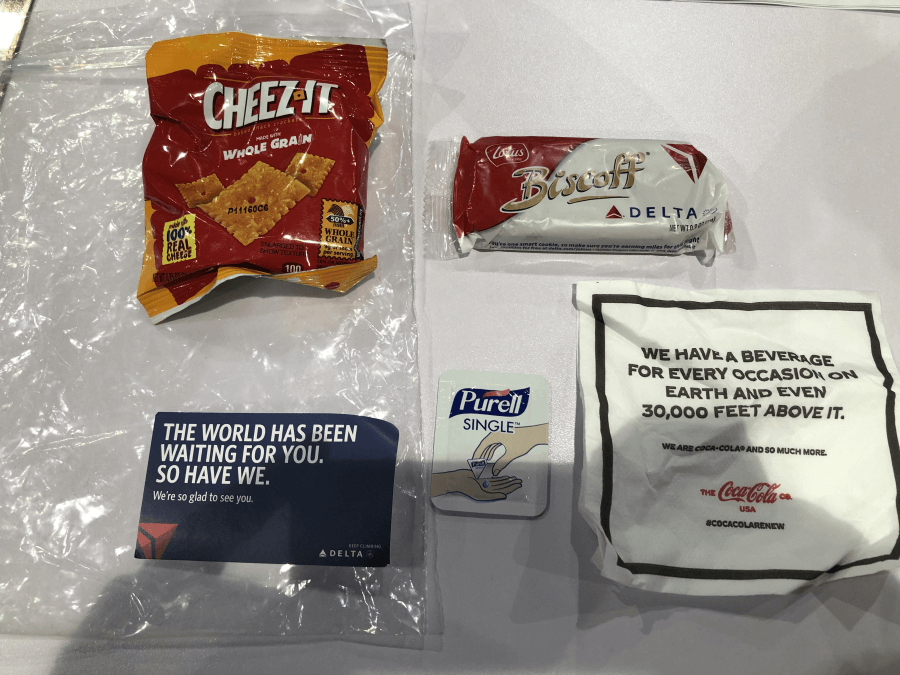 Snacks served on flight to Seattle WA, U.S.A. Photo taken by AIRINC Client Engagement Representative Eugene Kobiako.
---
Later in my trip, I flew to Seattle via Detroit and noticed more of the same, though those flights spaced passengers with at least one open seat between them.
Throughout my trip, I thought about my clients and the impact of COVID-19 on them and on their assignees. Global Mobility is being tasked with unique and unprecedented challenges, and will need to face these head-on to lead the business into a future full of change. But what are the best strategies to meet this change in a post-COVID world and how do you develop a successful COVID recovery plan?
How to adapt in a post-COVID world
As companies adapt to the future of Global Mobility, the Mobility function is tasked with driving and implementing the change that best suits the business needs. If you're like most companies, you want to implement calculated change, and you value the assistance of a strategic advisor. AIRINC is here to listen, partner, and deliver on what you need.
Contact us today to start a conversation about the future of your Mobility program:
---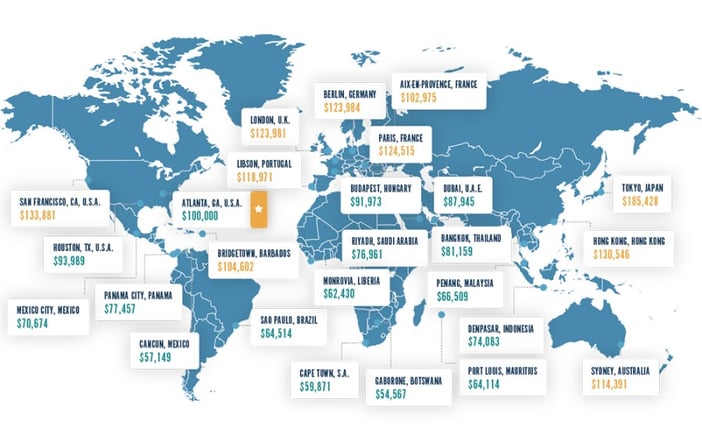 ---
About AIRINC
Listen | Partner | Deliver. For over 60 years, AIRINC has helped clients with the right data, cutting-edge technology, and thought-leading advice needed to effectively deploy talent worldwide. Our industry expertise, solutions, and service enable us to effectively partner with clients to navigate the complexity of today's global mobility programs. As the market continues to evolve, AIRINC seeks innovative ways to help clients address new workforce globalization challenges, including mobility program assessment metrics and cross-border talent mobility strategy. Our approach is designed with your success in mind. With an understanding of your goals and objectives, we ensure you achieve them. Headquartered in Cambridge, MA, USA, AIRINC has full-service offices in Brussels, London, and Hong Kong. Learn more by clicking here.
---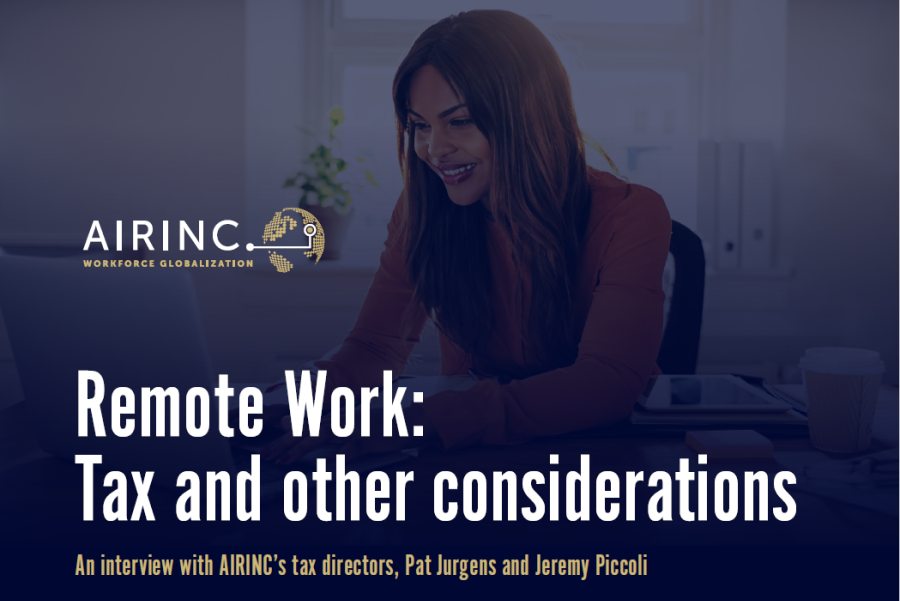 ---