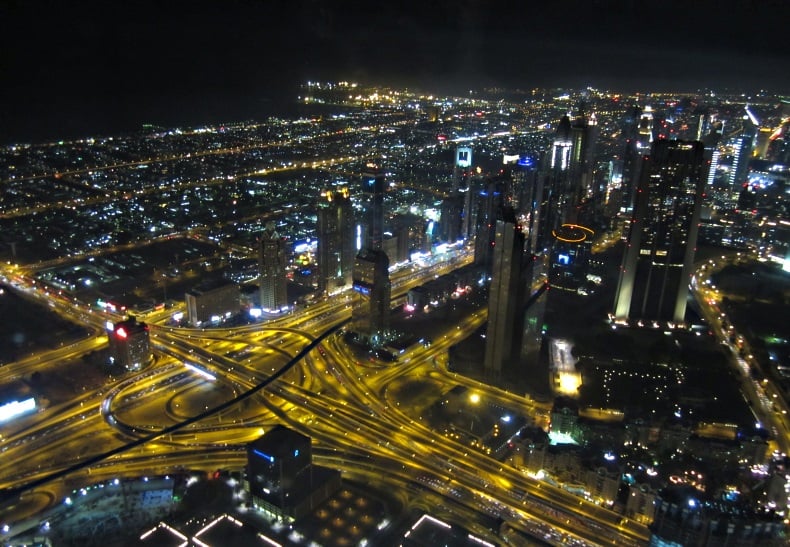 A night view of Dubai as seen during a recent AIRINC cost of living survey.
Modern Construction, Planning, and Technology
While on the roads in Abu Dhabi and Dubai, you're as likely to pass delivery-laden motor scooters as you are Lamborghinis, and all enjoy the smooth, well organized road systems in the country. Much of the urban areas of the United Arab Emirates are new compared to other major cities in the world and have benefitted from superior construction technology and modern planning philosophies not available in past decades.
In the World Economic Forum's 2017-2018 Global Competitiveness Report, The United Arab Emirates ranks first in the world for the quality of its roads, up from 9th in the world under 10 years ago. The UAE also ranks third in the world for its air transportation infrastructure and fourth in the world for infrastructure overall.
While some assignees utilize drivers, sources onsite confirmed that most expatriates drive themselves here. Roads are wide, well-laid out, and I didn't find them to be particularly hectic during my survey. A 2018 survey by YouGov found that about 73% of expatriate drivers felt the UAE has "a polite and caring road culture," although the ranking was higher among expatriates from fellow Arab countries, moderate for expatriates from Asia, and lower among expatriates from Europe and North America.
While I encountered some traffic in Dubai and Abu Dhabi, both ranked fairly well compared to other global cities – in INRIX's 2017 Global Traffic Scorecard at 208th (comparable to Vancouver BC, CAN) and 727th (comparable to Columbia, SC, USA) respectively among 1300 of the world's cities. Once known for severe traffic, congestion has improved over the last decade due to new and improved roads, introduction of the Salik toll system, and introduction of the Dubai Metro.
The flow of traffic in Abu Dhabi. Video taken by AIRINC surveyor Morgan Grenier.
---

You may also like:
1 Second Everyday: Glimpse an AIRINC Cost of Living Survey! [video]
---
Global Transportation: Want to learn more?
Many factors, such as traffic conditions and security environment, impact transportation options for expatriates. If you'd like to learn more about expatriate transportation in China or anywhere around the globe, click below today:
---

Featured post:
Has your Mobility Program considered hiring a driver for International Assignees?
---
On-site Insight and AIRLinc
This post is taken from On-site Insight, AIRINC's in-house global mobility blog. On-site Insight provides AIRLinc subscribers with an exclusive "behind-the-surveys" insight into new and existing expatriate locations based on commentary and photos from our global research team. Included is information on general living conditions as well as changing costs for both goods and services and housing and utilities, along with much, much more! To find out more, click here.
---

Get connected:
Global Mobility Insights for your Inbox
---