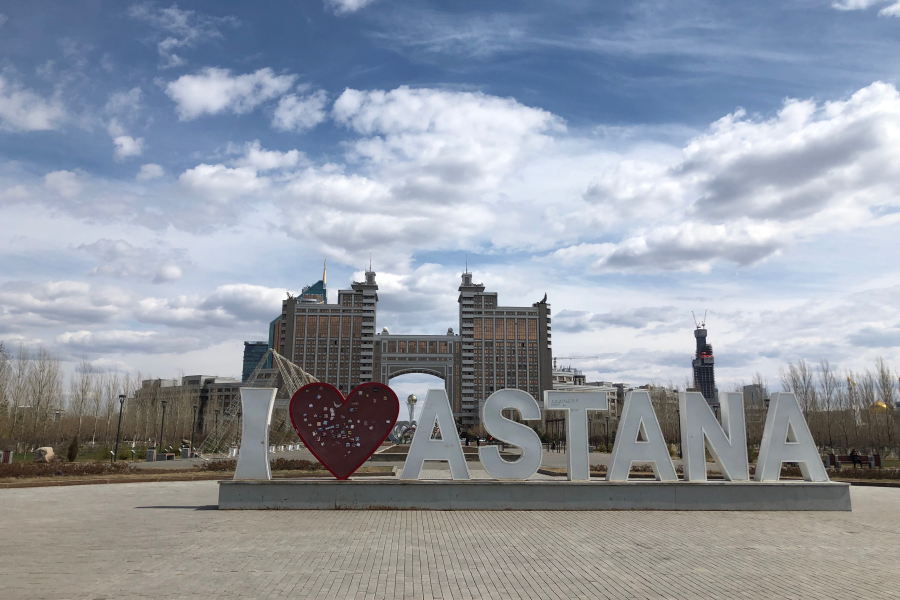 Nur-Sultan, Kazakhstan, previously known as Astana. Photo taken by AIRINC Surveyor Rose Allen.
Changing the Capital's Name in Kazakhstan
During my recent survey, I visited a number of cities in Kazakhstan, including Almaty, the country's largest city and former capital, and Nur-Sultan, the capital since 1997 and known as Astana until March 2019.
Nur-Sultan was a city planned under the direction of former president Nursultan Nazarbayev and was once called "the space station in the steppes" by the Guardian newspaper. Driving around the city, the first thing I noticed was the incredibly modern architecture, showing off unique styles and shapes.
The curves and globe of the Astana International Financial Centre, the torch-like Bayterek Tower, the canopied Khan Shatyr Mall and more are surrounded by open parks, sculpture gardens and pedestrian areas. To me, the city felt spread out and business-oriented. Locals are very friendly, but there is little access to English speakers, sometimes making the city difficult to navigate if one doesn't read Cyrillic or speak Russian.
---

Recent post:
Traveling with Public Transit Apps in Central Europe
---
Contrasting Cities of Kazakhstan
In contrast to the modern Nur-Sultan, the city of Almaty is very green. The city is full of dense tree lines, parks, and fountains. The architecture feels much more Soviet, with a few exceptions, such as the new Essential Mall. The city is very walkable and has a metro system as well. I met an Italian expat at a coffee shop and had the opportunity to speak with her about her life in Almaty.
She reminisced about the simple life there, access to beautiful mountings, ski resorts, and great hikes, but expressed a lot of difficulties in finding English-speakers, appropriate medical care, international quality clothing, or entertainment. She said that expats in the area tend to stick together and said her favorite part of living there was an expat women's group she joined that organizes trips, events, and charity fundraisers.
While the major cities of Kazakhstan are certainly on the rise, neither have full availability of international goods. During my survey I found shopping malls to have fair, but not great, selections of international clothing, sporting equipment, household goods and personal care. While grocery stores have high availability of goods in general, international brands are under-represented and come at a steep premium. International assignees are likely to pick up some hard-to-get goods while on home leave or on travels to other cities.
---

Related:
The Daily Frustrations of using Taxis and Rideshares in Cairo
---
Want to learn more?
Many factors impact expatriate life in cities around the world. If you'd like to learn more about cost of living and expatriate life in Kazakhstan or anywhere around the globe, click below:
---

Mobility Policy:
What can you do to protect your international assignees when home or host currency weakens?
---