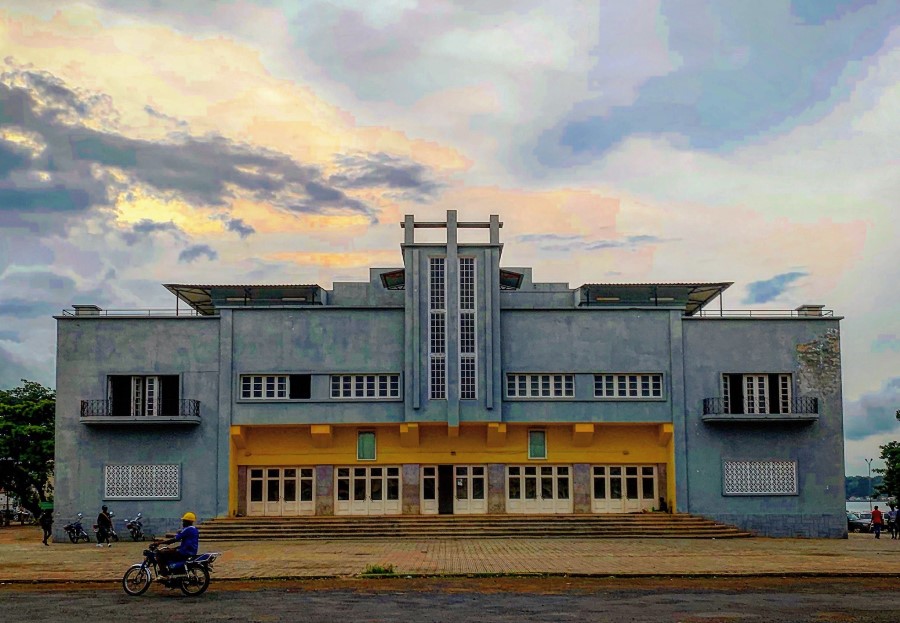 The long unused movie theatre named 'Cinema Marcelo da Veiga' in São Tomé. Photo taken by AIRINC surveyor Andrew Morollo.
The Pace of Change: From Hong Kong to São Tomé
As a resident of Hong Kong, I'm used to seeing the supremely fast-paced development of a modern city: new skyscrapers, high-speed train stations, subway lines, road tunnels, highways, stores, restaurants, and even a 55-kilometer-long bridge were built in the short time that I've lived there.
The idyllic island nation of São Tomé & Príncipe has the second smallest population in Africa, and it remains a hard-to-reach destination. I recently surveyed there and was amazed to see just how little had changed since my last visit over a decade ago.
---

Related:
200 Unique Survey Cities and a Career that's Endured
---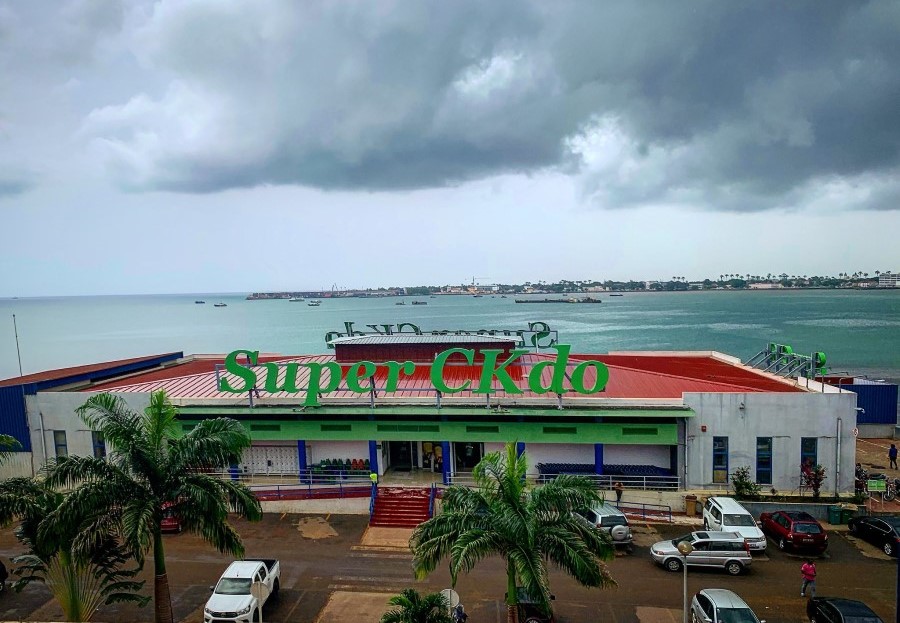 The Super CKdo Supermarket in São Tomé & Príncipe. Photo by AIRINC surveyor Andrew Morollo.
A new supermarket and restaurants in São Tomé
The most notable difference I found was the new supermarket, Super CKdo, which sits on the edge of Ana Chaves Bay on the north side of the small city. In 2008, the only supermarkets were small mom-and-pop style grocery stores with little or no air conditioning and very little merchandise. I also found two new restaurants, the Ilangue-Ilangue and Papa Figo, both of which are very popular with locals and the few visitors who come to the island. The trendy looking Café Camões, which sits on Rua de Angola in the heart of the city center, was the only other new outlet that I found during my survey.
As in 2008, the roads were in a state of disrepair and the street lights didn't work, bathing the city in complete darkness after sunset. The two main hotels looked just as they had back then – no updates since and none planned.
The bustling Mercado Municipal (Municipal Market) remains a gritty scene of marketplace chaos with its overload of vendors selling palm oil, cassava, bananas, and barracuda. To my happy eyes, the city had maintained its unaltered charm over the years since my last visit. Upon leaving, I felt refreshed by the slow pace of life in this little equatorial island paradise compared to my bustling Hong Kong life.
---


Enhancing Employee Experience!
Riding the COLA-Coaster: 2 Proactive Communication Strategies for Cost-of-Living
---
Improve your Customer Experience
When you are looking to strengthen your partnership with the business or improve the international experience for employees, AIRINC can provide the outside perspective needed to define and design a successful approach.

We can help you define what a positive experience means for your program by engaging your customers to learn what they truly value. We'll help you turn their input into program features and improvements that realize your vision. Learn more today by clicking below:
---

Featured video!
What does a cost-of-living survey in action look like?
---
On-site Insight and AIRLinc
This post is taken from On-site Insight, AIRINC's in-house global mobility blog. On-site Insight provides AIRLinc subscribers with an exclusive "behind-the-surveys" insight into new and existing expatriate locations based on commentary and photos from our global research team. Included is information on general living conditions as well as changing costs for both goods and services and housing and utilities, along with much, much more! To find out more, click here.
---

Become a member to gain valuable insights!
Global Mobility Insights for your Inbox
---