How can you improve communication with limited resources?
Communication and the Employee Experience are two interconnected themes that continue to dominate today's mobility conversation. The adoption of a thoughtful and targeted communication plan can enhance the assignee experience as it leaves the assignee feeling better informed and well cared for throughout their assignment. However, for a function that is continuously tight on resources, deploying a comprehensive communication suite is no small undertaking. I imagine many of you are nodding your heads in agreement!
Today I would like to focus on one vital piece of the communication suite: the Cost of Living Allowance. The Cost of Living Allowance (COLA) is a central benefit in many mobility policies and, depending on your program, may be adjusted up to 12 times per year.
Our most recent benchmark confirmed that 51% of companies update COLAs on a semi-annual basis with 19% updating on a quarterly basis.
From the assignee perspective, updates to the Cost of Living allowance are adjustments to their compensation and should be rolled out thoughtfully with a clear explanation on how and why allowances have been adjusted.
---

Our 2019 Mobility Outlook Survey confirms that 58% of firms are seeking ways to improve employee communications regarding the potential financial impacts of assignments/transfers
Download the 2019 AIRINC Mobility Outlook Survey!
---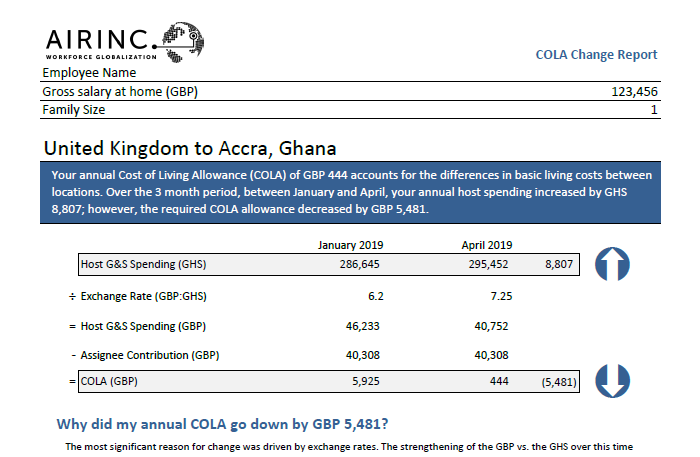 ---
Excerpt from AIRINC's employee-ready Cola Change Report. Reach out today to learn more!
1. COLA Change Report: Personalize and Simplify
The good news is that help is available. With the technical evolution of visual communication tools, AIRINC has recently taken the opportunity to retool its COLA change report to personalize and simplify the calculation. A good COLA communication should clearly illustrate:
What is the change?
Why it has occurred?
How does it impact the assignee?
For example, what was the impact of exchange rate change? What were inflation rates in the home and host locations? What is the time-period being measured? Are there other factors to be considered, such as adjustments to salary?
This is a lot of information, but we have found that there are ways to present this clearly and concisely to avoid assignee confusion and frustration regarding COLA updates. It is essential to develop a change document that is easily understood by your diverse assignee population. To do this, we have found that the best change communications are personalized, visual, and conclusive.
This leaves more time for you to focus on your strategic objectives, while your assignees feel confident that their on-assignment compensation is appropriate and transparent.
---


Trending now:
Cost-of-Living Allowances [COLA]: Communicate, communicate, communicate!
---
2. Build Credibility and Trust by Being Pro-Active
There is a second pro-active step that can be taken to further enhance your communication protocol. Prior to each update, it is helpful to review key combinations where assignees may need additional support. This list might include:
COLA decreasing significantly
COLA going negative
High inflation
Recent legislation changes: new VAT or other local conditions that may be reason to provide further explanation
If you have this information going into the update, you can decide if additional steps are needed to proactively communicate changes.
Often, AIRINC partners with our clients to schedule brief calls with assignees from certain volatile locations to talk through the change prior to the COLA adjustment.
This builds credibility for the mobility function, helps foster trust in the process and ultimately cuts down on time spent addressing noise in the system. When assignees feel they have the facts, they are less likely to question them and when they do, conversations are generally easier.
---

---
Excerpt from AIRINC's employee-ready Cola Change Report. Reach out today to learn more!
Key Takeaways:
What I hope you take from this is that communication can be a great tool to enhance the assignee experience, reduce administration, and build credibility for your program.
AIRINC is standing by with tools and information to help make the task less daunting and more attainable. Contact your Client Engagement team or click below to get more information on how we can help you achieve your communication goals:

---

What's your number #1 goal for 2019?
---