A metro station in Dubai as seen during a recent AIRINC cost of living survey. Photo taken by AIRINC surveyor Amber Chan.
Dubai and Abu Dhabi: Transportation Infrastructure
In my travels in the Middle East, ongoing construction has been a consistent sight, with plentiful cranes part of every skyline. While new skyscrapers and stadiums can be the most visible landmarks of expanding Gulf cities, the transportation infrastructure can't be overlooked in its ability to transform daily life. I found this especially true in Dubai and Abu Dhabi when I surveyed the United Arab Emirates in August.
Dubai opened the first metro system in the Gulf in 2009 when it unveiled its Red Line. The Green Line was opened in 2011 and Route 2020 is, unironically, planned to open in 2020. While there were initially plans for a much more comprehensive rail network, a volatile oil market motivated the country to scale back those plans. I rode both lines during my survey of Dubai and compared to my home transit system (opened more than a century before Dubai's), the system felt futuristic. The Metro is completely automated and driverless, and the stations feature platform edge doors that allow the stations to be air-conditioned. I found the trains to be frequent and remarkably clean. All trains are divided into three classes–Gold or first class, Silver or economy class, and sections for women and children. I also took a few buses during my stay, which also had reserved seats for women.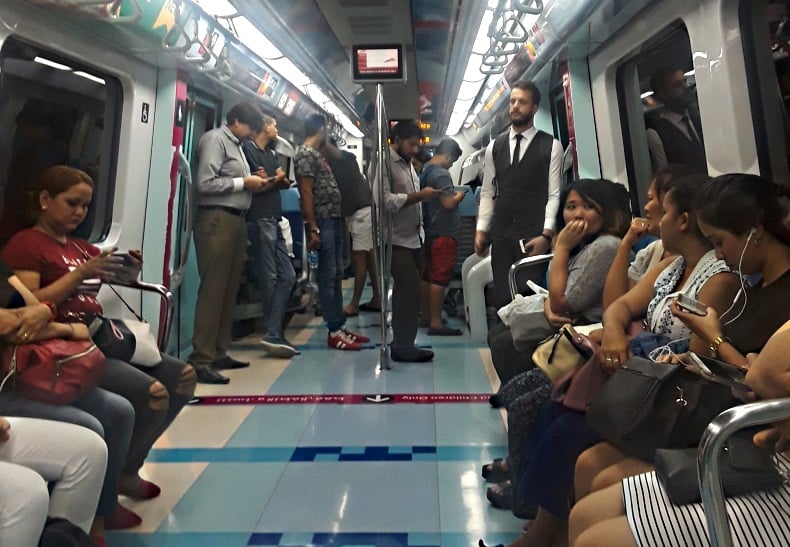 Dubai metro and the gender divide. Photo taken by AIRINC surveyor Morgan Grenier.
Despite being clean, safe and affordable, it's not common for upper-income expatriates to use public transit in Dubai, due to the limits of a two-line system and the inconvenience and added transfer time needed to use connecting buses. With the hot climate, even walking a short distance to a bus station can be unpleasant, so people who can afford cars still prefer to drive. I rarely saw anyone in the Gold first-class trains, and most of my fellow riders were retail, construction, and domestic help workers.
Abu Dhabi on the other hand, has no metro or light rail systems, although there have been various plans over the last decade. While there are buses, they weren't the easiest way to get around. Taxis in both cities are plentiful but sometimes had trouble finding my destinations. Ultimately, I found rideshare apps to be the easiest way to get around, as rides were easily hailed to my location, the app gives directions to the driver, and payment is handled within the app.
The Next Big Thing: Hyperloop
What's the "next big thing" for transit in the UAE? The Dubai-Abu Dhabi Hyperloop. Construction will begin in 2019, led by US firm Hyperloop Transportation Technologies, and if completed in schedule will be the world's first commercial hyperloop, transporting passengers between the two cities at around 1,000 kilometers per hour. The trip currently takes about 90 minutes by car, but the proposed hyperloop system would reduce travel time to under 15 minutes. Other proposed or planned hyperloop systems around the world include connections between New York City and Washington, DC, San Francisco to Los Angeles, Chennai to Bengaluru, Mumbai to Pune, and more.
---

You may also like:
The Ho Chi Minh City Metro: Will it ever be complete?
---
Global Transportation: Want to learn more?
Many factors, such as traffic conditions and security environment, impact transportation options for expatriates. If you'd like to learn more about expatriate transportation in China or anywhere around the globe, click below today:
---

Featured post:
Has your Mobility Program considered hiring a driver for International Assignees?
---
On-site Insight and AIRLinc
This post is taken from On-site Insight, AIRINC's in-house global mobility blog. On-site Insight provides AIRLinc subscribers with an exclusive "behind-the-surveys" insight into new and existing expatriate locations based on commentary and photos from our global research team. Included is information on general living conditions as well as changing costs for both goods and services and housing and utilities, along with much, much more! To find out more, click here.
---

Get connected:
Global Mobility Insights for your Inbox
---