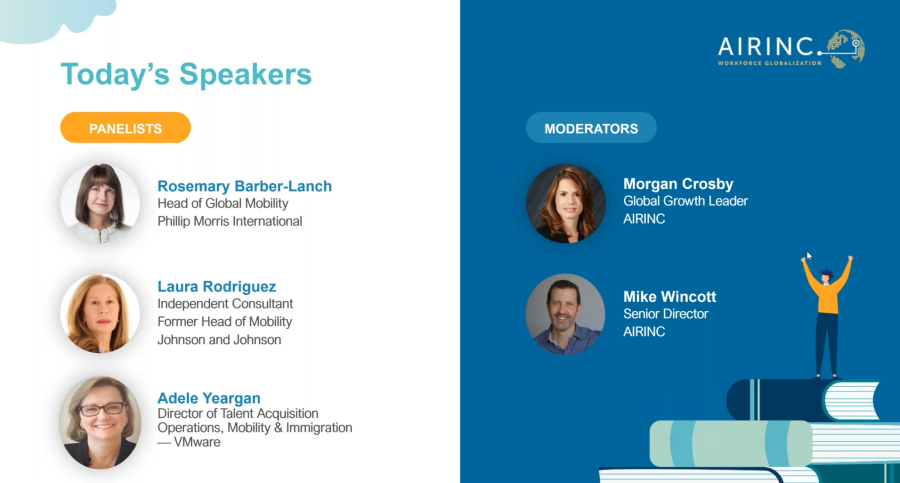 Last week, we hosted a webinar on COVID-19 recovery and what to expect next. We invited three corporate panelists to discuss their experiences and share their perspective. Our panelists during this event were the following:
Laura Rodriguez, Global Human Resources, Expatriate Program Management (formerly with JNJ)

Rosemary Barber Lanch

, Head of Global Mobility for Philip Morris International
Adele M. Yeargan, GPHR, Director of Talent Acquisition Operations, Mobility & Immigration for VMware
The panel, facilitated by AIRINC's Morgan Crosby and Mike Wincott, focused on:
Talent – Will the profile of mobile talent change?
Policy – What changes need to be made to policy offerings?
Immigration and tax – Are you prepared for changes in regulations?
Operations and organizational design – How will the mobility function need to change to meet the new normal?
The panelists were engaging and brought valuable insights to the conversation. Thank you again to Rosemary, Laura, and Adele for their insights!
The 4 Topics: Policy, Tax & Immigration, Talent, and Operations & Organization Design.
In our discussion on talent, we discussed if the reasons for assignments and transfers might change. One panelist shared that she believes that though assignments might change overall, it will be a positive change. Mobility will be forced to rethink how to plan assignments and will now consider options that previously were not common. For example, Diversity and Inclusion initiatives may become easier to administer; since being onsite might be less of a requirement for assignments, it may open the door for candidates that previously may not have been considered.
In the discussion on policy, we asked if virtual working and other non-traditional arrangements might have a space in mobility. Our panelists shared that they now have a better understanding that many jobs can be handled virtually. With this understanding, it is important for mobility to be able to administer these types of "assignments", since they allow the business to offer more flexibility to the employee.
This is a new space for mobility to be strategic, as mobility brings huge insight and expertise to the remote work conversation. The COVID-19 crisis has opened the door for mobility to lead strategy in a multiplicity of Talent areas, and provide more value to the business outside of the HR function. Finally, it may be mobility's role to ensure that employees still feel cared for and connected to the business while working remotely. Even in an increasingly virtual world, the "human touch" remains important.
Access the recording
For more information and to hear full insights from the webinar, we invite you to view it at the link here:
---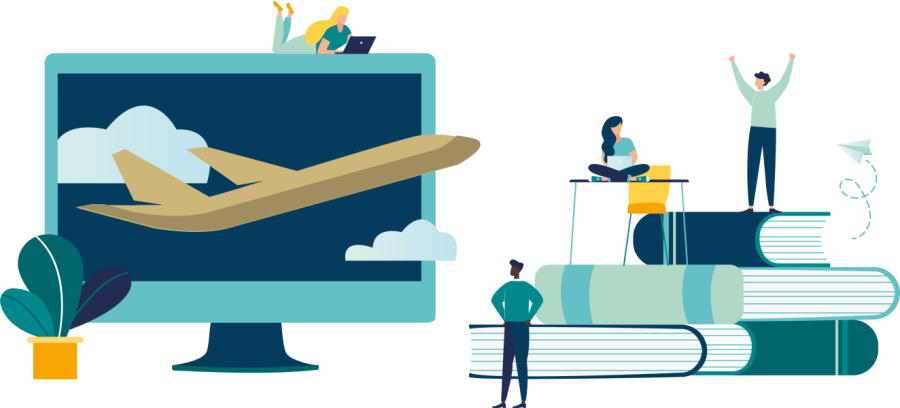 Click here to participate now in this exciting Pulse Survey
---
About AIRINC
Listen | Partner | Deliver. For over 60 years, AIRINC has helped clients with the right data, cutting-edge technology, and thought-leading advice needed to effectively deploy talent worldwide. Our industry expertise, solutions, and service enable us to effectively partner with clients to navigate the complexity of today's global mobility programs. As the market continues to evolve, AIRINC seeks innovative ways to help clients address new workforce globalization challenges, including mobility program assessment metrics and cross-border talent mobility strategy. Our approach is designed with your success in mind. With an understanding of your goals and objectives, we ensure you achieve them. Headquartered in Cambridge, MA, USA, AIRINC has full-service offices in Brussels, London, and Hong Kong. Learn more by clicking here.
---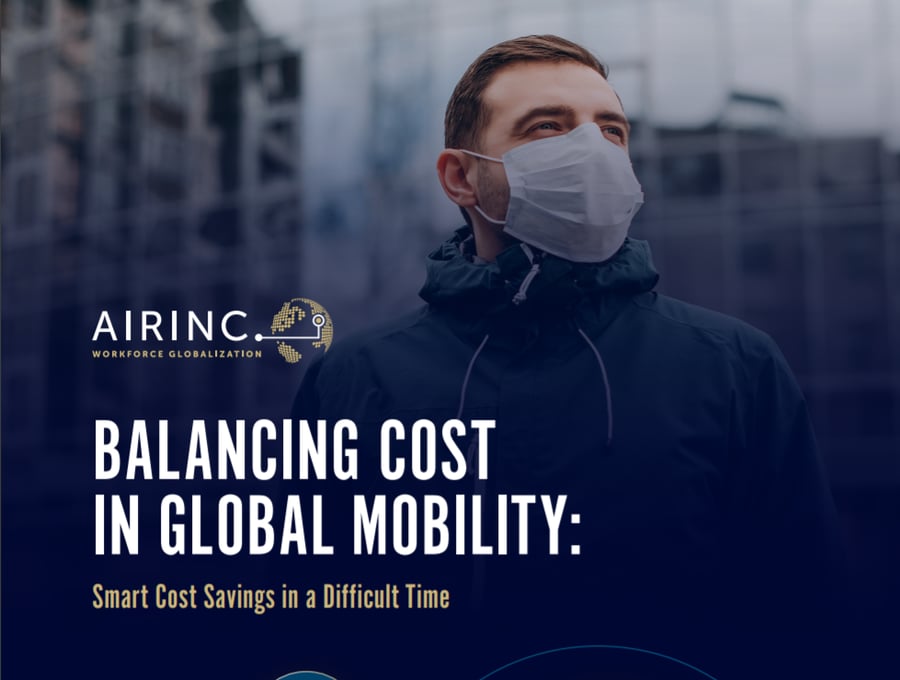 ---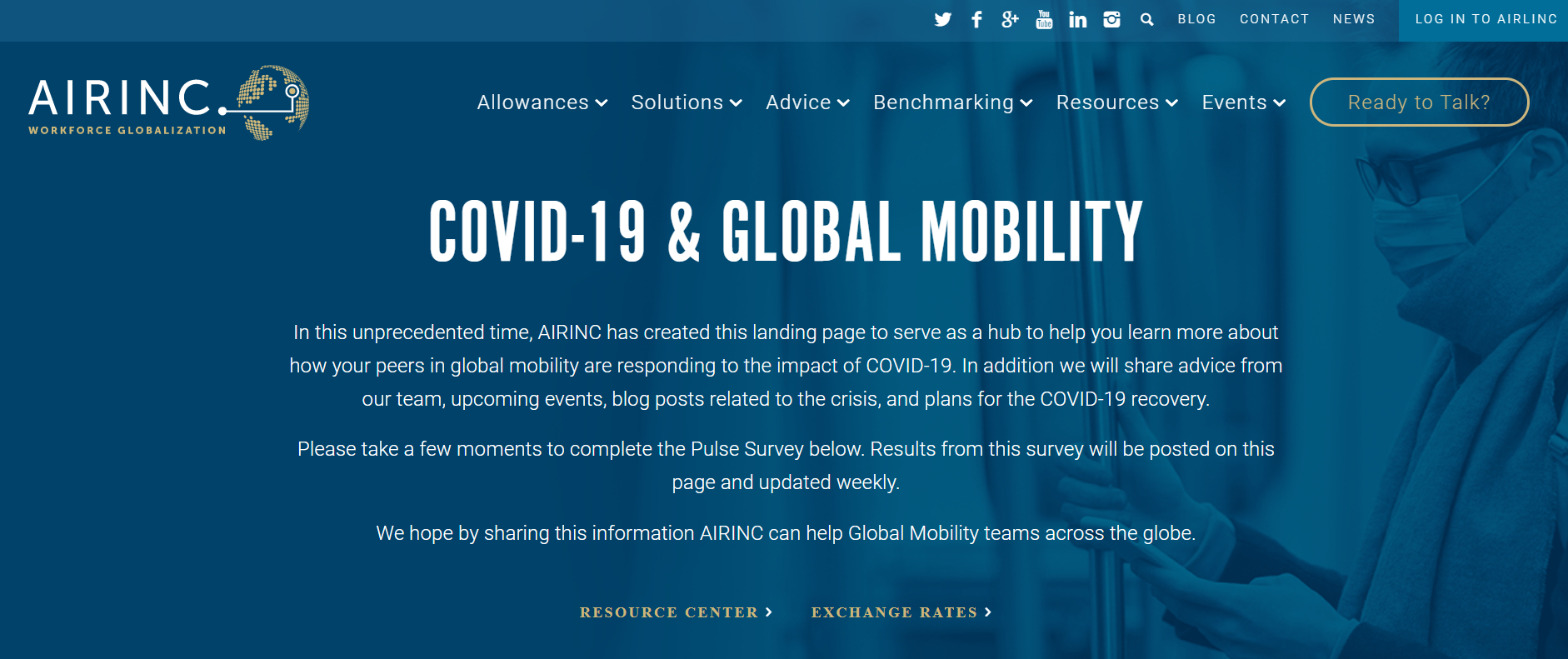 Visit AIRINC's COVID-19 Global Mobility landing page to read the best Mobility-related sources aggregated into one place.
---