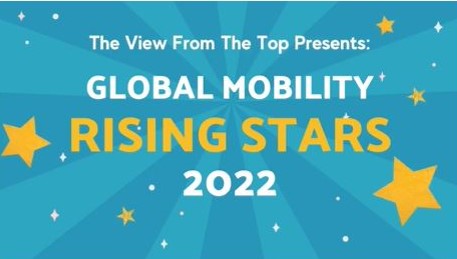 Benivo, the company that brought you the Global Mobility Top 250 Corporate and Top 100 Service Providers lists, is holding nominations for the Global Mobility Top 100 Rising Stars, which AIRINC is proud to sponsor.
In recent years Global Mobility has been growing and evolving, with that evolution greatly accelerated by the impact of the Covid-19 pandemic. In our industry, we are seeing new and creative solutions being pioneered, and much of this development is being spearheaded by relative newcomers to the field.
The Benivo Top 100 Rising Stars gives a chance to shine a spotlight on the up and coming movers and shakers, who are driving the industry into the future with fresh ideas and perspectives.
To qualify, nominees must either be
under 35 years old

or have fewer than 10 years of Mobility experience

and work on the corporate side of Global Mobility (i.e. not service providers)
Voting closes on the 13th of April, and winners will be announced on the show on the May 25th. Please use the link below to submit up to 10 nominations.
More for you: