AIRINC is able to collect consistent and unbiased cost-of-living data by sending its own staff to conduct onsite pricing surveys in cities around the world where organizations send their international assignees.
Upon the conclusion of each quarterly survey cycle, AIRINC spotlights a selected location where a survey was conducted in a feature called "News from the Road." These reports are not official AIRINC survey reports but rather personal insights from members of the AIRINC data collection team.
How does this compare to other cities you have surveyed? What surprised you most?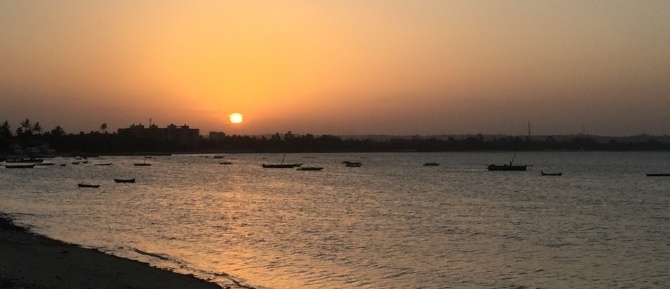 Dar es Salaam (Dar for short) is the largest city in Tanzania and its airport is a common entry point for both Tanzanians and visitors. Visitors applying for a visa upon arrival should expect a short wait during processing, even at non-peak travel times. If you arrive at 2:30 in the morning like I did, this wait may feel longer than it is but after dutifully handing over my passport and fee I received a visa with no problems. Another traveler on my flight was unpleasantly surprised to find out not only that she needed to pay for a visa, but that she had to pay in U.S. dollars rather than local currency. The airport officials were firm but reasonable and all ended well. Still, it was a reminder to always check the requirements before you book a trip.
Tanzania is a popular tourism destination and while many tourists continue on to the heights of Mt. Kilimanjaro, safaris in the national parks, or the beaches of Zanzibar, Dar es Salaam has its own appeal. After surveying several West African cities, I was happy to find blue skies and plenty of greenery in Dar es Salaam. I surveyed the city in February, typically the hottest month, but Dar is known to be warm and humid year-round. I did not mind sweating a little for the pleasure of enjoying its surprisingly clean beaches.
Was it easy or difficult to get around (distances, traffic, and public transportation)? Were there significant language issues, such as being able to read signs and labels on products or asking people for help? Other challenges (climate, pollution, etc.)?
Our survey is spread over three main areas of the city; the peninsula, city center, and Mlimani City Mall and I found the city easy to navigate. Roads are well maintained in expat areas and although some assignees may choose to have a driver, others would be comfortable self-driving. While on survey I relied on a combination of taxis and bajajs, a three-wheeled vehicle which is open on both sides. Both are readily available at shopping centers and other busy areas, or they can be hailed on the street. Some expats may not be comfortable taking a bajaj; the ride is bumpy and more exposed to the elements. On one trip the tire of my bajaj popped while on the road. However, the driver stopped, immediately hailed another bajaj for me, and I was on my way again in minutes. City center streets can be congested so it is best to plan extra travel time when going to and from the center.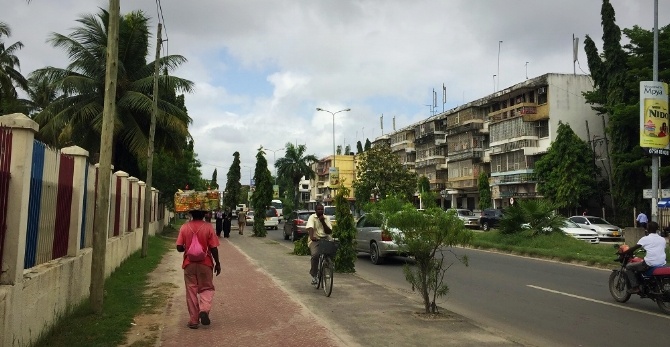 Kiswahili and English are both official languages in Tanzania so communicating was not difficult for me. However, English is often Tanzanians' second or third language so assignees would likely benefit from learning some key phrases in Kiswahili.
Were there any special safety concerns?
Concentrated wealth in expatriate neighborhoods make those areas attractive for residential break-ins. Most expatriates live in compounds or apartment buildings which provide shared security to counteract this. Common sense precautions are advised at all times and particularly at night or in unfamiliar neighborhoods. I felt safe walking alone during the day in both the city center and in the expat areas of the peninsula.
Were there any challenges connected with pricing the market basket or evaluating the rental market (shortages, lack of quality goods, waiting lists for accommodation, etc.)?
Rental properties of all types are easy to secure at the moment as demand is down and supply continues to increase; the tenant has power to negotiate in this market. Availability of imported foods is generally adequate although we visit four supermarkets to fill our market basket survey completely. International clothing brands are very limited and most expats would likely shop during home leave.
What were some of the personal highlights of your trip?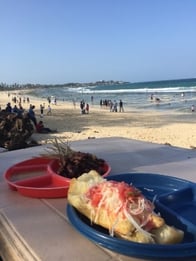 Eating fried cassava and meat skewers and looking out over the Indian Ocean in Dar es Salaam was an excellent way to snack. Dar is also a two hour ferry ride away from Zanzibar, a semi-autonomous collection of islands famed for their stunning beaches and Stone Town, a UNESCO World Heritage site with a unique history and Arabic influences. On a weekend side trip I visited the main island and also learned that the Queen front man, Freddie Mercury, was born in Zanzibar. Maybe someday I can win a trivia question with that knowledge. Last but not least, the night market was cheap and delicious, I highly recommend the lobster Zanzibari pizza!