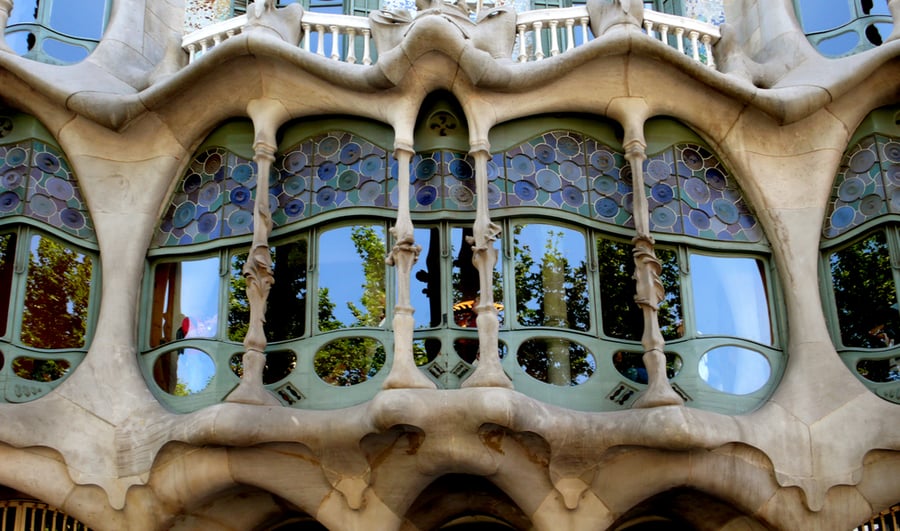 The Rise of Remote Work and Workplace Digitalization
COVID-19 has propelled the digitalization of the workplace and the rise of remote work. Capitalizing on the appeal of its advanced infrastructure and digital connectivity, Dubai recently launched a new visa programme to encourage overseas remote working professionals (and their families) to relocate to Dubai, while continuing to work remotely for their overseas employers.
The new remote worker scheme stipulates certain eligibility requirements around income and health insurance coverage, but those who qualify for the visa are eligible for Dubai's no-tax regime.
Even more recently, Cayman Islands has announced it will soon be offering a 24-month visa for remote workers. While there are substantial eligibility requirements on earnings (USD 100,000 per year for single employees, up to USD 180,000 for a family), the program does waive income taxes for the visa eligibility period.
These developments follow similar moves by other countries eager to attract remote workers, like the 12-months Barbados Welcome Stamp.
Assessing the best locations for Remote Worker Visas
With the addition of Iceland (announced early November 2020), there are now 17 locations that offer visa programs targeting digital nomads and remote workers, including Antigua and Barbuda, Aruba, Bahamas, Barbados, Bermuda, Cayman Islands, Curacao, Czech Republic, Dubai U.A.E., Estonia, Georgia, Germany, Iceland, Mauritius, Mexico, Portugal, and Spain.
The goal of all these visa programmes is to attract foreign talent to work and contribute to the local economy. Waiving local income taxes is commonly offered by many of these remote worker visa programmes as an incentive to attract applicants to the programme.
With a growing list of countries offering remote work visas, how do you begin to assess the available options? For some, lifestyle is most important (particularly if money isn't an issue). For others, financial well-being is at the top of the list.
Using our Global 150 city ranking database, we took a closer look at some of the countries offering remote work visas to see how they stack up:
---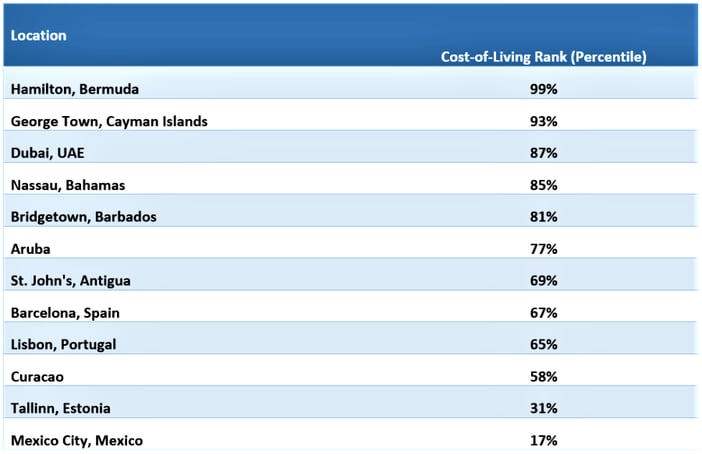 ---
Please note: The Cost-of-Living ranking ranges from 1% to 100%, with 100% being the most expensive cost-of-living. All information based on AIRINC's Global 150.
---
If raw purchasing power is your goal, Mexico offers the "biggest bang" for your buck – it ranks in the 17th percentile of locations in the AIRINC Global 150 database, which means that it is cheaper to live there than over 85% of the other 149 locations we evaluate.
The island nations in the Caribbean, on the other hand, consistently rank as some of the most expensive places in the world to live. Living costs in Bermuda are higher than 99% of the 149 other locations we reviewed. This might explain why a number of the Caribbean island locations waive local income taxes for those who obtain the remote worker visas!
---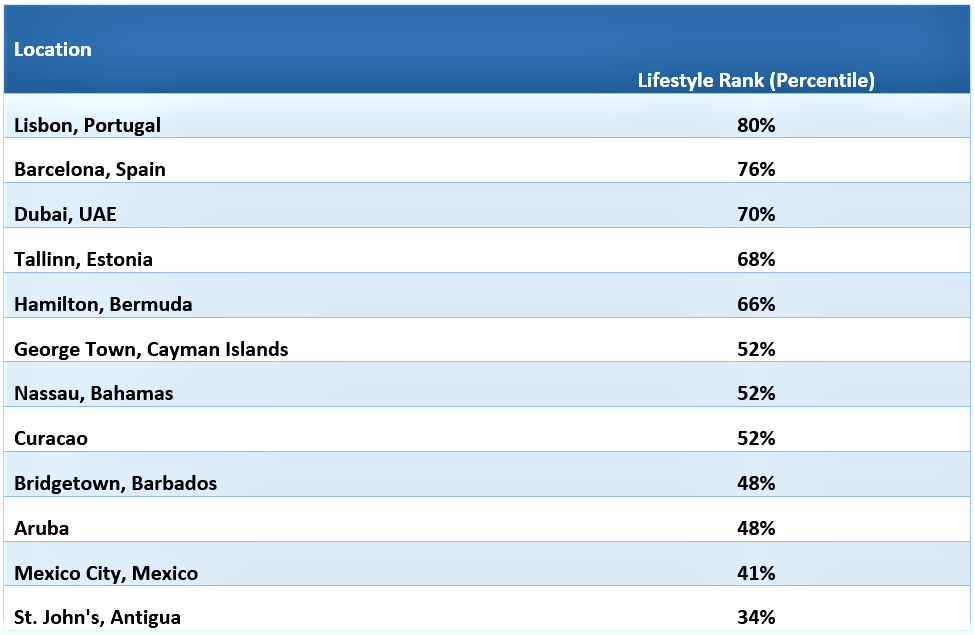 ---
Please note: The ranges in the chart are from 1% to 100%, with 100% being the highest quality lifestyle. All information based on AIRINC's Global 150.
---
Which countries offer the best quality lifestyle for remote work?
If the quality of your lifestyle is your main goal, don't pack your bags for those Caribbean islands yet! AIRINC's Global 150 rankings offer a surprising, perhaps controversial, view on which of the countries offering remote work visas offer the best lifestyle:
While scenic landscapes and pristine beaches can provide great memories and Instagram moments, the reality is that a good quality lifestyle over the longer-term depends on fast, reliable digital connectivity and good infrastructure (including environmental management), as well convenient access to quality health care, education, housing, and goods & services.
Looking at our remote visa locations, Barcelona and Lisbon top the ranking for best lifestyle, followed by Dubai and Tallinn. The seven Caribbean locations, however, score at the tail end of our remote work location lifestyle rankings.
Choosing the best location is ultimately a subjective exercise. But if you are seriously considering applying for a remote work visa in these or other locations, evaluating the financial and lifestyle impact is a first step to making the right choice!
The Future of Remote Work
We look forward to seeing how things progress around the world as countries, companies, and workers adapt to the new remote work world.
Contact us to learn more about how companies are using remote work to secure top talent, and how we support them with our data and advice.
---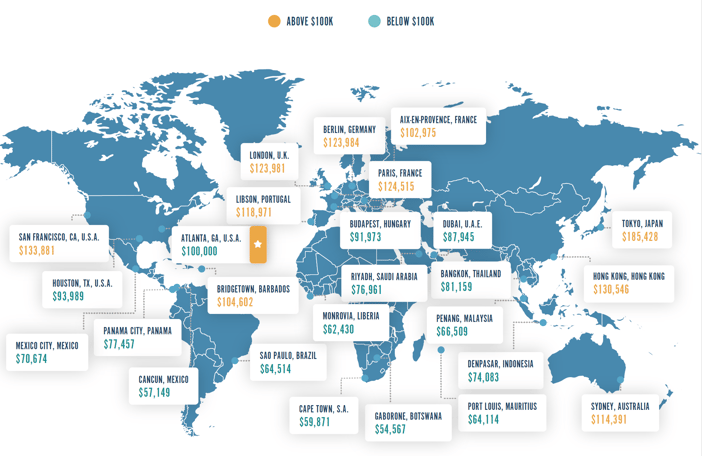 ---
About AIRINC
Listen | Partner | Deliver. For over 60 years, AIRINC has helped clients with the right data, cutting-edge technology, and thought-leading advice needed to effectively deploy talent worldwide. Our industry expertise, solutions, and service enable us to effectively partner with clients to navigate the complexity of today's global mobility programs. As the market continues to evolve, AIRINC seeks innovative ways to help clients address new workforce globalization challenges, including mobility program assessment metrics and cross-border talent mobility strategy. Our approach is designed with your success in mind. With an understanding of your goals and objectives, we ensure you achieve them. Headquartered in Cambridge, MA, USA, AIRINC has full-service offices in Brussels, London, and Hong Kong. Learn more by clicking here.
---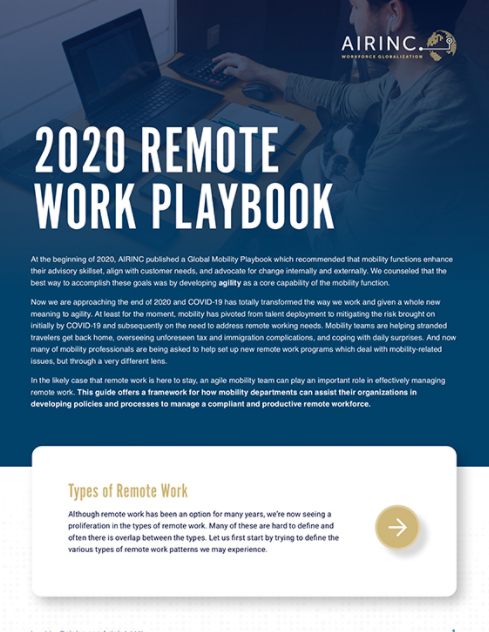 ---