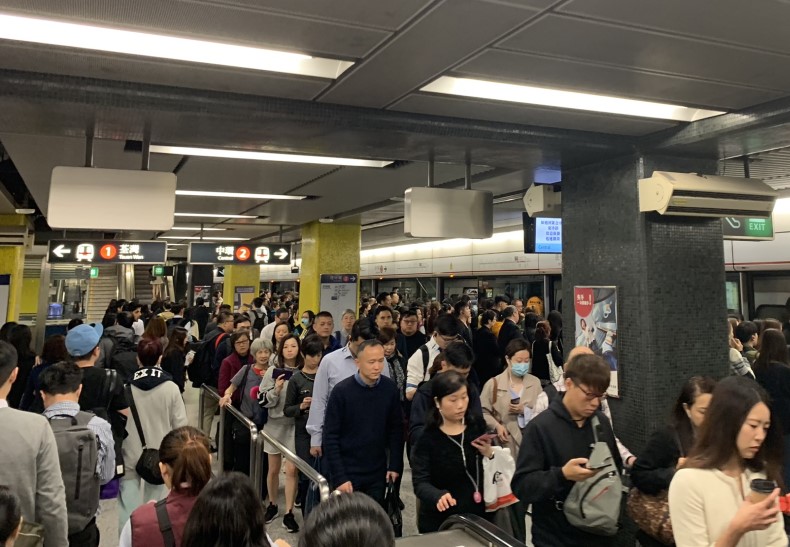 Rush hour at an MTR station in Hong Kong. Photo courtesy of AIRINC Surveyor Yimkwan Tsang.
Protests in Hong Kong
In the last two weeks, Hong Kong has seen some of the largest protests in its history as citizens and residents have taken to the streets to protest a proposed extradition bill. Demonstrations have been centered around Admiralty and the surrounding areas of Central and Wan Chai.
The protests have been predominantly peaceful, although excessive crowding, crush conditions, and use of force by police have led to injuries of participants. People in the area of protests have been impacted by tear gas, which disperses indiscriminately. One protestor died after falling off a building while unfurling a banner, but there have been no other deaths.
---

Trending now:
3 New Ways for Mobility to Communicate!
---
How are the Hong Kong protests impacting expatriate life?
For most expatriates in Hong Kong, the overall impacts during these protests have been minimal. On June 12, many companies located in the direct area of the protests (including our own Hong Kong office) allowed employees to work from home due to expected congestion in the area. The Admiralty MTR station was closed for about 48 hours, but the density of public transportation in the area minimized the impacts, as workers for the nearby banks, multinational companies and consulates were able to utilize other nearby stations. The Pacific Place Mall and a number of commercial outlets in the vicinity of Admiralty were also closed on June 12.
Protests have continued following the delay of the bill and are expected to continue. On the horizon, July 1 is Hong Kong Special Administrative Region Establishment Day, a public holiday that is marked annually with a major pro-democracy protest. This year's will likely be the largest in the city's history, but is expected to remain peaceful.
---

Enhancing Employee Experience!
Riding the COLA-Coaster: 2 Proactive Communication Strategies for Cost-of-Living
---
Looking Ahead:
AIRINC will continue to monitor the developments in Hong Kong closely. If you have any questions, please contact your client engagement representative today, or click below now:
---

Our 2019 Mobility Outlook Survey confirms that 58% of firms are seeking ways to improve employee communications regarding the potential financial impacts of assignments/transfers.
Download the 2019 AIRINC Mobility Outlook Survey!
---

Join us!
Have you registered for our upcoming AIRINC Institute webinar series?
---