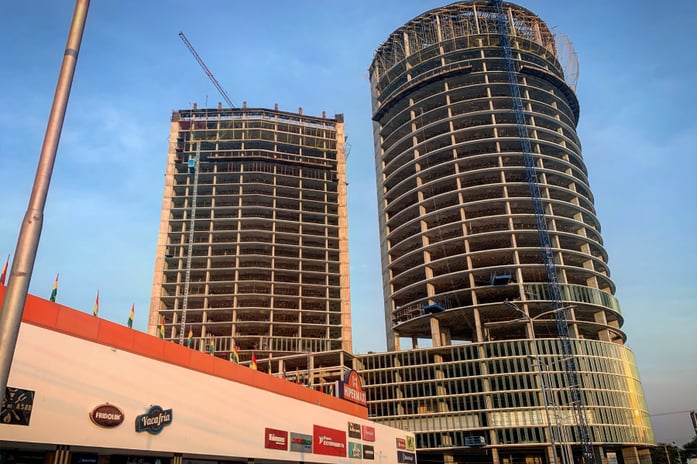 New Construction in Equipetrol in Santa Cruz, Bolivia. Photo taken by AIRINC surveyor Andrew Morollo.
Santa Cruz, Bolivia
Construction of new apartments and houses over the last four years has created a large rental supply in Santa Cruz. Lower demand for these rentals has resulted in dropping rents. Vacancy rates are high at all but the most popular apartment buildings. Construction continues, with more two- and three-bedroom apartments planned to enter the rental market in the next 6-18 months. However, sources believe rents have likely reached their lowest point.
---

You may also like:
Currency and Payment in Zimbabwe
---
Panama City, Panama
Many new construction projects of residential rentals have been completed over the past several years. Demand for these rentals has softened, leading to lower rents and an oversupply of units. Most of this rental decrease has affected high-end luxury units. Sources say, the higher the price, the larger the decrease. Rents are expected to have reached their lowest levels and the slow economy is hoped to rebound since a new president was elected in May 2019.
---

Trending now:
Domestic Mobility: Should I stay, or should I go?
---
AIRINC's Data Points: Your Global Mobility News
Want to learn more? The above excerpt is taken from Data Points, AIRINC's quarterly newsletter. Data Points brings you the latest updates from our Housing, Goods & Services, and Tax departments based on our expert international surveys, which are conducted by our global data collection team on-location.
---

Our 2019 Mobility Outlook Survey confirms that 58% of firms are seeking ways to improve employee communications regarding the potential financial impacts of assignments/transfers.
Download the 2019 AIRINC Mobility Outlook Survey!
---
Have you seen AIRINC's latest cost-of-living survey results?
---