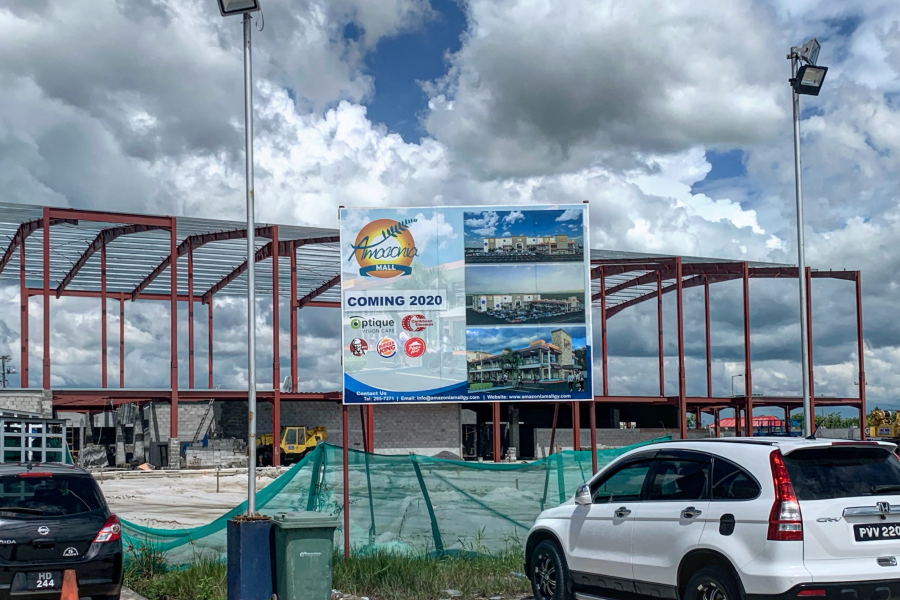 The Amazonia Mall in Georgetown, Guyana. Photo taken by AIRINC Surveyor Andrew Morollo.
Vast oil deposits trigger an influx of expatriates to Guyana
Since the 2015 discovery of vast oil deposits two hundred kilometers off Guyana's coastline, the country has become one of the hottest oil and gas locations in the world. The capital city of Georgetown is now a center of activity as exploration, planning, and infrastructure development progress.

Thousands of expatriate workers have arrived over the last few years, including field engineers, geologists, quantitative analysts, oil and gas attorneys, project developers, and more. Housing demand from this influx of expatriates has driven supply shortages and rising costs. Oil extraction is on schedule to begin in 2020, and it is expected that expatriate arrivals will continue to increase as new deposits are found off the country's coast. Georgetown has a population of 250,000 and estimates have stated that thousands more expatriates will be living and working here within the next five years.
---

Trending now:
5-Days-in-Rome: Glimpse an AIRINC Cost of Living Survey in Action! [video]
---
Demand outpacing supply in Georgetown's housing market
Housing supply is already so low that oil companies have approached homeowners directly, offering high rental payments in cash for multi-year leases. Our on-site real estate sources also told me that some companies are even considering building their own housing developments, foreseeing long-term operations in Georgetown and continued housing shortages.

During my survey I could see many residential renovations and newly-built housing developments are underway across the city, but these may not be enough. The high-demand, low-supply imbalance and the anticipation for a continued hot market have led to nearly unprecedented rental costs over the last twelve months, with many properties seeing drastic price increases. While the trend may slow slightly, rents are expected to continue to rise.
---

Related:
Georgetown, Guyana: A Top Global Energy Frontier?
---
Want to learn more?
In a country new to oil wealth and high demand for rentals, Georgetown's housing market will continue to be dynamic. Stay tuned for next week, when we share our observations of commercial growth in Georgetown. AIRINC will continue to monitor housing, cost of living, and hardship in the city, so subscribe to our mailing list for the latest on-site insights:
---

Featured video!
What does a cost-of-living survey in action look like?
---