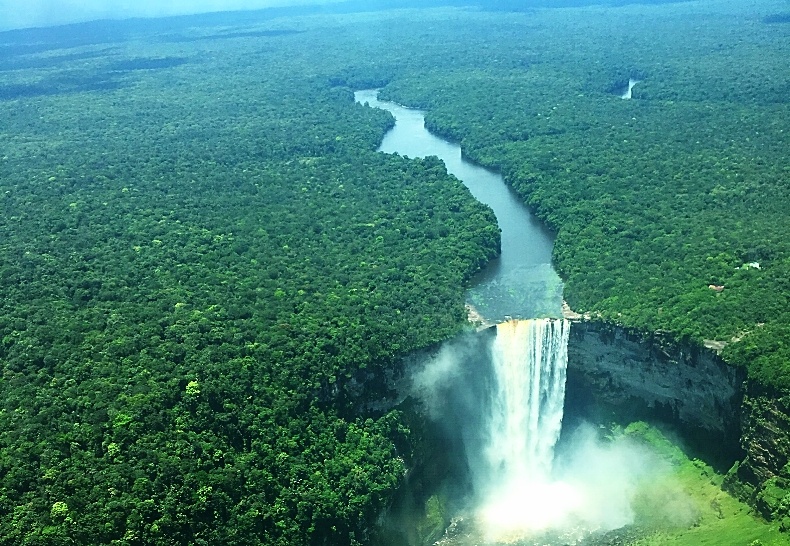 Aerial view of Guyana en route to the capital city, Georgetown. Photo taken by AIRINC surveyor Rose Allen.
Guyana and the Discovery of Vast Oil Deposits
During our recent survey quarter, I traveled to Georgetown, Guyana. Flying over Guyana I was struck by its rural feel and dense forests. From the air, it looked like the most untouched land I'd ever seen, and I later learned that roughly 80% of Guyana is rainforest.
Over the last few years, Guyana has captured global attention due to the discovery of vast oil deposits off the country's coast. As the Guyanese government debates how to handle this new-found opportunity, they have delayed oil auctions and drilling. In August, Guyanese president David Granger announced they would be transferring oversight of the oil industry to a newly created Department of Energy.
The IMF and Guyana's Department of Energy
The country is setting up a national wealth fund and working with the International Monetary Fund (IMF) to plot their way forward. The currently-known drillable oil deposits are estimated to be worth more than fifty-times the nation's current GDP and current projections show that the GDP will swell by eight times the current average just from 2019 to 2020, when commercial drilling is expected to start.
The Impact on Housing and Expatriates
With oil companies saying that this has the potential to be one of their most profitable ventures in history, clearly there is money to be made. The question is, how will this money impact Guyana and expatriate life in the short- and long-term?
While I was on-site, many real estate sources confirmed seeing rent spikes after the country's initial discovery of oil in 2015. Currently, there are new apartment buildings and houses under construction and demand is outpacing supply as most new construction is fully-rented before completion. There are also many commercial investments in the planning and funding stages. The Pegasus Hotel has a planned $100 million expansion project and MovieTowne, the Trinidadian Company, has plans for a retail complex and office space, which is currently undergoing construction.
Despite the growth, Georgetown still feels very rural and underdeveloped. Buses and cars swerve in and out of traffic while dodging pot holes, the solar traffic lights freeze upon dusk in most intersections, and horses walk with their foals down the middle of the highways. I left Guyana with a bitter-sweet feeling in my chest. I couldn't shake the feeling that when I return next, the country would look and feel like a totally different place.
International Housing
Want to learn more about how AIRINC can help address your global housing needs? Click below to see more about our product offerings or click here to start a conversation with your client services representative today.
---

Related:
Georgetown, Guyana Growing to Meet International Demand
---

Related:
Guyanese Oil Boom Disrupting Georgetown Housing Market
---