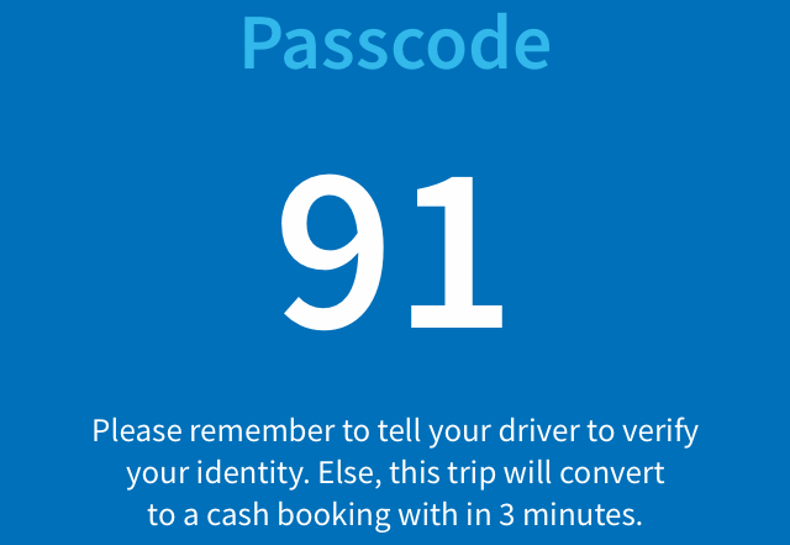 A screenshot from a phone app for transportation in Jakarta, Indonesia. Here, the number provided connects the app payment method to a taxi hailed from the street. Photo taken by AIRINC surveyor Yimkwan Tsang.
Taxis vs Rideshares in Jakarta
Rideshare companies are having an impact in Jakarta, a city where traffic is ever present and getting around can be challenging. While it is common for expatriates to have a car and driver here, taxi and rideshare companies are innovating ways to capture expatriate clientele.
There are two main rideshares that are available in the city – a local company and an international one. Both services offer most of the usual standards – hailing, paying, and tracking your driver and your route through a phone app.
There is even a messenger in one of the apps that conducts translation automatically, which made it far easier for me to communicate with drivers.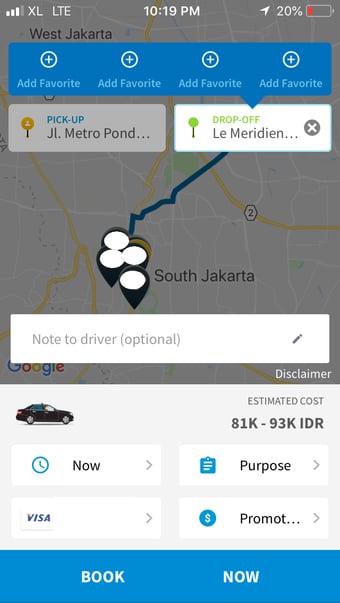 Screenshot from the app of one of the transportation services in Jakarta, Indonesia
---
Read more about transportation around the world
---
A unique and traffic-filled location
But Jakarta is a unique and traffic-filled location. The rideshares only allow servicing through the app, which means that it can connect you with a driver that is ten, twenty, or even thirty minutes away, adding time to what will already be a long and traffic-filled ride. Additionally, I waited for up to twenty minutes on a few occasions only to have the driver cancel due to excessive delays in reaching me. Unlike ridesharing in other countries, there is no penalty (at least none that I found) for either the driver or the passenger to cancel a trip.
A better option, though, is a taxi company that has adopted many of the features of rideshares. Their platform offers the option of using the app or hailing cars from the street. Then you are able to pay for, share, and track your trip to the destination through the app. When hailing from the street, the app is connected by entering the car identification number, which is clearly displayed on the inside of the door. Everyone I spoke with during my survey recommended this taxi-rideshare hybrid as the safest and most efficient form of transportation outside of using a car and driver.
---
Subscribe for more frequent updates!
---
Transportation Reports: Guidance when and where you need it!
Want to learn more about how AIRINC can help address your global transportation needs? Click below to learn more about our product offerings or click here to start a conversation with your client services representative today.
This post is taken from On-site Insight, AIRINC's in-house global mobility blog. On-site Insight provides AIRLinc subscribers with an exclusive "behind-the-surveys" insight into new and existing expatriate locations based on commentary and photos from our global research team. Included is information on general living conditions as well as changing costs for both goods and services and housing and utilities, along with much, much more! To find out more, click here.