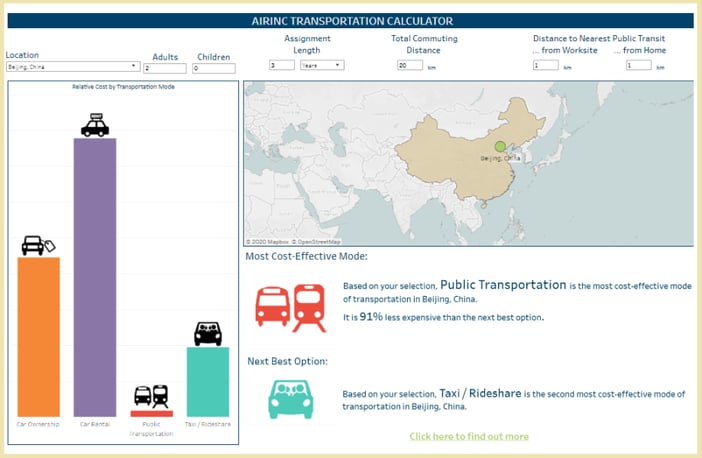 Image above is a screenshot from AIRINC's Transportation Calculator
AIRINC's Commuter Calculator: Some of the results could surprise you!
Are you traveling, working, or living abroad and need to know the most cost-effective means of getting around? AIRINC has developed a calculator to help you make an informed decision.
Based on our survey data and on-site experience, AIRINC's calculator for 30 world cities helps you assess what the most cost-effective option is for you, based on your family size, duration of stay, commuting distance, and typical market practice. Our goal is to leverage our data to help you make the best decision for yourself or your business.
Estimate the cost of your commute
This free-to-test calculator estimates the cost of your commute with a few simple inputs, including:
The duration of your trip or assignment
Typical commuting distance
Proximity to public transit
Family size
Where does the estimate come from?
This calculator extracts data from a variety of AIRINC products to make a recommendation for 30 world cities. It also folds in typical usage patterns for each location based on our on-site experience.
Our aim is to help you make an informed decision, whether traveling somewhere on a short business trip, moving for a long-term assignment, or simply visiting for the week. Click below to calculate your commute:
---


Trending article:
Are you getting the most out of your Global Mobility Network?
---

Trending download:
The 2020 International Business Travelers Benchmark Report [Download]
---

Download now to optimize in 2020!
2020 Global Mobility Playbook [Download]
---
2020 Global Mobility Playbook [Download]