mailto:inquiries@air-inc.com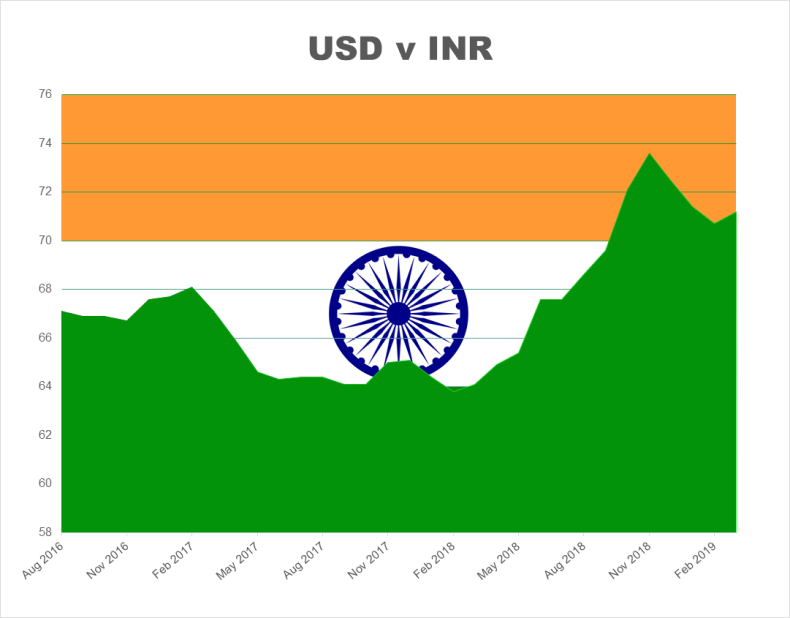 A chart of the currency fluctuations in India since the demonetization in 2016.
Demonetization in India: a shock to the system
In November of 2016, the government of India decided to demonetize all the 500- and 1000-rupee banknotes and issued new 500- and 2000-rupee banknotes. The announcement came suddenly and gave people only until the end of 2016 to exchange their money. Economic problems ensued in the months after the demonetization including large falls in stock indices, cash shortages, and a rise in unemployment, before the currency gained back value from mid 2017 to early 2018. The rupee fell in value at the end of 2018, but the rate was mostly steady during my November survey.
When I exchanged money in my hotel in Mumbai, I received new, crisp green 500- and pink 2000-rupee banknotes, along with the older, lower denomination notes of 10-,20-, and 100-rupees. Throughout the five major cities that I surveyed, all the 500- and 2000-rupee banknotes that I transacted were part of the new series.
---

Featured post:
Where can you make the most money and keep it? [Infographic]
---
Local feedback on the demonetization and its impact
I spoke to various real estate and relocation specialists, local business owners, and expatriates about how the country handled the demonetization. The majority thought it was a good move because they believed the old banknotes were taken abroad and used to fund illegal activities. A few individuals were critical of the Narendra Modi government, stating that it was more of a political move to gain support from his base. Those same people were also critical of the new 597-foot statue of Patel which has claimed the honor of being the tallest statue in the world. As with all world leaders, there is criticism and support, but two years after demonetization, things seem to be progressing.
Is your Global Mobility program prepared?
Click below to learn more about helpful decision-making tools that will streamline your mobility program, or reach out today to initiate a program review with optimization recommendations from our expert client engagement team.
---

Trending now:
What are the 10 best places to live and work in 2019?
---
On-site Insight and AIRLinc
This post is taken from On-site Insight, AIRINC's in-house global mobility blog. On-site Insight provides AIRLinc subscribers with an exclusive "behind-the-surveys" insight into new and existing expatriate locations based on commentary and photos from our global research team. Included is information on general living conditions as well as changing costs for both goods and services and housing and utilities, along with much, much more! To find out more, click here.
---

#1 Goal for 2019:
---