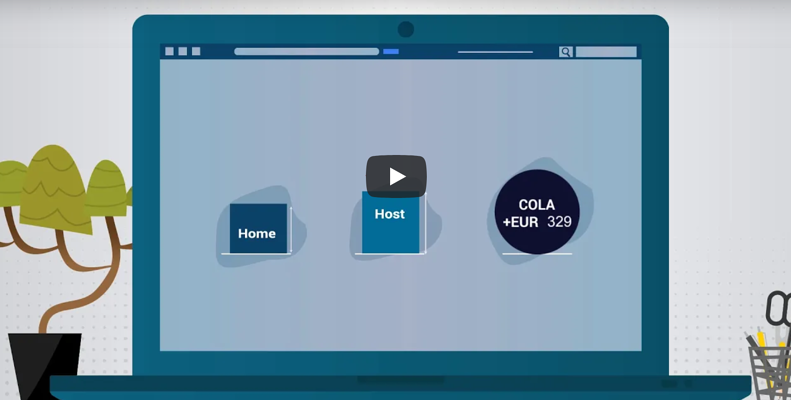 Communicating creatively is one of the key priorities highlighted in this year's Mobility Outlook Survey:
The most noticeable area of advancement has been the use of digital platforms to communicate with customers, including the use of engaging customer videos and digital media, showcasing Mobility's flexibility and adaptability.
You can reach diverse audiences and clearly communicate complex policies and practices through video. This type of communication can personalize the mobility experience while increasing employee engagement.
---

Enhancing Employee Experience!
Riding the COLA-Coaster: 2 Proactive Communication Strategies for Cost-of-Living
---
It's time to brand the mobility function as a dynamic partner within your organization!
How can AIRINC help you with this process? We can:
Help you define the video concept, audience, intent, and tone
Draft a script broken down by video panel
Leverage our graphic design team upon script approval to produce the animated recording and deliver the file to you
---

Educational reading:
The Importance of Good Decision-Making in Global Mobility
---
What can video do for you?
You can use video to define your policies, explain COLA, or explain the stages of the assignment process. Here are some recent AIRINC videos that we created to give you an idea:
Contact us to learn more:
---

Our 2019 Mobility Outlook Survey confirms that 58% of firms are seeking ways to improve employee communications regarding the potential financial impacts of assignments/transfers.
Download the 2019 AIRINC Mobility Outlook Survey!
---
About AIRINC
We help our clients address expatriate compensation and mobility issues in a complex global environment through advisory services, data services, and technology solutions, while providing our employees with a culture of teamwork, global knowledge, career growth, and interesting solutions to challenging problems.
We understand that people make an organization successful. We empower companies to deploy global talent by leveraging high quality-data, decision-making tools, and thought-leading advice. Our industry expertise, solutions, and consultative approach enable us to partner with clients to deliver value. Learn more by clicking here.
---


Mobility Policy:
'It's Not Enough Money!': 3 solutions for low-wage to high-cost assignees
---