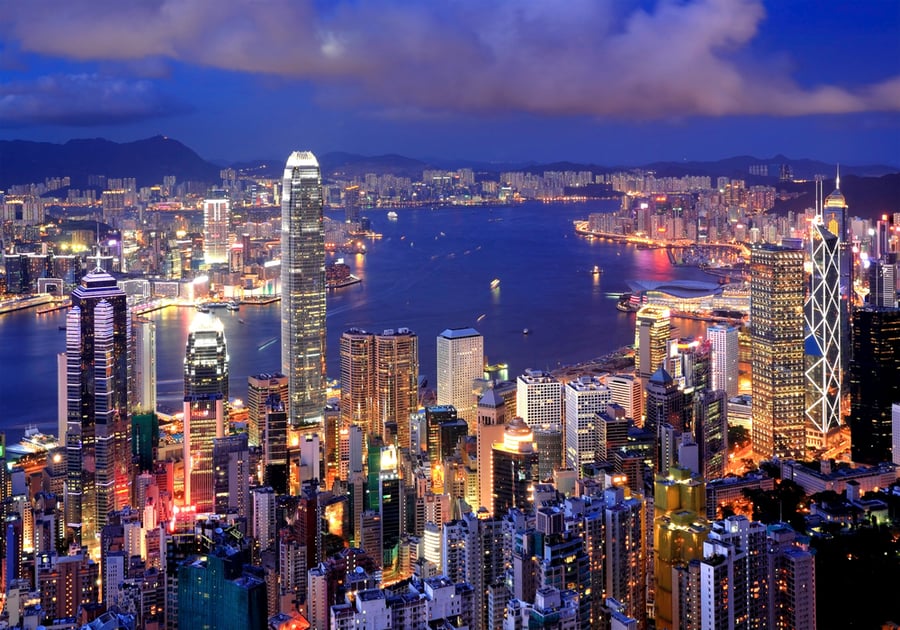 Hong Kong skyline at night.
Hong Kong and Adjusting Hardship Scores
AIRINC recently adjusted its hardship score for Hong Kong, due to the continuing political volatility and unpredictability surrounding the demonstrations, as well as the heightened tensions resulting from the protests.
But why do scores, and potentially premiums, go up for some locations and not for others? What factors are involved in deciding when to increase, decrease, or maintain hardship scores?
1. What are the conditions and how does AIRINC assess them?

This seems simple at first, but determining what conditions are actually like in a location can be a challenge. To evaluate conditions in a location, AIRINC utilizes a broad array of sources to get a full picture of quality of life for expatriates.
Our sources include published statistics and information from media, government, and NGO sources, feedback from clients and partners operating in a location, and our first-hand knowledge and insight from AIRINC on-site surveys. This aggregation of facts and perspective guides AIRINC's hardship scoring, combining hard data with subjective appraisals to form objective and actionable assessments.
---

You may also like:
Evaluating Threat: 3 Best Practices for Optimizing Your Hardship Premium!
---
2. Are conditions temporary or persistent? Does the current score reflect conditions or does it need to be adjusted?
There is no precise threshold for this transition. Hardship assessments are based on persistent conditions in a location, but potential for volatility or risk are factored into scores when appropriate. When conditions deviate or escalate beyond established norms, score changes are triggered.
As an example, risk of natural disaster and local coping capacity are included in our scoring as a persistent condition. If flooding occurs in a location where there is factored risk of flooding, the score may not increase. However, if floods increase in severity and frequency the baseline score may rise. If a flood damages infrastructure, causes an outbreak of disease or otherwise causes living conditions or location hazards to change, the score may increase until those conditions return to normal.
For political unrest, changes are assessed similarly. In locations with a history of political volatility, scores typically consider the fluctuation of unrest, whether moderate or severe. However, when instability escalates in a historically stable location, we assess the severity of the change and whether conditions are likely to persist.
Currently, this is the dynamic observed in the scoring assessment of Hong Kong, a city with low violent crime, low risk of terrorism, and well-funded security infrastructure. In the past, periods of demonstrations (such as the Umbrella Movement in 2014) haven't triggered a score change, because they didn't impact expatriates or their impacts were short-lived. However, the ongoing 2019 demonstrations are an escalation from the past in scale, frequency, and persistence.
Unrest is expected to continue, impacting the quality of life and comfort of assignees living in Hong Kong, and thus triggering a score increase.
It's not possible to predict when conditions will be back to normal–only time will tell. AIRINC continuously monitors conditions to ensure that we are accurately capturing the conditions on the ground–whether improving, staying steady, or even potentially worsening.
---

Enhancing Employee Experience!
Riding the COLA-Coaster: 2 Proactive Communication Strategies for Cost-of-Living
---
3. How are the protests in Hong Kong different than in France?
Major cities in France have a history of widespread demonstrations, and the likelihood for them to occur is already factored into the score, like in the risk of natural disaster example above. In the years prior to the Yellow Vest movement, tensions and risk in France were building gradually due to social tension and terrorism, and we increased the scores twice for most major cities in the country. By the time the demonstrations took off in late 2018, our scores already adequately captured conditions. While unrest faded somewhat by the spring, AIRINC is watching the revival of the movement that occurred in the past week.
Compared to Hong Kong, Paris continues to have a higher score for the category covering potential for crime or violence, although Hong Kong's air quality, housing, public health and other factors cause that city's overall score to be higher.
---

Related:
Hong Kong Protests and the Impact on Expatriates [update]
---
What can you do from here?
Hardship is one of the more nuanced aspects of global mobility, due to the subjectivity involved and the personal nature of living conditions for assignees and their families. The factors that impact quality of life on assignment are varied, and a comprehensive approach is essential in determining location allowances that ensure assignment satisfaction and operational success.
AIRINC strives to apply consistent and objective methodology to its evaluation of hardship conditions around the world, with the industry's largest location coverage. Please feel free to CONTACT US to further discuss hardship, and how it applies to your program.
---

Our 2019 Mobility Outlook Survey confirms that 58% of firms are seeking ways to improve employee communications regarding the potential financial impacts of assignments/transfers.
Download the 2019 AIRINC Mobility Outlook Survey!
---

Did you miss the AIRINC Institute?
Access the recordings for the complete series by clicking here!
---