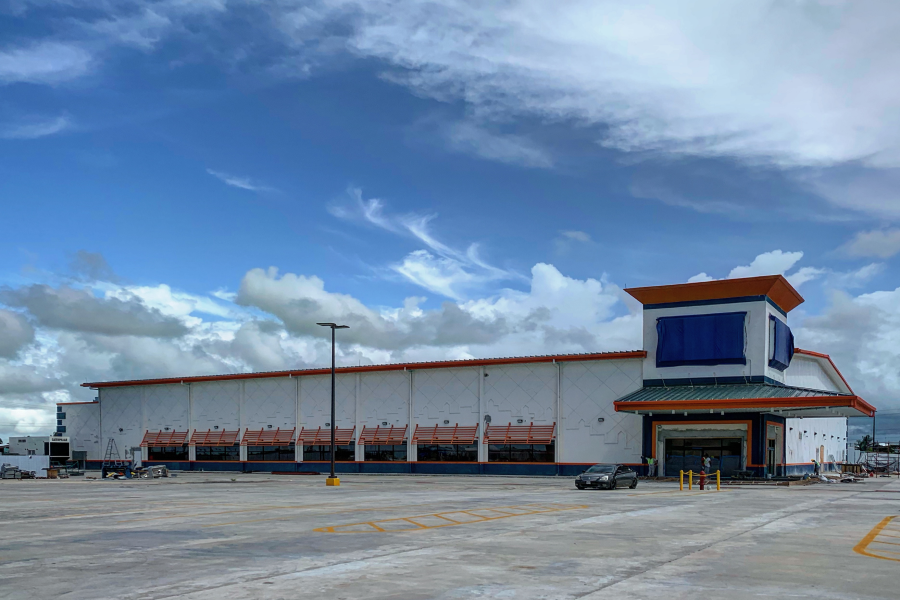 The new Massy Supermarket in Georgetown, Guyana, which opened on 11 September 2019. Photo taken by AIRINC Surveyor Andrew Morollo.
Oil and the changes to Guyana
Oil was discovered offshore Guyana nearly five years ago, but the country has taken a fairly measured approach to development, bringing in consultants to ensure that the oil industry (and the country's future economy) is stable. The first extraction project, Liza Phase I, is on schedule to begin production of 120,000 barrels of oil per day starting in Q1 2020. The rate of incoming workers is picking up speed and demand has risen quickly not only for rentals properties, but also goods and services.

During my survey, I was able to visit the new MovieTowne Mall (a chain from Trinidad), which opened in March of this year. In addition to a cinema, the complex features a Hard Rock Café and Jaxx International Grill, both popular with assignees. While a welcome addition to Georgetown, the majority of the retail businesses in this limited mall are local brands, and reminded me of typical malls across the Caribbean. For expatriates, the most significant addition here is the Massy Super Centre, opened in September with 34,000 square feet of retail space, more than double that of the existing Massy supermarket and closer to the areas where most expatriates live and work.
---

Recent post:
Guyanese Oil Boom Disrupting Georgetown Housing Market
---
Development broadens in Georgetown, Guyana
The first Massy supermarket opened a few short years ago. On the same property, the Amazonia Mall is currently under construction. When completed, it will have a movie theatre and a food court of international chains. This and other future shopping outlets such as the Orchid Garden Hotel and Mall are expected to be of similar quality as those already open. They will add convenience for some, but are expected to bring only minimal expansion to the variety of outlets or brands on offer in the country.

Construction is still underway on the Pegasus Hotel's US $100 million expansion, one of the largest projects in the city. Due to be completed in 2021, Pegasus Suites will be a 12-story tower of hotel rooms and serviced apartments, while the Corporate Centre will have seven stories of commercial space, which has high demand in Georgetown. The two buildings will be connected by a convention center.
---

Related:
Georgetown, Guyana: A Top Global Energy Frontier?
---
Demand for International Flights into Georgetown
To meet rising international demand, flight connections are growing into Guyana. The government of Guyana is actively courting airlines, and the multi-year expansion and renovation of the Cheddi Jagan International Airport was completed this March. After multiple planes overshot the runway in past years, the main improvement to the airport was a longer runway to meet requirements for larger aircraft. Renovations also included a new arrivals hall, new baggage claim area, CCTV system, additions of elevators and escalators, and self-check-in kiosks.
While not an impressive airport, it posed no challenges with arrival and departure for my stay. After the runway portion of the project was completed in 2018, American Airlines became the first US-based carrier to operate in the country, offering a Miami to Georgetown flight four times per week. This summer, the airline expanded to daily flights on the route, and in December will expand further by offering a daily Georgetown to New York route. In April 2020, JetBlue will also launch daily flights from New York.
As of June, passengers departing from this airport are no longer required to pay travel taxes separately from their ticket. These fees are now included within ticket prices and paid to the airport and government by the carrier.
Georgetown's Eugene F. Correia International Airport (commonly referred to by its previous name, Ogle) is also continuing to grow. This airport is smaller than Cheddi Jagan Airport, but closer to the city, and thus closer to offshore operations. A new US $70 million taxiway was commissioned this month after six months of construction, which reduces runway occupancy time and helps reorganize fixed wing aircraft movements to accommodate for increased helicopter traffic. More expansions are planned at the airport, with particular focus on helicopter operation, which are in high demand from the oil and gas industry.
The airport is also expanding into new markets. This month, Trans Guyana Airlines launched their first flight service between Suriname in collaboration with KLM, operating twice a week to connect flights from Amsterdam. At a total time of less than 13 hours, this connection now offers the shortest travel time for those coming into Guyana from Europe. For passengers heading through Suriname, their luggage is checked to their destination, and they are not required to clear customs or obtain a Suriname visa.
---

Mobility Policy:
What can you do to protect your international assignees when home or host currency weakens?
---
What does the future hold for Guyana?
Georgetown will continue to be an enticing market for investments of all kinds in the coming years, and current expansions ease some difficulties that face expatriates here. Despite this, Georgetown is not a location without challenges for expatriates. Beyond the housing shortages, crime is rising, medical services aren't able to meet demand, and many improvements (such as repairs to the city's poor roads) have been slow to materialize. AIRINC will continue to monitor changes on the ground in Guyana, from housing to hardship to cost of living.


Want to learn more?
In a country new to oil wealth and high demand for rentals, Georgetown's housing market will continue to be dynamic. Subscribe to our blog to get the latest updates on Guyana's development and all things happening in Global Mobility around the world:
---

Featured video!
What does a cost-of-living survey in action look like?
---