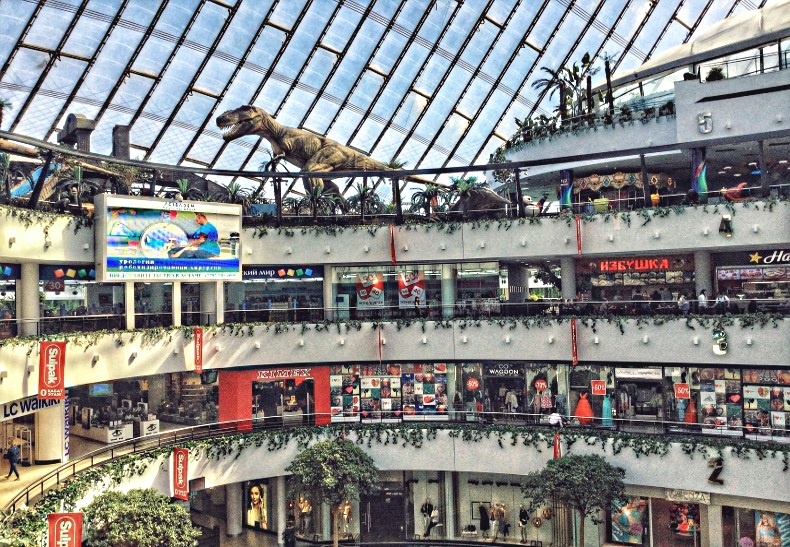 A mall in Astana, Kazakhstan as seen during an AIRINC cost of living survey. Photo taken by AIRINC surveyor Oscar Rasson.
A Cost of Living Survey in a digital world
At AIRINC, technology allows our dedicated survey staff to collect data and monitor changes through telephone and online research in conjunction with on-site surveys. We collect a wider range of data more efficiently using this multi-pronged approach, and by using an in-house research survey team, we collect the most objective, consistent pricing data.
Yet, even when a seemingly infinite amount of information is available online, in-person on the ground research remains a critical and irreplaceable component of AIRINC's data collection process.
Top 4 reasons we continue to visit
hundreds of cities

each year:
Favored expatriate outlets in many locations often still require a call or an in-person visit. Our surveys include prices at specialty stores carrying desirable imports, popular athletic or social clubs, medical services and pharmacies, and auto services. Many of these are not typically online. Our ability to collect prices from these stores on-site ensures our data reflects the most popular expatriate outlets in each city.
Even in the most developed locations, online pricing data may be incomplete, outdated, or inaccurate. In especially volatile locations, online prices may not keep up with frequently changing in-store prices. We know this firsthand, because we check to see if online and in-person prices are consistent for surveyed outlets before considering an online source to supplement our on-site collection.
When we visit a city, AIRINC's surveyors collect much more than just pricing data. By visiting outlets and neighborhoods in person, we capture local living habits, product availability, transportation habits, and safety and security norms. These more qualitative insights directly inform AIRINC's publications, product, and advisory departments.
The relationships we develop in each city with real estate agents, relocation agents, and other sources for our housing surveys provide access to a more nuanced understanding of local market trends, leasing practices, city politics, neighborhoods, and expatriate living patterns. Discussions in these meetings may include opinions or sensitive topics that are only shared during in-person conversations.
By combining in-person data collection with telephone and digital sources, we efficiently capture high-quality, comprehensive results. These standards ensure that we provide the most accurate, defensible, objective data and uniquely equipped advisory knowledge for locations around the world.
---
Want to stay on top of global trends? Join AIRSHARE!
---
Questions?
Please click the button below to ask a question or to begin a conversation about how we can help your business grow: