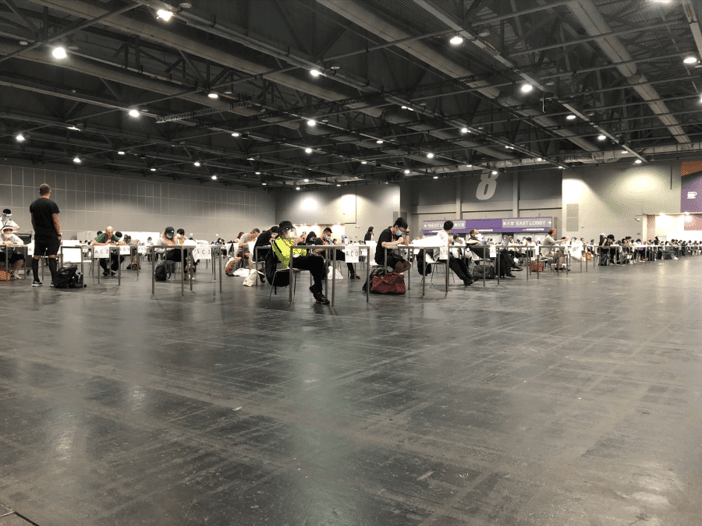 Asia-World Expo quarantine center. Photo taken by AIRINC Client Engagement Representative Eugene Kobiako.
Compulsory quarantine
Beginning in mid-March 2020, any resident arriving in Hong Kong from abroad is required to undergo compulsory quarantine if not demonstrating any symptoms as decided by the Department of Health. After returning from my international travels in June, I had to go through mandatory screening procedures and a 14-day quarantine before returning to work in the office.
As soon as I got off the plane and walked through the terminal, the sight of masks was ubiquitous. The immigration line was a series of steps, beginning with a health declaration form that required my travel history, any flu-like symptoms, and my phone number, address, and passport details.
Next, I entered a "Green Channel," which was dedicated for travelers with no symptoms. Here I received a tracker, which is about the size of a smart watch with a loose strap. After downloading the "Stay Home Safe" app, another station tested my phone number to make sure I had a signal and that the Bluetooth function was working. My tracker was registered and synced to the app on my phone using a QR code from my health declaration.
Finally, I was interviewed by a health official who handed me the official stay at home order, a booklet to track my temperature and signs of any symptoms, a thermometer, and a badge on an orange lanyard signifying that I am healthy but need to be tested for COVID-19 and quarantined.
---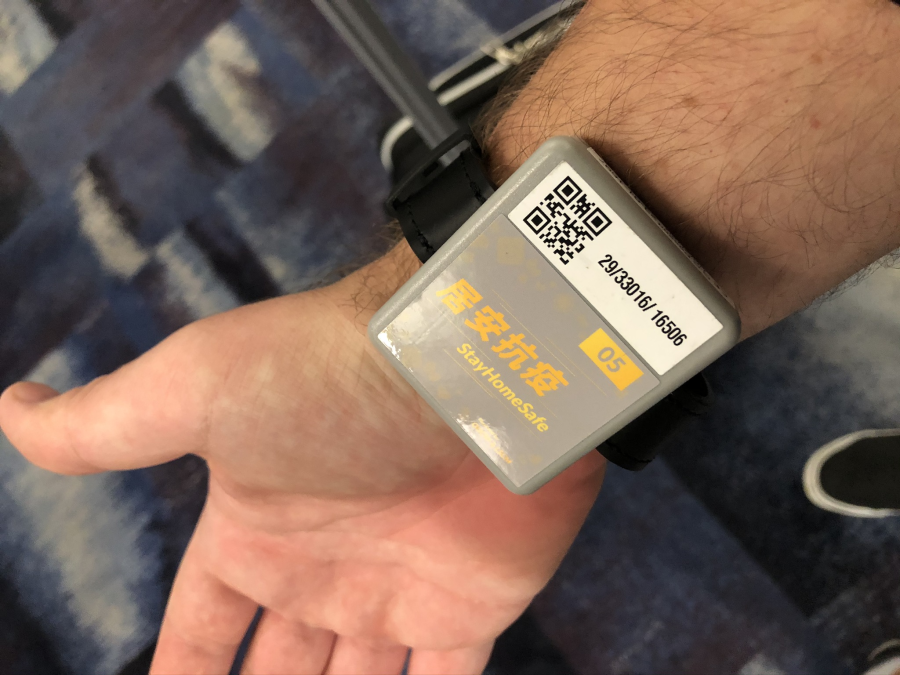 StayHomeSafe health tracker. Photo taken by AIRINC Client Engagement Representative Eugene Kobiako.
---
Testing at Asia-World Expo
I picked up my luggage and boarded a bus to the nearby Asia-World Expo for testing. We were led to separate testing booths that looked like something from a science fiction movie. I spit into a test tube, sanitized my hands and the testing station, and dropped the tube off. I proceeded to a waiting area with small tables spaced 6 feet (2 meters) apart. While waiting for the results, sandwiches and bottled water were provided, and there were shared power outlets with a 30-minute time limit for charging devices. Wi-fi was available but not very reliable.
---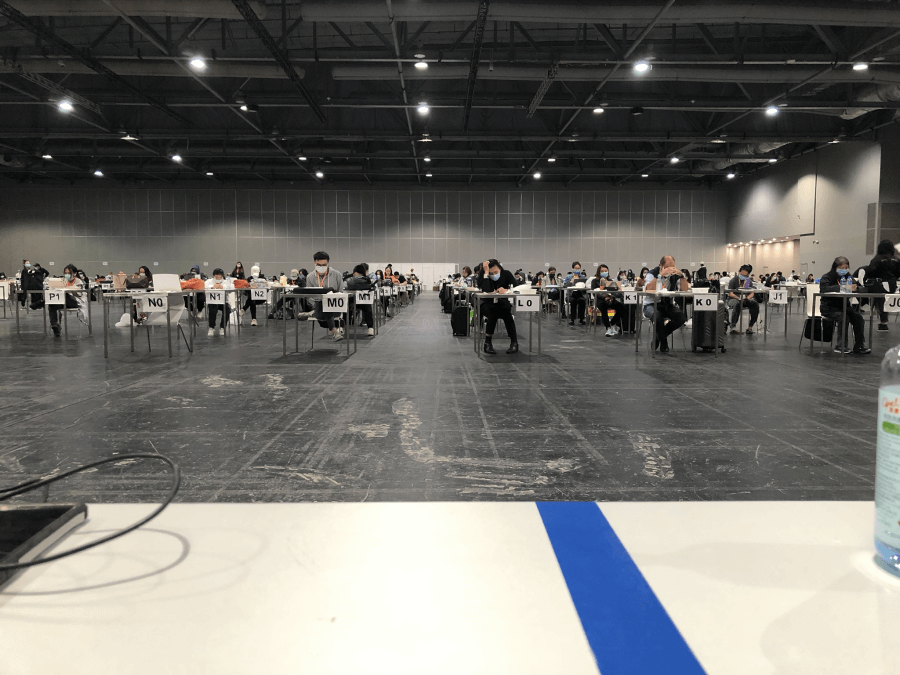 Test result waiting space at the Asia-World Expo quarantine center. Photo taken by AIRINC Client Engagement Representative Eugene Kobiako.
---
Nine hours had passed by the time I received my test results. Fortunately, I tested negative and was able to return home. I spent the next two weeks in complete isolation, living off dry food and food delivery services. My office was also flexible enough to allow me to work from home, and my colleagues were happy to hear and see me over video chat.
On the first day of quarantine...
On the first day of quarantine, I was called by the health officials to make sure I was not exhibiting any symptoms, and I was not. Every morning and evening I would measure my temperature with the provided thermometer and record it in the provided booklet. On day 12, two days before my quarantine was over, I received another call asking me how I was feeling, and if I had any symptoms. I also had to submit a second test, which tested negative, allowing me to end my quarantine.
---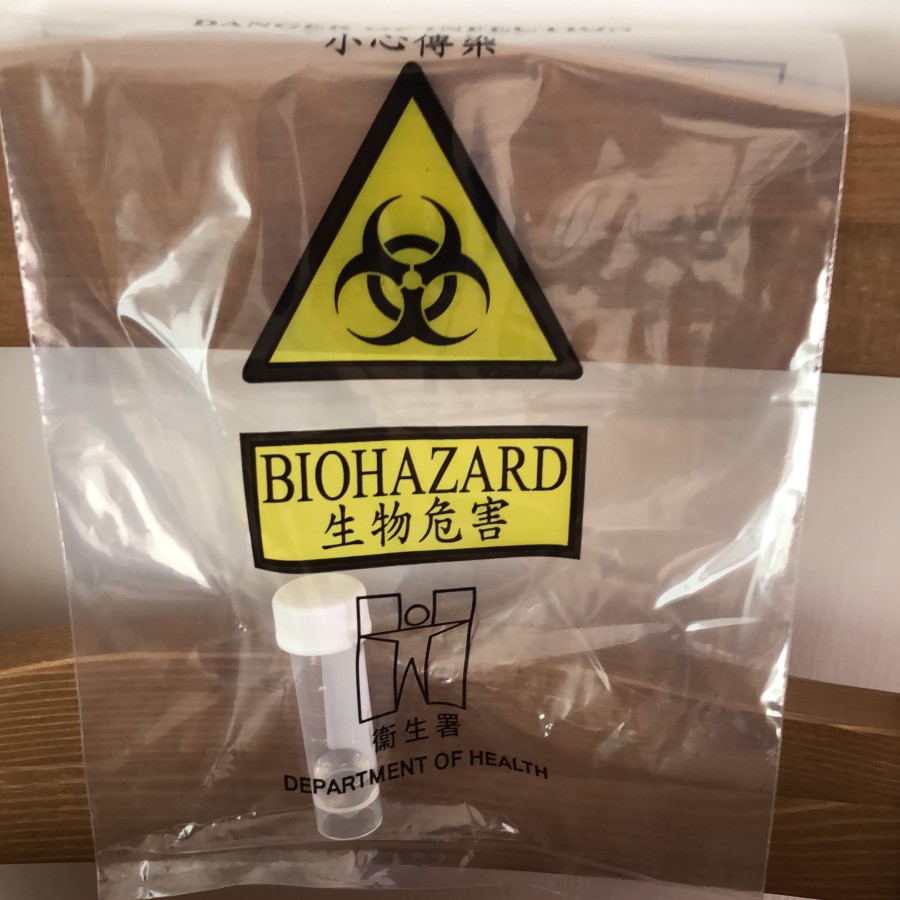 My second COVID-19 test - self administered at home. Photo taken by AIRINC Client Engagement Representative Eugene Kobiako.
---
I rejoined my colleagues in the office in early July. About a week later, a third wave of infections began in the city and we are back to working from home, with many restaurants, gyms, and beauty salons closed again. Recently, the government sent out packs of disposable face masks to most residents in the city with the slogan "Together, We Fight the Virus!" to make sure all individuals have some sort of face covering.
Overall, I would say the experience was not too intrusive or restricting. I understand why this is in place and I followed everything the public health officials recommended. Yes, I missed a few weekends out and I could not exercise or see my colleagues and friends in person, but if I was an asymptomatic carrier and silent spreader, that would have been way worse than the two weeks I spent at home. As we all continue fighting against the virus, I am happy to be in a place that is taking the effort to defeat the virus quite seriously.
How to adapt in a post-COVID world
As organizations adapt to a post-COVID future, it's quite clear that the nature of global mobility has been fundamentally altered. Not only are companies re-assessing their existing mobility approaches, but they are also considering totally new ways to deploy global talent effectively. If you're like most companies, you want to implement calculated change, and you value the assistance of a strategic advisor. AIRINC is here to listen, partner, and deliver on what you need.
Contact us today to start a conversation about the future of your Mobility program:
---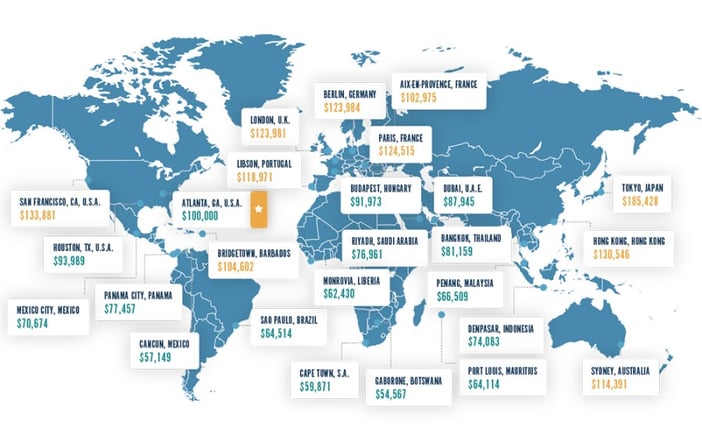 ---
About AIRINC
Listen | Partner | Deliver. For over 60 years, AIRINC has helped clients with the right data, cutting-edge technology, and thought-leading advice needed to effectively deploy talent worldwide. Our industry expertise, solutions, and service enable us to effectively partner with clients to navigate the complexity of today's global mobility programs. As the market continues to evolve, AIRINC seeks innovative ways to help clients address new workforce globalization challenges, including mobility program assessment metrics and cross-border talent mobility strategy. Our approach is designed with your success in mind. With an understanding of your goals and objectives, we ensure you achieve them. Headquartered in Cambridge, MA, USA, AIRINC has full-service offices in Brussels, London, and Hong Kong. Learn more by clicking here.
---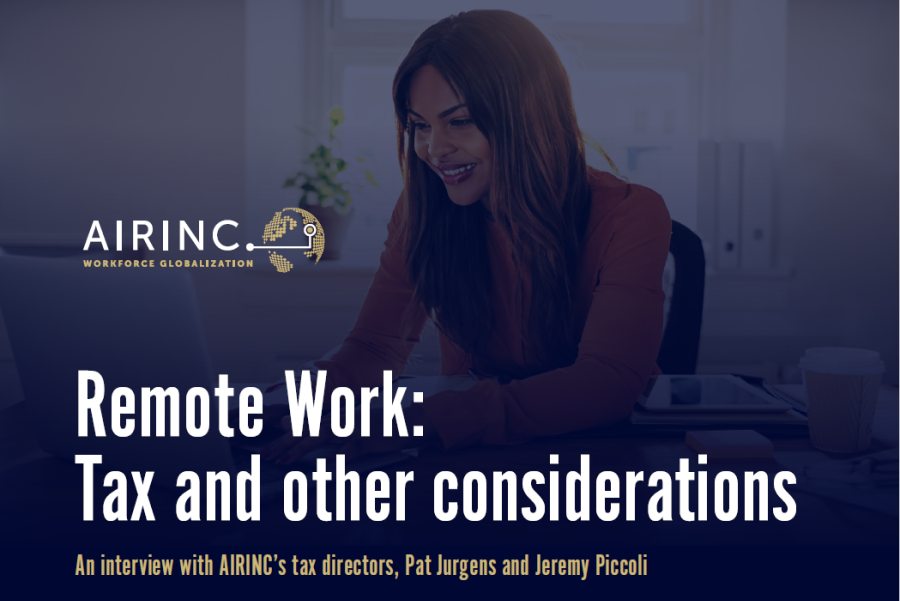 ---