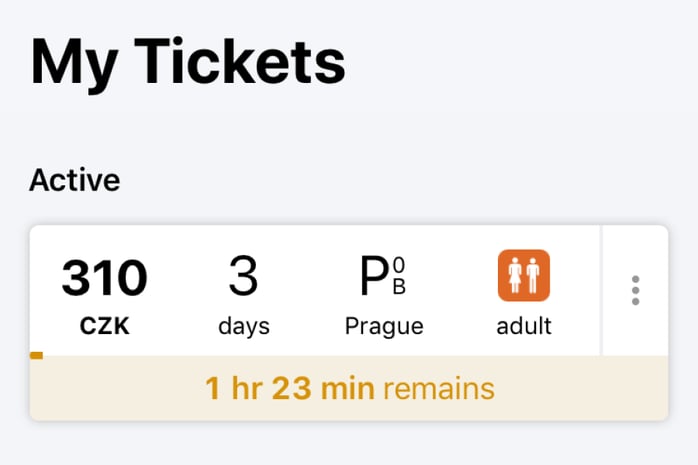 Screenshot of the transit app in Prague, Czech Republic . Photo taken by AIRINC Surveyor Amber Chan.
Language Services and Mobile Apps
Language barriers are common on survey, but each year technology makes it easier to get around and collect cost of living survey information. While in Bratislava during my recent survey, I arrived at a transport ticket counter to find that none of the staff were able to speak English, but this wasn't as much of an inconvenience as it would have been a few years ago. As of last year, their transportation network IDS BK offers English and German versions of their mobile app, which can be used to plan trips, top-up transit cards and get real-time updates on transit issues that might cause delays.

I found the transit networks of Prague and Vienna to have similar user-friendly tech solutions for expatriates and tourists, with the added benefits of mobile ticketing. With mobile tickets, you don't need to have a transit card, as the ticket is displayed on the app and can be scanned or inspected by a transit employee.
---

Recent post:
Guyanese Oil Boom Disrupting Georgetown Housing Market
---
Features of the mobile apps
PID Litacka in Prague offers English and Slovak versions of their app, which can be used to plan trips, buy tickets and longer-term passes, and even find empty parking spots in the city. It can be used for transit across the entire Central Bohemia region.

Wiener Linien in Vienna offers an English version of their app, which can be used to plan travel not only for buses, trams, and trains, but also for rental bicycles, taxis, and car-sharing services in the city. The app allows you to compare routes by cost and environmental impact. I found the apps easy to use on the go – better than trying to track down transit cards or find stations for top-ups.

Public transportation apps like these reduce language barriers, save time and in the case of mobile ticketing, reduce the risk of ticket loss.
---

Related:
How does Transportation in Buenos Aires Compare Globally?
---
Global Transportation: Want to learn more?
Many factors, such as traffic conditions and security environment, impact transportation options for expatriates. If you'd like to learn more about expatriate transportation in Central Europe or anywhere around the globe, click below:
---

Mobility Policy:
What can you do to protect your international assignees when home or host currency weakens?
---