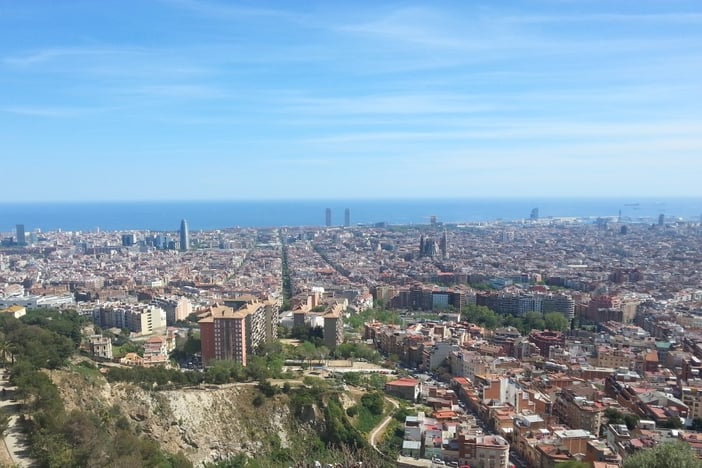 A photo of Barcelona, Spain taken during an on-site AIRINC cost of living survey.
Temporary residents by the numbers in Barcelona
Barcelona has 1.6 million residents and an annual influx of 30 million temporary residents. This excessive number of tourists has brought instability to the city's housing market as many long-term rentals have turned into short-term furnished units to cater to demand.
During my survey this August, Barcelona real estate sources spoke of regulations that aim to relieve the rental market. One approach is to extend the lease period from three to five years for individual landlords and to seven years for corporate landlords.
There is also a restriction on new applications for holiday rentals. It is now necessary for a property owner to get proof of neighbors' agreement for conversion to a short-term rental, which is often quite difficult. It is hoped that these regulations will help slow the disappearance of long-term rentals.
---

Trending now:
5-Days-in-Rome: Glimpse an AIRINC Cost of Living Survey in Action! [video]
---
Madrid's housing market showing signs of change
Even though the number of visitors in Madrid is lower compared to Barcelona, Madrid is starting to face a similar problem, with about 3 million residents and 6 million annual visitors. In addition to demand from locals, nationals, and expatriates, tourists are contributing to the housing demand in this already tight market. More apartments are converting to short-term and holiday rentals.
Madrid does not have new regulations like Barcelona, so the market is getting more heated with almost no negotiation. Some landlords are asking for six months' rent in cash for the security deposit, which was previously one to two months' rent. After May 2019's presidential election, it is expected that the new administration may do something to slow down the rental market in Madrid similar to the new regulations in Barcelona.
AIRINC will continue to monitor this closely. If you have any immediate questions, please reach out to your client engagement representative or click here.
---


Enhancing Employee Experience!
Riding the COLA-Coaster: 2 Proactive Communication Strategies for Cost-of-Living
---
Want to learn more about international housing?
AIRINC's International Housing Guide gives you online access to housing and utilities budgets tailored to meet your needs. The International Housing Guide illustrates specific housing options available at different budget levels and provides comprehensive housing market information, including rental costs by housing type and location as well as details on leases, furnishings, utilities, and expatriate residential areas.
---

Featured video!
What does a cost-of-living survey in action look like?
---