Who doesn't want the best?
Everyone wants to make good decisions – from choosing the school that is right for your kids or what food is right for your body. But what about when it comes to your business? Are you thinking the same way? The decisions you make for your business will impact you, your company, and your employees.
How can you and your business leaders make the best decisions in the face of budgetary pressure, timelines, and the immediate need for a response in a sensitive situation? When it comes to Workforce Globalization decisions, AIRINC's 2019 Mobility Outlook Survey (MOS) highlights this need for timely, data-supported, business-forward decision making.
64% of our respondents require an estimate for assignment or transfer approval.
For the companies who don't currently require assignment estimates, this can seem like a challenging expectation. However, there are tools to make this not only a possibility, but an opportunity to improve both decision-making and the efficiency of the mobility team.
---

Register for our upcoming webinar series to learn more about international mobility taxation and much, much more!

3-Part Mobility Tax Webinar Series brought to you by GTN and AIRINC [webinar]
---
How to be efficient, confident, and decisive:
AIRINC's Assignment Cost Estimator (ACE) offers fast, accurate cost estimates and what-if projections. ACE is an online tool that makes it easy to create cost estimates consistently across the organization. It is used by hundreds of companies with assignee populations that range from small to large. These organizations use ACE to model individual assignee scenarios or calculate costs and create budgets for an entire mobility program.
ACE cost estimate calculations include allowances and sophisticated tax logic, which can be configured to align with your policies. ACE reports can be modified to reflect company terminology, help text, and logos. The end result is a cost estimate report that makes sense for your business and is ready for immediate use, saving you time and minimizing further inquiries about the information provided.
How does your Mobility Function know it is successful?
87% of respondents in our survey said that they quantify success by the positive feedback received from the business. However, many participants in the 2019 MOS responded that they didn't always engage the business when considering policy changes. In our experience, gathering input from the business and using tools like the Assignment Cost Estimator to model the impact of changes on the assignee population enables the Mobility Function to make the best possible decisions.
---

Our 2019 Mobility Outlook Survey confirms that 58% of firms are seeking ways to improve employee communications regarding the potential financial impacts of assignments/transfers
Download the 2019 AIRINC Mobility Outlook Survey!
---
Insights to ignite success in 2019 and beyond:
Learn more about the importance of good decision-making and how other companies are managing their business by reading the complete 36-page 2019 Mobility Outlook Survey today:
---

What's your number #1 goal for 2019?
---
About AIRINC
We help our clients address expatriate compensation and mobility issues in a complex global environment through advisory services, data services, and technology solutions, while providing our employees with a culture of teamwork, global knowledge, career growth, and interesting solutions to challenging problems.
We understand that people make an organization successful. We empower companies to deploy global talent by leveraging high quality-data, decision-making tools, and thought-leading advice. Our industry expertise, solutions, and consultative approach enable us to partner with clients to deliver value. Learn more by clicking here.
---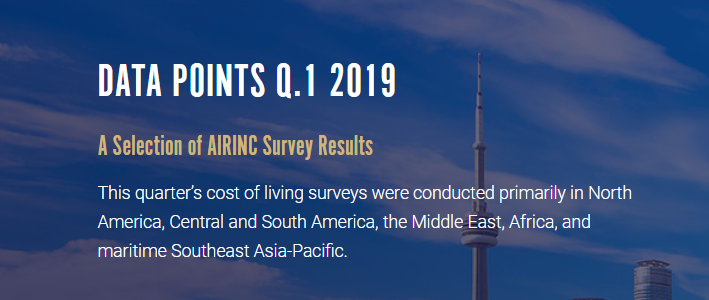 Trending now!
Data Points: The latest news in housing, tax, and good & services from our on-site surveys
---