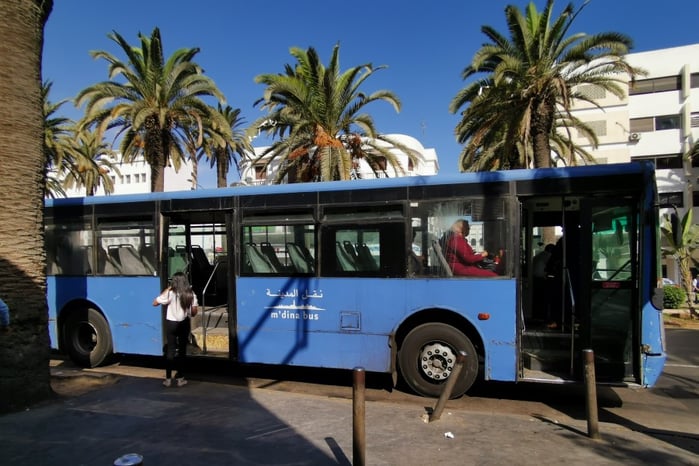 A bus in Casablanca, Morocco. Photo taken by AIRINC Surveyor Philli Wong.
Public transportation in Casablanca, Morocco
Despite the availability of options, public transportation in Casablanca feels prohibitive. The bus system is not really an option for expats or visitors as the vehicles are old and falling apart. The tram is modern, but stops are limited, and it doesn't connect with major malls, hotels, or restaurants.

There are two kinds of taxis. Petit red taxis are metered and cheap, but vehicles are old and don't have air-conditioning, which can be uncomfortable in the hot Casablanca summers. White MVP taxis are plentiful and often wait outside hotels and malls. They are air-conditioned and appear comfortable, though having to bargain with drivers about the fare is annoying.
---

Recent post:
Traveling with Public Transit Apps in Central Europe
---
Rideshare Apps in Casablanca
Rideshare apps feature nicer cars that accept online credit card payment. The major shortcoming is low availability. Also, there have been tensions between rideshare and taxi drivers. Rideshare drivers are very cautious about airport and train station pickups and they may even cancel a ride upon arriving at a sensitive pick up point.
Rideshares ended up being my favorite mode of transportation on my Casablanca survey, even though I had to wait for a longer time, endure one or two cancelations, and often had to walk two blocks away from my hotel to be picked up.
---

Related:
The Daily Frustrations of using Taxis and Rideshares in Cairo
---
Global Transportation: Want to learn more?
Many factors, such as traffic conditions and security environment, impact transportation options for expatriates. If you'd like to learn more about expatriate transportation in Morocco or anywhere around the globe, click below:
---

Mobility Policy:
What can you do to protect your international assignees when home or host currency weakens?
---