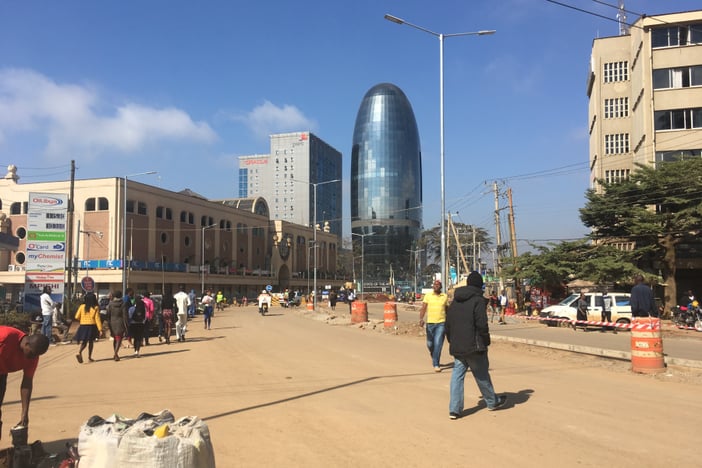 A view of roads in Nairobi, Kenya. Photo taken by AIRINC Surveyor Samuel Pearl Schwartz.
Changing road and traffic conditions in Nairobi, Kenya
On my last survey, a five-week trip across Africa, I visited Lagos, Nigeria and Cairo, Egypt, two cities with notorious traffic conditions. These locations lived up to their hype, and I spent a lot of time sitting in traffic. However, I was surprised to find that Nairobi, Kenya's traffic was almost as bad despite lacking the same level of notoriety.
Nairobi's three main issues are a shortage of stop signs and traffic lights at intersections, poor road quality, and incredible amounts of construction that disrupt traffic routes. These factors typically exist to some extent in developing countries, but in Nairobi it felt like all three issues were layered on top of each other in the same areas, creating an immense gridlock.
---

Recent post:
Bangkok, Thailand: How do I avoid the traffic?
---
Paralyzing construction in one of Africa's fastest growing cities
Nairobi is one of Africa's fastest growing cities, so the number of construction projects far exceeded what I typically see on survey. On the way to my hotel in the Central Business District, I saw many people covering more ground walking than I could in my rideshare. The situation was the same in expatriate areas near major shopping malls. Many expats in Nairobi drive themselves rather than hire drivers, so assignees should be prepared for long, difficult, and stressful commutes.
Global Transportation: Want to learn more?
Many factors, such as traffic conditions and security environment, impact transportation options for expatriates. If you'd like to learn more about expatriate transportation in Kenya or anywhere around the globe, click below:
---

Related:
The Daily Frustrations of using Taxis and Rideshares in Cairo
---