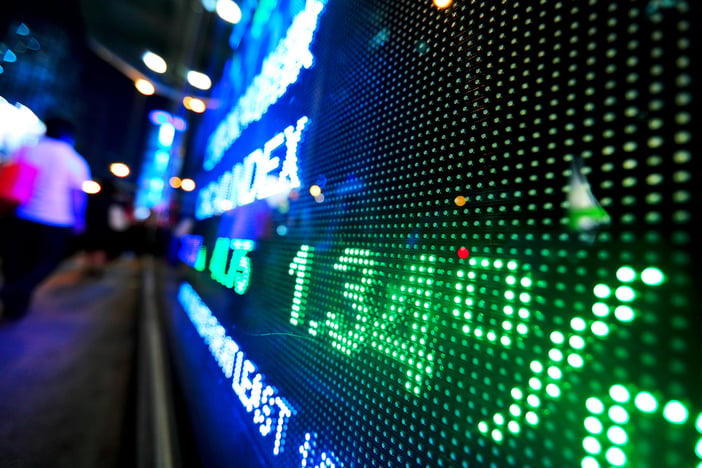 Pegged Exchange Rate Regimes Rocked by Recession
2020 has been a devastating and unpredictable year for the global economy as we wade through the deepest global recession since the Second World War. Widespread lockdowns, the oil price war rolling into the collapse of demand, and the devastation of hospitality and tourism industries have all created an unprecedented and uncertain start to the second decade of the 21st century.
Some of that economic turmoil is reflected in exchange rates, and we've seen some significant extremes this year. The depths of the crisis have pushed some countries with fixed (pegged) exchange rate systems to make dramatic devaluations or abandon their pegs altogether, while others have resisted and seen widening gaps between official and parallel market rates. Read our latest round-up below.
---
ZWD – Zimbabwe Zimdollar
In 2019, Zimbabwe reintroduced the Zimdollar (ZWL) and declared it the only legal currency, outside of some limited exceptions. The currency faced significant pressure even before the novel coronavirus began to spread in January 2020, and this deepened once the impacts of the pandemic began to ripple across the world in February. In response, the government enacted a currency peg in March at 25 ZWL to 1 USD. This measure was short-lived, as the fixed rate exacerbated challenges in monetary policy and accelerated the gap between the official and black market exchange rate. In June, the peg was abandoned and the central bank introduced an auction-based exchange rate program. Under the program, the official rate has more closely followed the parallel market and has depreciated to about 80 ZWL to the dollar. Since January 1, the Zimbabwe dollar has weakened 80%.
SYP – Syrian Pound
Syria devalued their currency in late June. Depreciation pressure was at an all-time high due to multifaceted financial and humanitarian crises—almost ten years of war, the pandemic's impacts on the global economy, financial crisis in economically linked neighbor Lebanon, domestic business worries, and the implementation of the US' Caesar Syria Civilian Protection Act. The Caesar Act expands sanctions against third-party individuals, businesses, and governments whose economic activities benefit Bashar al-Assad's regime. While the devaluation to 1256 SYP to the dollar is a step in the right direction, the parallel market rate currently stands at around 2300 SYP and has soared as high as 3500 SYP this year. The official rate has seen a total devaluation of 65% thus far in 2020.
SRD –Surinamese Dollar
The Surinamese dollar has been pegged for years, but in late September a surprise devaluation cut the value of the currency nearly in half. In the long term, Suriname stands to benefit from the same boon as Guyana (offshore oil discoveries), but in the short term, the country is saddled with a legacy of financial mismanagement and debts which went into default this summer.
In July, the country elected a new President, Chan Santokhi, who had campaigned on economic reforms. Under the previous administration, many populist policies had emulated those of neighbor Venezuela, to similar disastrous effect to national accounts and public trust. While the new administration is tasked with economic recovery, the actual steps have proved unpopular. Prior to the devaluation, the new administration had done away with gas subsidies and increased the cost per liter 66%. Year-to-date, the currency has depreciated 47%.
LBP –Lebanese Pound
Lebanon has notably refrained from adjusting or abandoning their peg to the dollar despite a massive and growing discrepancy in official and parallel market rates. Leadership in Lebanon is in complete disarray as plans to form a new government have been stalled and stymied, prolonging the economic disaster. At least three officials (financial advisor Henri Chaoul, Director General Alain Bifani, and economic advisor Talal Salman) from Lebanon's Finance Ministry have resigned this year over government inaction to the financial crisis, and the country's relationship with the IMF has been fraught.
Exchanging money has been complicated by currency shortages, an inconsistent and inconvenient system of alternative rates and withdrawal limits for banks, and the increasing volatility that has followed the devastating port explosion in Beirut. Inflation has reached record levels. While the official government rate remains at 1507 LBP, the parallel market has fallen over 70% from 2,000-2450 LBP in January to its current state of 8,700-8,900 LBP to the dollar. The parallel market reached highs around 10,000 LBP in July.
---
For developing countries, a fixed rate exchange can inject predictability to international trade and limit speculation. However, when times are tough, a currency peg limits a country's options for managing monetary policy and if the country lacks the foreign exchange reserves to maintain the value, it can provide fertile ground for the emergence of a parallel exchange rate.
Times don't get much tougher than 2020, and we still have a few months to go. AIRINC will continue to monitor the many moving parts of global mobility to provide data, advisory services, and the best customer service in the industry.
How can you stay up-to-date on currency changes?
Due to the drastic impact from COVID-19 on global currencies, we have set up a dedicated Exchange Rate landing page that is updated weekly.
Click below to see it now and subscribe to our blog to stay updated on changes around the world that impact Global Mobility, including your cost of living allowances:
---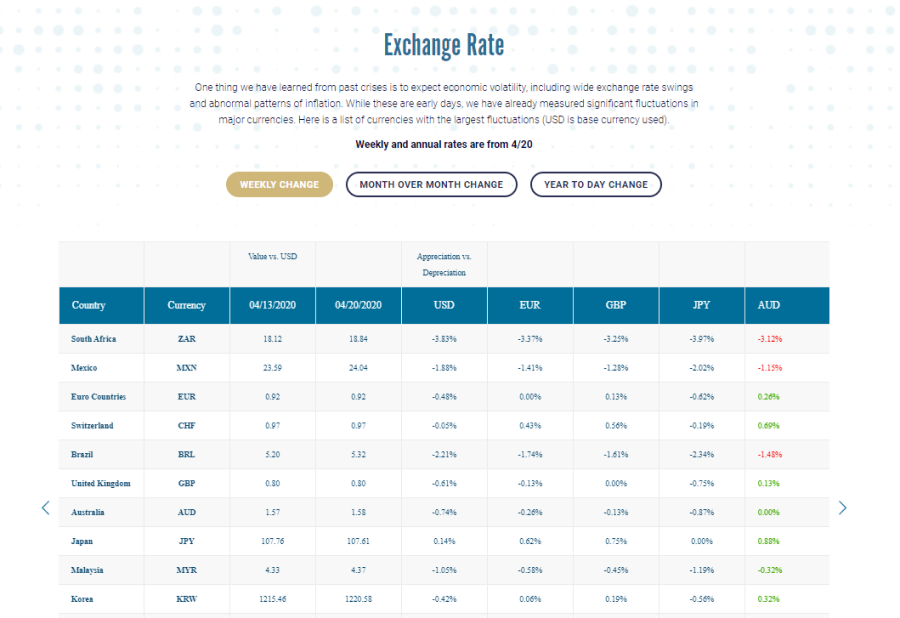 Table above taken from AIRINC's COVID-19 landing page with weekly exchange rate updates.
---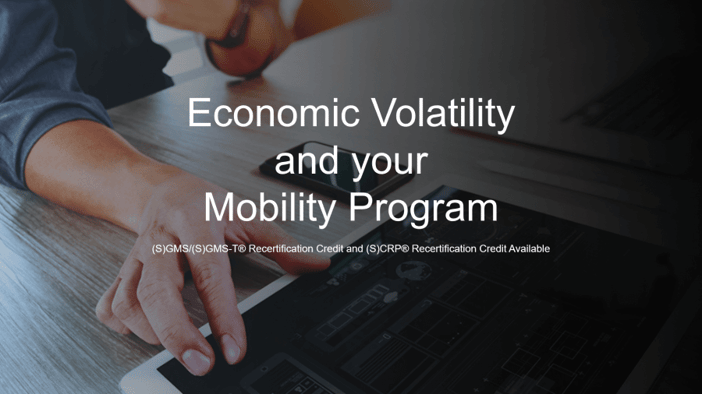 ---
About AIRINC
Listen | Partner | Deliver. For over 60 years, AIRINC has helped clients with the right data, cutting-edge technology, and thought-leading advice needed to effectively deploy talent worldwide. Our industry expertise, solutions, and service enable us to effectively partner with clients to navigate the complexity of today's global mobility programs. As the market continues to evolve, AIRINC seeks innovative ways to help clients address new workforce globalization challenges, including mobility program assessment metrics and cross-border talent mobility strategy. Our approach is designed with your success in mind. With an understanding of your goals and objectives, we ensure you achieve them. Headquartered in Cambridge, MA, USA, AIRINC has full-service offices in Brussels, London, and Hong Kong. Learn more by clicking here.
---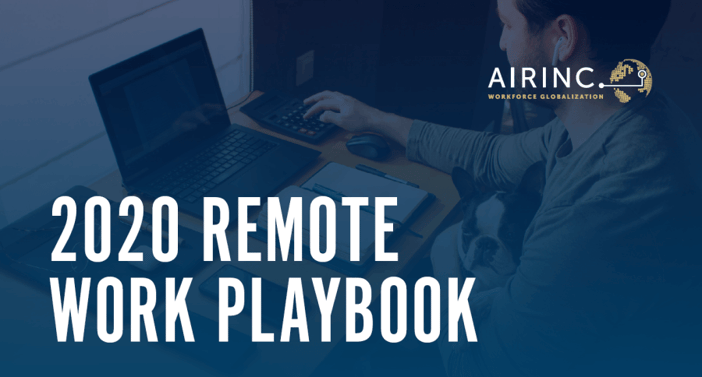 ---