During the February survey quarter, I had the opportunity to accompany one of AIRINC's newest surveyors, Manarti, and help train her in on-site data collection. The surveying process is intensive, and involves navigating a foreign city, negotiating with supermarket managers, pharmacists, car dealerships, insurance agencies, and fitness clubs, and interviewing numerous real estate and relocation agents. Surveyors often have to talk their way around combative or suspicious store employees, deal with last-minute meeting cancellations despite a tight schedule, and gauge when and where they will need to find a translator. It requires both preparedness and flexibility. I personally enjoy these challenges because that is part of what makes the work exciting, although the opportunity to do all this while traveling the world doesn't hurt either. That said, it can be stressful the first time out, which is why surveyor training is so important and why all new surveyors are accompanied for their first trip.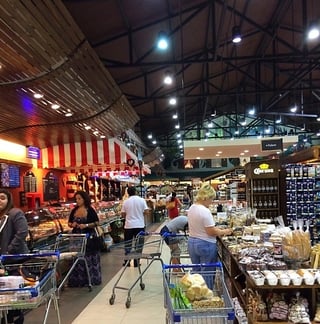 Manarti and I are based out of different offices (I'm in Cambridge, she's in Brussels), so we began with a few phone calls and email exchanges. This was important because there is a significant amount of work that needs to be done before we ever set foot on-site. In addition to travel logistics, surveyors will usually prepare maps of the cities and the outlets we need to visit, contact realtors and relocation agents to schedule meetings, and conduct pre-survey research into utility prices, political and economic trends, and security issues, to name a few. However, the training began in earnest when we finally met in person at our hotel on location.
We arrived on-site separately in the late afternoon, and eventually met for dinner. I told her how important it was to have a strategic and efficient (but always flexible!) plan for surveying the city, taking into account realtors' schedules, store hours and locations, traffic conditions and transportation options, and language requirements. We formulated our plan of attack, and over the next four days, we implemented it. I showed her how to systematically go about surveying a mall, different ways to convince pharmacists to share their prices, and many other tricks of the trade.
One of the biggest difficulties to survey is often the language barrier. Manarti is a veritable polyglot, speaking seven languages, however, Spanish is not one of them. Understandably, our surveyors are never going to be able to speak or understand every language and conquering this barrier is integral to training, which is why we'll often start new hirers in unfamiliar territory; it helps them get a sense of what kinds of difficulties can and will arise. Ultimately, what I wanted to convey to Manarti was the importance of adaptability in the face of challenges during a survey and I think we succeeded.