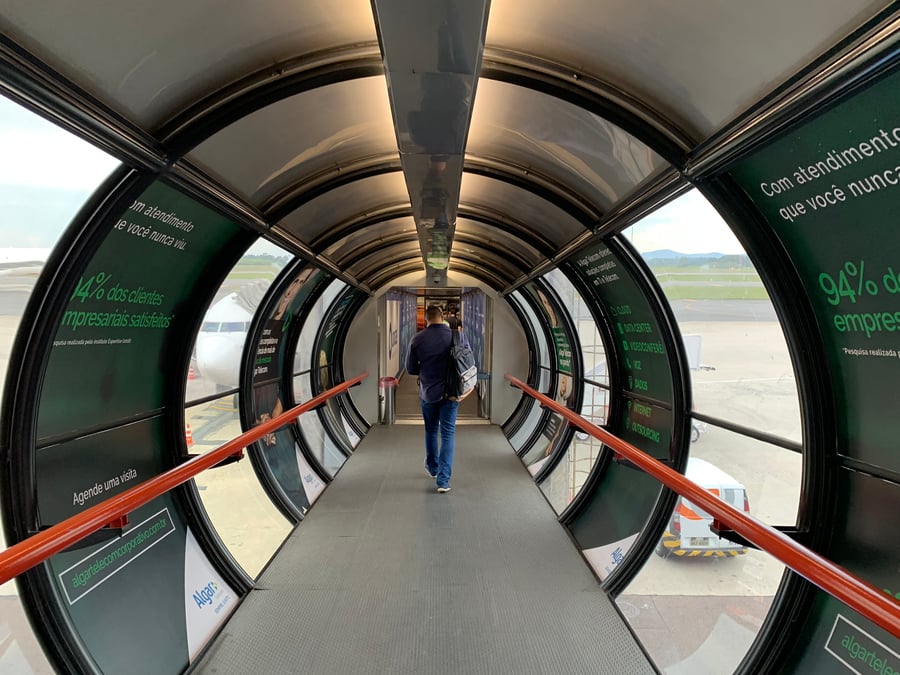 Views from the jetway as seen during AIRINC's onsite survey of Curitiba, Brazil. Photo taken by AIRINC Surveyor Yimkwan Tsang.
The most interesting job in the world: An AIRINC Cost of Living Surveyor
Having worked as a surveyor for AIRINC, I can tell you it is one of the most unique and fascinating jobs in the world. On the surface, this is the dream job for anyone that thrives on challenging global travel – the kind that takes grit and determination to grind through as you move on a seemingly daily basis. Instead of touring from site to site though, you move from store to store and source to source, collecting data to populate a market basket of goods, services, housing, and hardship data.
You are working in languages unfamiliar to you, even if you are multilingual. For anyone that's traveled to a wholly foreign place, you know what I mean. For anyone that hasn't, you realize quickly what simple things can be taken for granted, like discernible street signs, familiar labeling on packages and products, and "standard" operating hours.
The schedule is grueling and requires an elite level of organization to collect all the data needed on-site. When on-site, it's important to be adaptable to the local conditions in order to maximize your efficiency in navigating a city. And when departing or arriving in a new city, it's important to maintain a healthy level of resilience in the face of change, because trains and planes don't always stick to the schedule and spending hours at some of the best and worst global airports is going to happen.
As one of our long-term surveyors put it, time management is a major key to success in this role. "Persistence of character" is another key element, as stated by Andrew Morollo after surveying his 200th unique global city.
While surveyor Zenab Tavakoli's recent post provides visual insight into life from the road, it is far different from experiencing it for yourself. Our team is trained both in the office and on the road before taking on an independent survey, but no amount of training can adequately prepare someone that is not already capable of handling sudden change and adversity in the midst of completing their on-site assignment.
If you are someone that can confidently say that you are not only travel-ready, but are also one of the most determined, capable, intelligent, savvy, and efficient people out there, then we invite you to apply for one of the best jobs on the planet.
More details below:
---
Location
Cambridge, MA, U.S.A.
Qualifications
Bachelor's Degree required with 1 – 2 years previous work experience

preferred

Fluency in a foreign language (Russian or Arabic strongly preferred)

Must be highly motivated and able to work independently

Must have strong communication and quantitative skills

Previous travel experience is preferred

Ideal candidate is a problem solver, is organized, and enjoys working with numbers
Expectations
The International Cost-of-Living Surveyor position involves quantitative and qualitative research and analysis, and quarterly travel of approximately 4-6 weeks at a time. Cost-of-Living Surveyors travel independently to assigned cities across the globe including Asia, Africa, Caribbean, North & South America, Europe and The Middle East to collect a wide range of specific expatriate cost of living and housing data in each city visited.
Most trips are international, although there may be domestic assignments as well. Time is spent between quarters in the Cambridge, MA head office processing and analyzing the collected data, conducting remote research, and assisting with Data Department projects.
Who is AIRINC?
For over 60 years, we've provided 1000+ clients with the high quality data, cutting-edge technology, and thought-leading advice needed to help organizations of all sizes more effectively deploy talent worldwide. Get to know the AIRINC team and mission, and find out how we can listen to understand your goals, partner to develop a tailored solution, and deliver lasting business results.
---

Related:
Why do we visit hundreds of cities each year?
---